MOTOGP | RD4 | JEREZ – SPAIN 2019
05/05/2019
Well, here we are at the first of a number of European rounds which are considered to be better and more favourable tracks for the majority of the riders. Whilst the fly-away tracks are interesting and do provide good racing, the majority being European are more comfortable with these tracks; as they are both nearer to home and provide better facilities.
Due to the nature of the track, Jerez has provided a lot of good duels and battles over the years. The crowds are always out early in high numbers and with the sun nearly always shining, together it provides a great atmosphere and makes for a good race weekend.
The Free Practises were a very mixed bag with no single rider really dominating. With the threat of rain on Saturday; FP1 & FP2 were supposed to be frantic where everyone tried to get a good time in; however, it did not really turn out that way.
The biggest underperformers were Valentino Rossi in 18th during FP1 and Alex Rins in 16th in FP2, although Rossi did manage to improve ever so slightly to 14th in FP2.
Marc Marquez did not dominate either, after topping the timings in FP1, he then only managed 4th in FP2, whilst his teammate Jorge Lorenzo, who loves the track was 1st in FP1 and only 9th in FP2.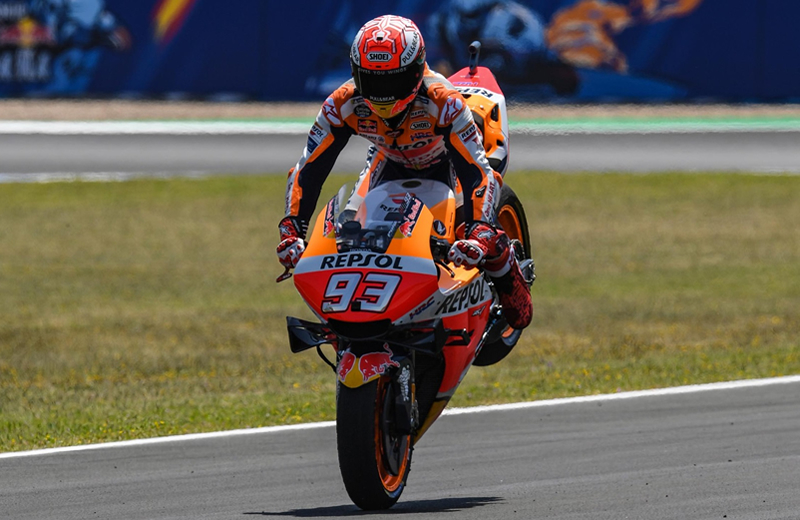 The Ducati's never usually do well at Jerez because there are no long straights, but this time they were in or around the top positions and Petrucci was top in FP2.
Into Saturday FP's and Qualifying, it was again Valentino Rossi the biggest name rider whom was underperforming and still not making it into the top ten, but he is the "Sunday race day man".
Qualifying threw up some big surprises whereby the Petronas Yamaha team were 1st and 2nd; with Fabio Quartararo taking Marc Marquez's record of being the youngest ever rider to get pole. Franco Morbidelli was in 2nd and Marc Marquez took 3rd.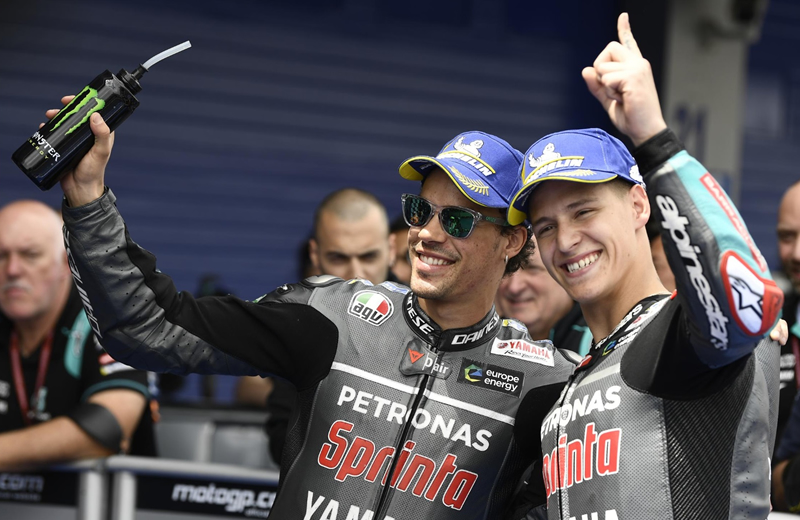 Andrea Dovizioso took 4th, Alex Rins was 9th and Valentino Rossi had it all to do from 13th.
Come race day on Sunday the crowds arrived early to pack out the stands, the sun was out and everybody was raring to go.
Off the line and into the first corner was Marc Marquez who got the jump on the two Yamaha team-mates, Francesco Bagnaia moved up three places in the first lap but Jack Miller was the biggest mover, gaining some five places.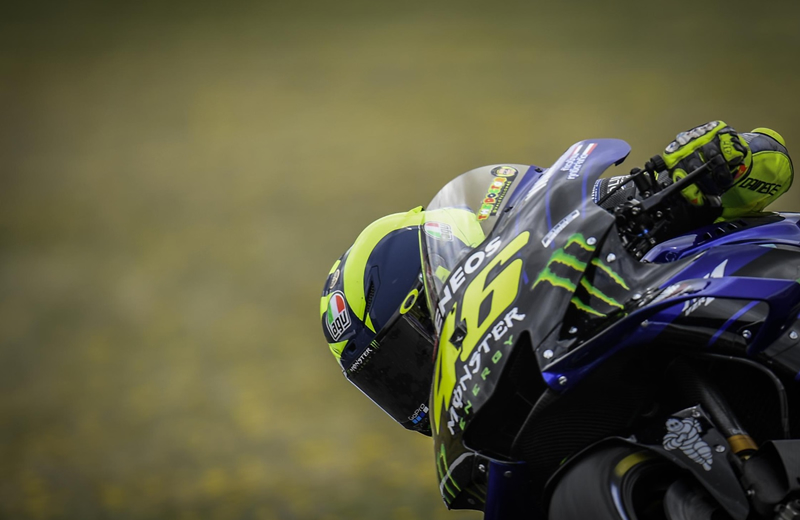 On lap 4, Valentino Rossi got into the top ten and looked comfortable, most likely he was aiming for his team-mate Maverick Vinales in 4th at this point.
Marc Marquez appeared to be looking to check out early and just go from the front. After dropping two positions from the start, Andrea Dovizioso was playing catch up and was desperate to get a podium here at a track that he has never previously achieved one at.
Francesco Bagnaia crashed out on lap 6, which was a disappointing end to his weekend; but let's not forget that he is still in his rookie season and will surely get better as the season progresses.
On lap 10 Marc Marquez appeared to pull the pin by doing a lap which was 0.8 of second quicker than the rest of the field, the gap was clearly extending.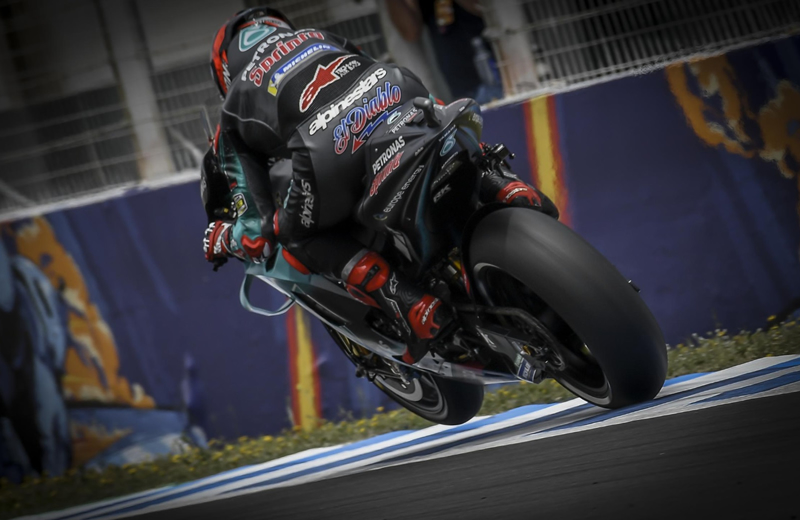 Passing his teammate on lap 11, Fabio Quartararo then ran into some bad luck on lap 13. With a problem on the bikes quick shifter whilst on the back straight, he then fell back down the order, unfortunately, he did not recover and then subsequently had to retire.
This little episode upset the rhythm of his team-mate Franco Morbidelli and allowed Alex Rins to take up 2nd position.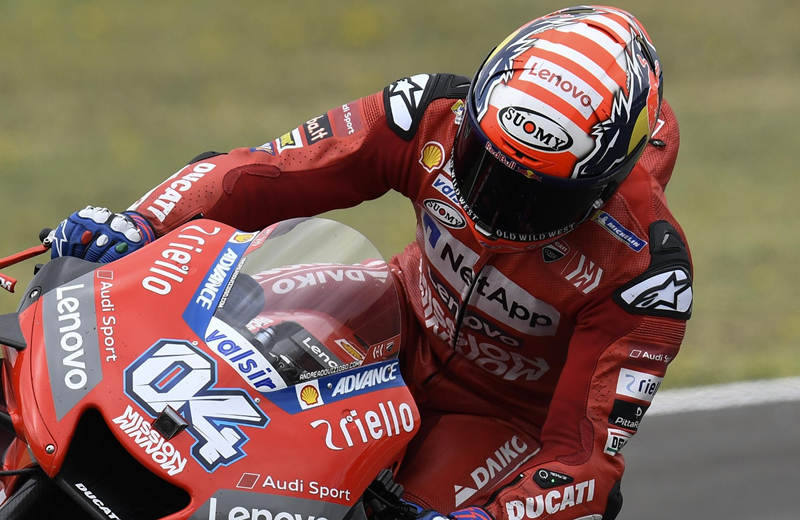 At this point, the Ducati team-mates were stuck together in 5th and 6th, with Andrea Dovizioso still looking to get into the podium positions, but for a track, the Ducati's usually go badly on, they were well-positioned.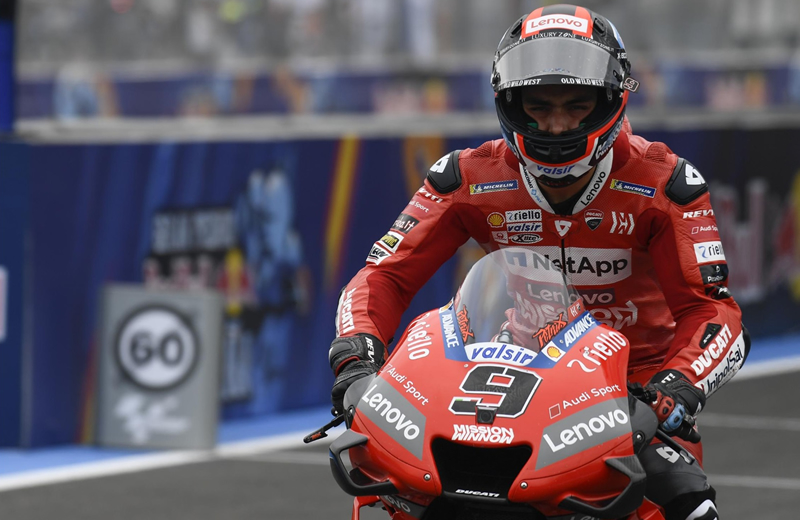 Another one of the rookies Joan Mir crashed out on lap 20, whilst Valentino Rossi made up further two places into 6th position.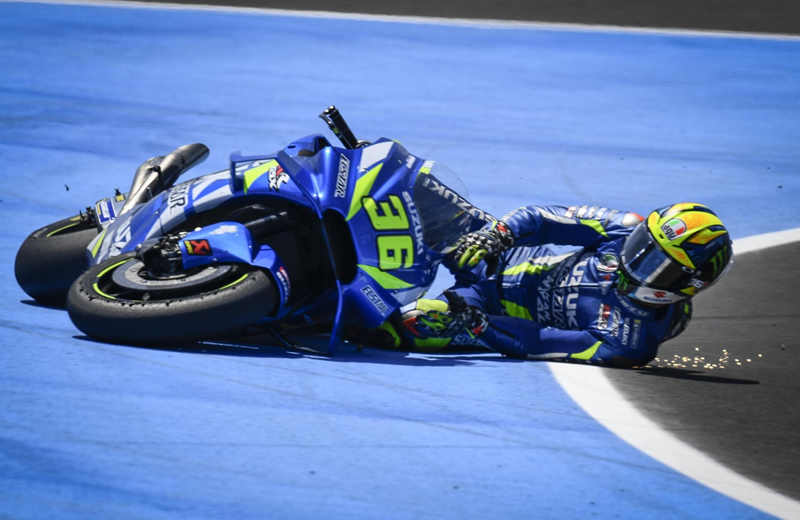 Jack Miller who was trying to defend on the apex of the last corner from Aleix Espargaro collided and he crashed out also.
Marc Marquez crossed the finish line in1st place followed by Alex Rins and Maverick Vinales for an all Spanish podium.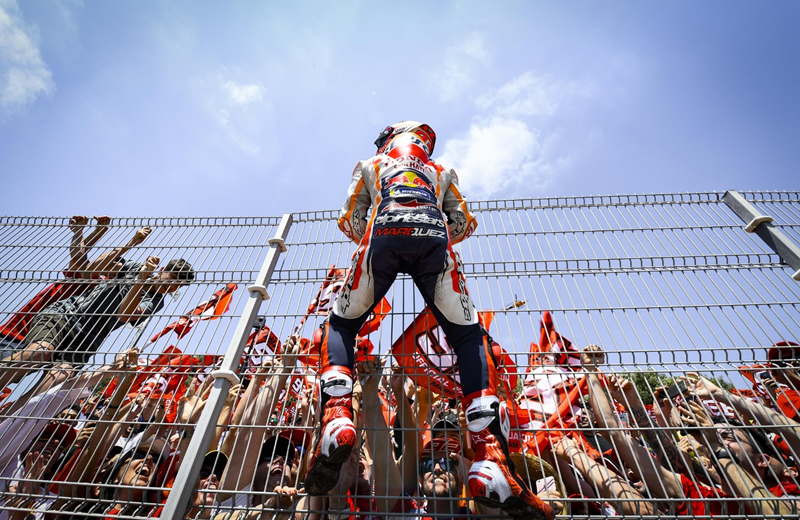 The next three riders were the Italian trio of Andrea Dovizioso, Danilo Petrucci and Valentino Rossi, who salvaged yet another bad qualifying position.
For the next race, it's off to the legendary Le Mans.
Words By Emilio Sanchez for Xlerate
Photo's: MotoGP.com Copyright © 2019 DORNA