WRC | RD 9 ACROPLOIS RALLY GREECE | LEG 3
12/09/2021
On the final day of the Acropolis Rally Greece 2021, the Greek Gods sent rain. The long-awaited return of this iconic rally had certainly delivered unexpected conditions, couple this with significant improvements to the roads used on the event; made for an entirely different rally to what it has been synonymous with in the past. Therefore I don't think one should compare today's event to the rough, tough and dusty rally, that the drivers of the past had to endure, but it was certainly a welcome return to the World Championship.
The opening SS13 Tarzan test at 23km provided wet, muddy and slippery stage conditions to begin the final day with, for which Theirry Neuville described as "A Hell of a stage".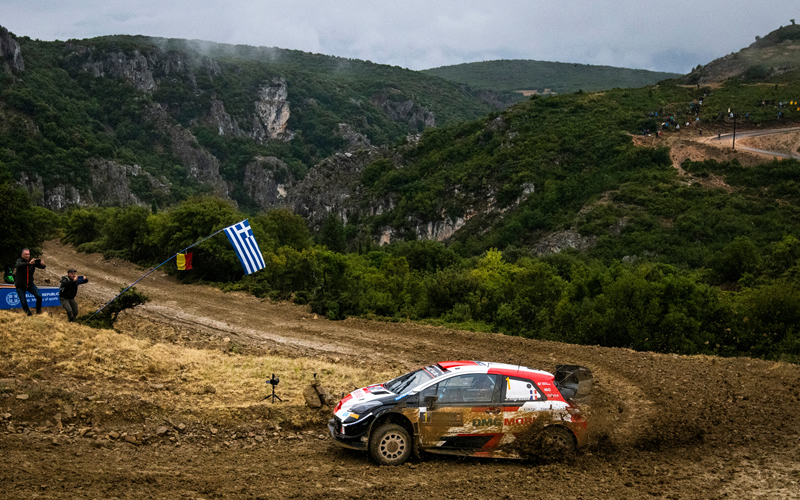 Photo: Red Bull Content Pool
3rd place man Sébastien Ogier said he used his run as a Power Stage Recci, but he had clearly already settled for third now. Ott Tänak pushed to secure his 2nd place and came in 10seconds up on Ogier; he had posted a very good time but hinted that he was managing some sort of small electrical issue.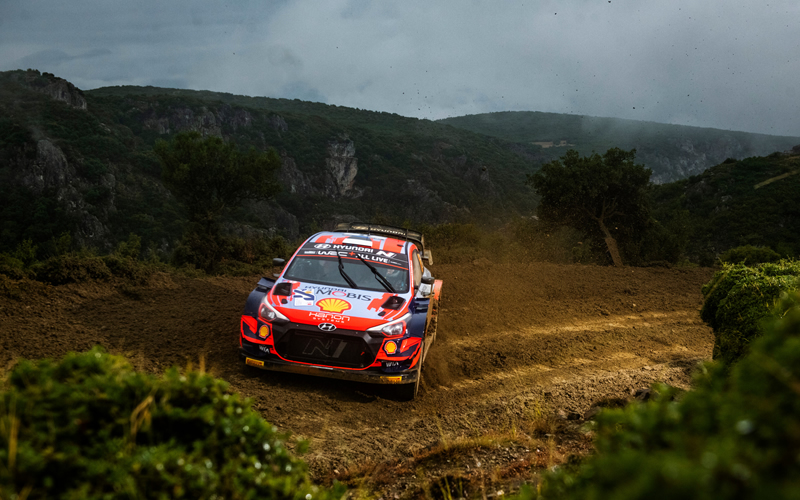 Photo: Red Bull Content Pool
Rally leader Kalle Rovanperä was once again flying, posting an astonishing time that was 14.1 sec faster than Tänak. This increased his overall lead to 44.9 seconds, further positioning himself for his second World Rally Victory.
Photo: Toyota Gazoo Racign WRT
In the WRC2 class battle between the TokSport teammates, Andreas Mikkelsen overtook Marco Bulacia to lead by 6.8 seconds.
SS14 Pyros was the longest stage of the rally at 33km which visually looked very similar in character to a Welsh stage but the surface had a sandy clay-like texture to it.
Ott Tänak secured the penultimate stage win of the rally which gave him that final safety net boost for second overall. But for his Hyundai team-mate Thierry Neuville, the target of the morning was an entirely different one.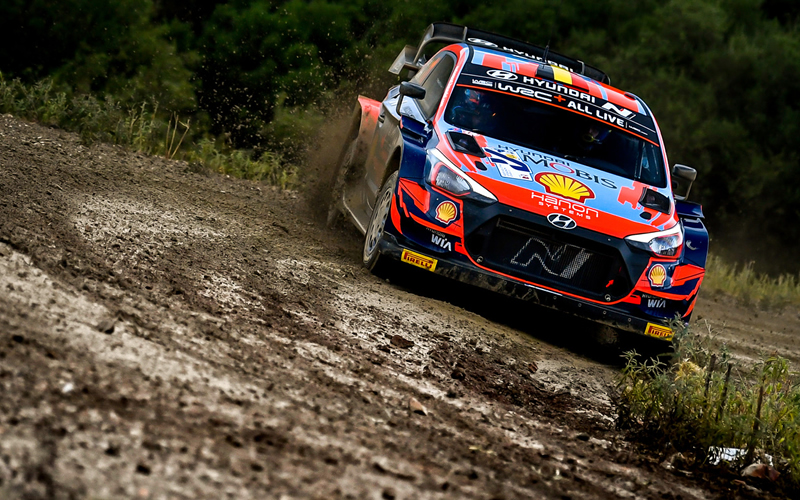 Photo: Hyundai Motorsport WRT
The Belgians only goal on this final morning was to overhaul the WRC2 cars in front of him and get himself into the overall points scoring positions. He trailed Andreas Mikkelsen by some 5 seconds heading into the final stage and Mikkelsen managed to create a bit of a gap to Bulacia in the WRC2 class battle.
A final 12.68km blast over the shortened Tarzan 2 Power Stage was all that remained in front of the young Finn, Kalle Rovanperä and his second WRC victory.
Andreas Mikkelsen alongside Co-Driver Elliot Edmondson brought their Skoda Fabio Rally2 car home ahead of team-mate Marco Bulacia to secure his third WRC2 win of the season. This was a great result for the Norwegian given that Edmonson was calling the notes for him in English for the first time this season.
Photo: Red Bull Content Pool
"It's looking really good and positive (for the WRC2 Championships), it's a great team result for Tok Sport, I am very happy with the performance."

Andreas Mikkelsen
Welshman Elfyn Evans had a tough event in Greece, after his gearbox troubles on the opening leg, gaining a final position on the final stage was a welcomed last-minute bonus. A 6th place finish was perhaps the best that he could manage, given the amount of time loss incurred both in mechanical failures and time penalities.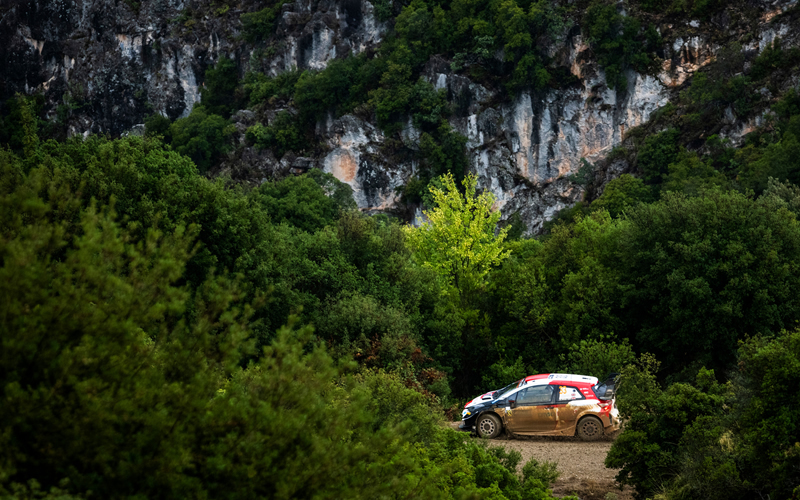 Photo: Red Bull Content Pool
This result in no way helped his championship title hopes as he struggles to keep in touching distance of Ogier. But at least his other rival, Thierry Neville also had a troubled Acropolis.
Following his power steering failure on the opening leg, Belgian Thierry Neuville was on the back foot from then on. It was a case of damage limitation for the remainder of the rally for Neuville, with his only goal of trying to make it into the points and he just about managed to do this on the final stage of the day.
Photo: Hyundai Motorsport WRT
A dejected Neuville said at the final stage stop line:
"We are always trying to give it everything and even this weekend we didn't give up, I think we deserved more."

Thierry Neuville
M-Sport had an OK rally, for a team that has an impressive track record at the Acropolis, a 5th & 7th place finish from their drivers Gus Greensmith and Andrien Fourmaux was actually one of their better results this year so far.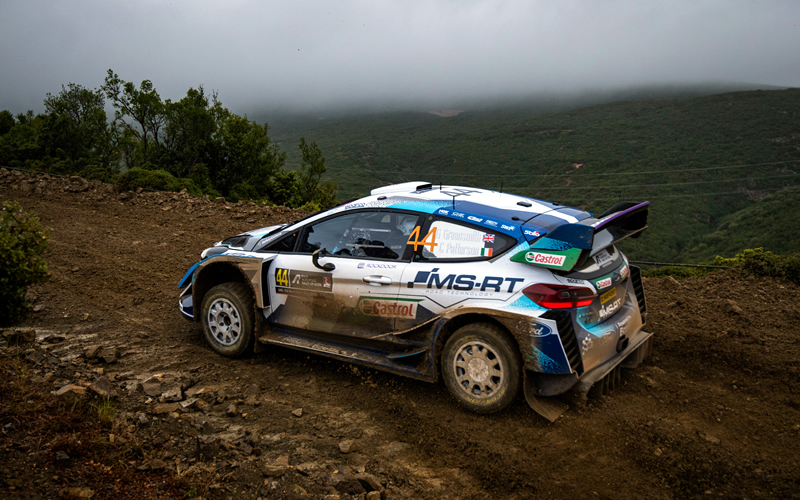 Photo: Red Bull Content Pool
Returning to the seat of the Hyundai since his last outing on the Safari Rally back in June, Spaniard Dani Sordo ended the rally in a solid 4th overall. Having spent the majority of the rally in no-mans land with no one to fight with, he was feeling a little frustrated at times; but at least he kept the boss Andrea Adamo happy by securing valuable manufacturer points for the team.
Photo: Red Bull Content Pool
"The weekend was really bad. We made a little bit bad pace notes and we didn't have confidence during the rally. We couldn't do much more than fourth position, so we just tried to keep it and on the next one we will try to do better."

Dani Sordo
Our 7 times World Rally Champ, Sébastien Ogier secured the third spot on the podium, this was a good result for him while his rivals both fell away. A professional measured drive in Greece has perhaps potentially given the Frenchman his 8th career World Rally title already with just three events remaining?
Photo: Toyota Gazoo Racing WRT
"I think we reached the target we wanted, which was to maintain the lead and we actually increased it. It was not an easy one, I think we did a clean race"

Sébastien Ogier
Following a terrible season to date, Ott Tänak finally secures a decent result. Normally the Estonian is quick off the block on many rallies and dominates early on, however, a slow and steady approach with a handful of stage wins secures him 2nd place.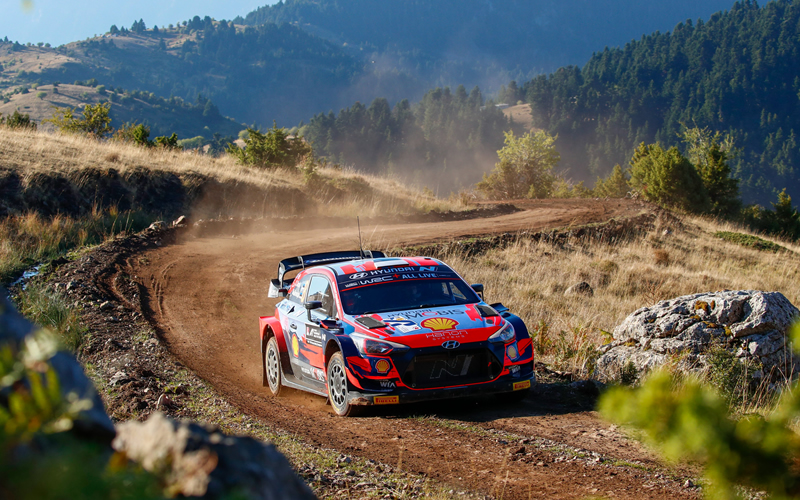 Photo: Hyundai Motorsport WRT
"It's been a challenging weekend"

Ott Tänak
And so winning The Acropolis Rally Greece 2021 and securing only his second ever World Rally victory, Finlands Kalle Rovanperä alongside Co-Driver Jonne Halttunen take the top step on the podium for Toyota Gazoo Racing.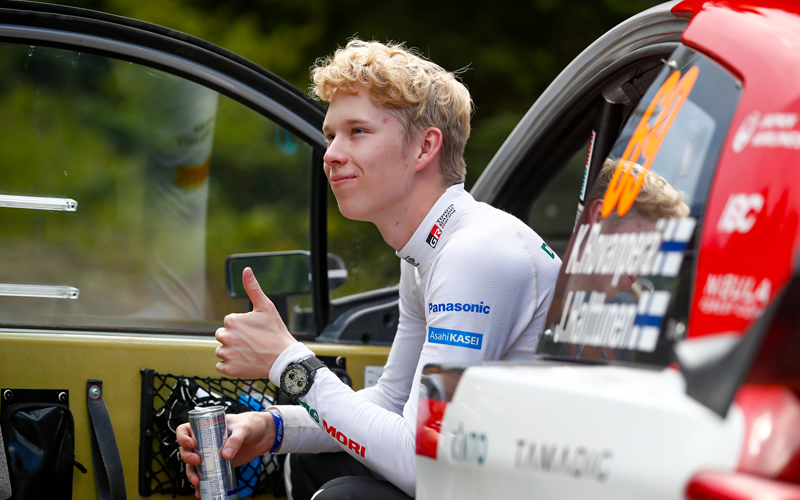 Photo: Toyota Gazoo Racign WRT
On what was a huge weekend with a truly magnificent performance by the young Finn, the rally was perhaps won on Saturday morning where he left the competition behind and never looked back. Signing off with the final power stage win Rovanperä earned a well-deserved victory on such an iconic rally.
"I was not maybe the most comfortable coming here but it just showed that now everything is going well for us and we can really push hard. Big thanks to the team, everybody did a great job. We had a perfect car and also a rough rally and it was running without issues all the time. I hope at least the same speed in Finland, but let's see."

Kalle Rovanperä
Ogier continues to lead the driver's championships on 180 points to Evans 136 points, with Neuville in third on 130. Toyota Gazoo Racing lead the manufacturers 397 points to Hyundais 340 points.
Next Up
The FIA World Rally Championship heads to the ultra-fast and flowing gravel stages of Finland which returns at a later date of 1st – 3rd October.
Words By Andy Cook | Feature Photo: Toyota Gazoo Racing WRT