WRC | RD1 | MONTE CARLO RALLY 2021 | LEG4
24/01/2021
After an overnight haul down south to Monte Carlo, 50 of the 84 Competitors remained to start the final day of the 89th Monte Carlo Rally, the opening round of the FIA World Rally Championships 2021.
With just 54km over four stages to contend, it was a Toyota 1-2-3 led by 7 times World Champ Sébastien Ogier alongside Julien Ingrassia in the Co-Drivers seat heading into this final loop of action.
The first stage of the morning SS12 Puget-Théniers – La Penne 1, although had no snow, the normally very smooth tarmac, was very icey in parts and offered up the first challenging test.
First, on the road, Pierre-Louis Loubet had a spin early on and M-Sports Gus Greensmith said: "God, was that slippy!, I've not driven a stage like that in my life" for which tarmac ace Dani Sordo backed up this statement.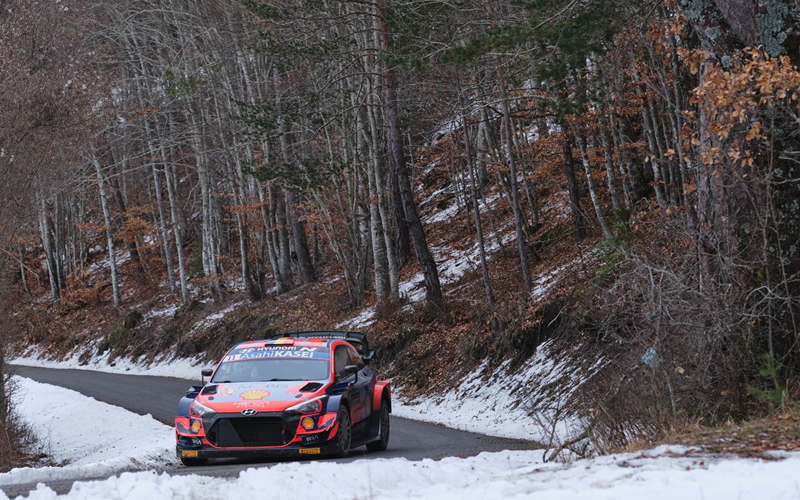 Hyundai's Thierry Neuville was on a mission this morning to take the third spot on the podium. Thanks to a puncture that Kalle Rovanperä picked up on his Yaris, Neuville had now succeeded following his second fastest stage time.
"Really tricky – a lot of ice, even in places where it was humid. I did a good stage but there were no risks in there, so I don't know if it's enough."

Thierry Neuville
Elfyn Evans was in the predicament of should he try and attack Ogier and go for glory or settle for 2nd and bag the very vital championship points?
With Ogier's overnight lead of 13 seconds, it would have to take either something rather special from Evans or something unfortunate to hit Ogier in order to prevent the Frenchman from taking his 8th Monte victory.
The best that Evans could manage on this opening stage of the day was third fastest behind Neuville. Ogier arrived at the stop line with yet another stage win which increased his lead significantly, so perhaps this was a very clear message from Ogier to Evans?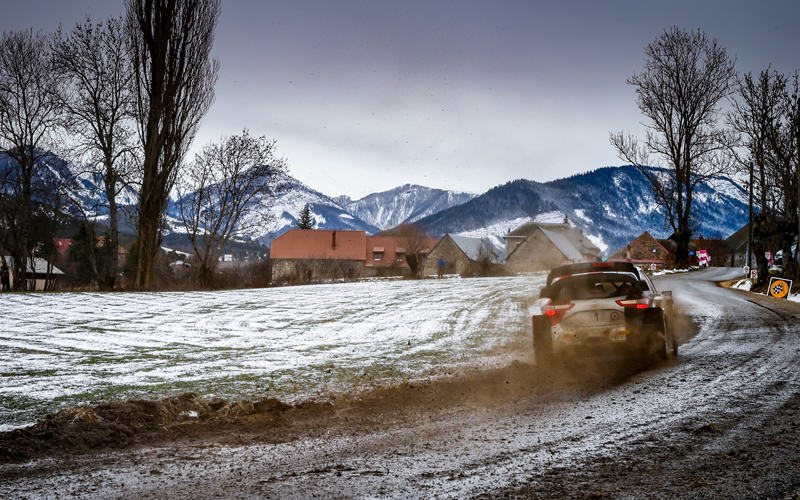 "There is no info from the gravel crew that you can trust, just because it's changed so much since they passed through. A tricky one."

Sébastien Ogier
The second and final stage of the first loop was the very short SS13 Briançonnet – Entrevaux 1, a new stage at only 14km in length. This first run over this very challenging stage would be the chance to reccie the stage before it is repeated once again for the Power Stage where valuable bonus points were up for grabs.
The stage had a good amount of snow up on the hillside and at times looked more like a stage from the Arctic Rally, so it was the studded winter tyres all around. As the stage reached lower altitude the snow cleared and the tarmac appeared like a completely different stage.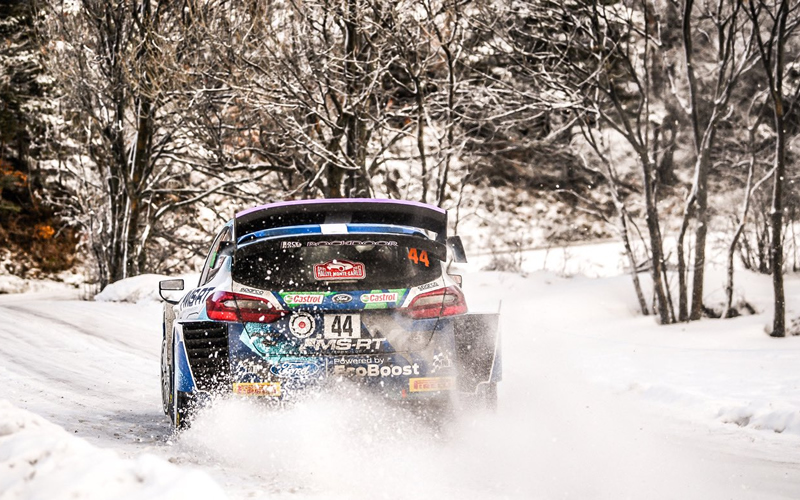 It was clear from the off that it was to be an extremely challenging stage, first into the stage Loubet had a big slide, then Gus Greensmith followed on the same bend but hit the bank which resulted in a spin and a big-time loss.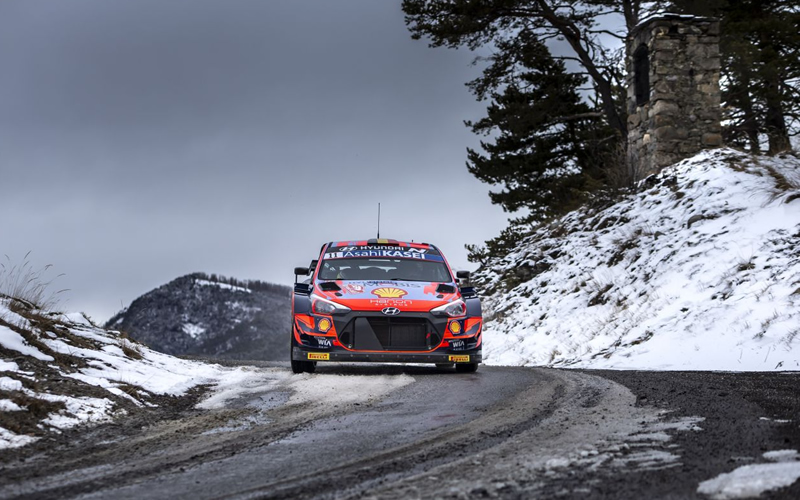 Thierry Neuville was on the fine line between bringing it home and keeping the pressure on, he won the stage beating 2nd place Elfyn Evans by 4.5 seconds. The gap between them at 44 seconds overall was perhaps a tall order?
"I tried to avoid all the cuts in this one – we don't want to get a puncture. We're looking forward to finishing the rally like this."
Thierry Neuville
For Evans, he had atleast reduced the gap (all be it by only 1.3 seconds) to leader Ogier in this stage who posted the 3rd fastest time.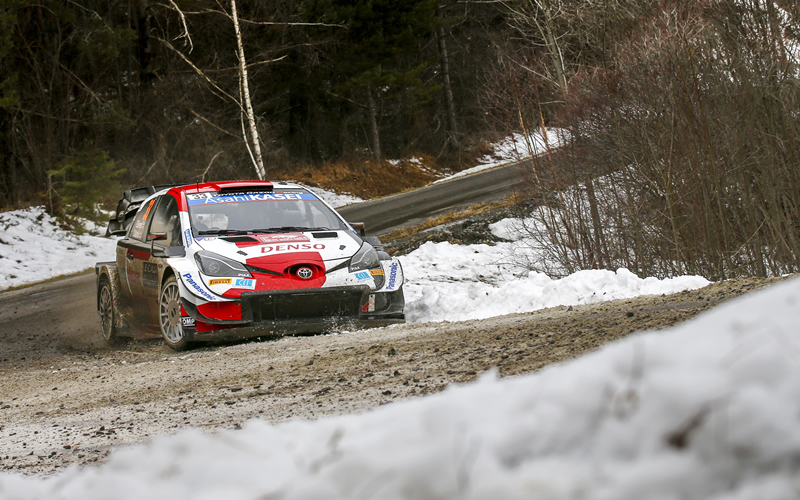 "I was careful – but what do you do in these conditions? We're trying to strike the balance between being tidy and not too slow, it's difficult."
Elfyn Evans
Ogier was calm saying that he took no risk in this one and remained on course for another Monte win with only two stages to go.
The penultimate stage of Rally was the re-run of Puget-Théniers – La Penne, the sun was out, so the stage had evolved in parts since the first pass. This is were Ogier would stamp his authority and perhaps placed one hand on his 8th Monte Carlo Trophy.
Dani Sordo thought that the stage conditions were much better compared to the first run; picking up the second-fastest time ahead of his Hyundai team-mate Neuville. Who now with his sizable gap in front of Kalle Rovanperä opted to save his tyres for the Power Stage and had, perhaps settled for his 3rd place on the podium.
"We are trying to save the tyres for the last stage to bring back the result for the team."
Thierry Neuville
Evans dropped further time to Ogier upfront but was by now, simply ensuring that he brought it home for second; which was a wise move considering his 40 seconds advantage over Neuville.
Ogier picked up his 7th stage win saying that he had a clean drive and was really enjoying it.
And so all that stood in front of Sébastien Ogier was one final blast over the Power Stage, a final challenging stage to end a memorable final Monte for the Frenchman.
Despite a little spin on the final stage, Norwegian Andreas Mikkelsen brought home the TOKSport run Skoda Fabia Rally 2 EVO for the WRC2 win, completing a tough Monte with such a lead is a dominant start to his 2021 campaign.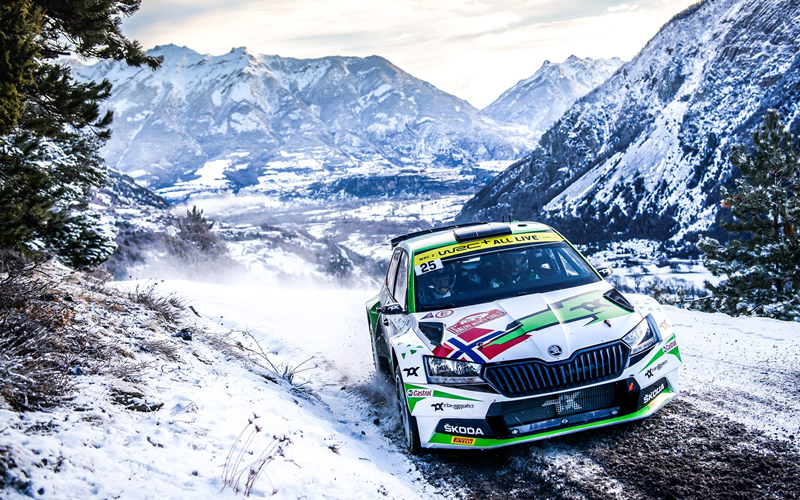 "It has been really nice. Tricky in the last stage because there was no gravel crew allowed. The key to success here is to be at one with your gravel crew and luckily I work very closely with my crew all of the time. We spent some time here before the recce to get synchronised and it has paid off."
Andreas Mikkelsen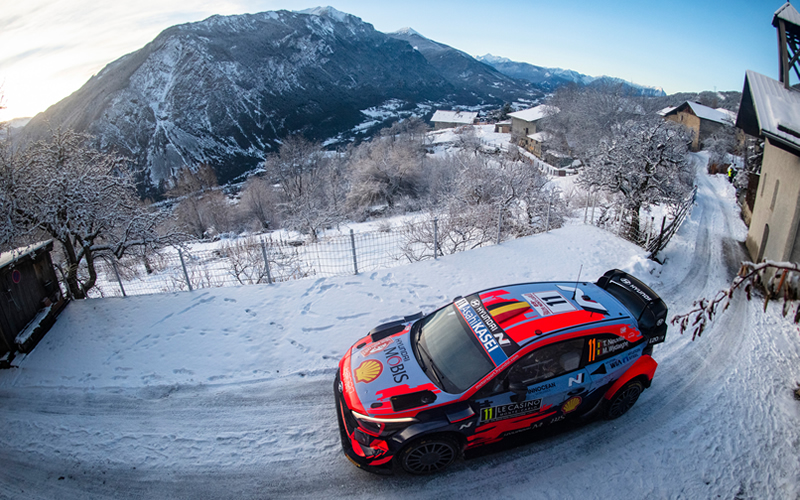 Thierry Neuville crossed the line in third alongside he new Co-Driver Martijn Wydaeghe with a massive sigh of relief. Even though the rally hadn't been a great start to the season for reigning Manufacturers champions Hyundai, atleast for the Belgien it was a decent result given the circumstances he found himself in just days before the start of the season.
"Very pleased to be at the end of the rally. We knew it would be a real challenge and I didn't know what to expect. Martijn has done a really good job for his first time in a WRC car. Good points for the team, even if it wasn't the greatest weekend for Hyundai."

Thierry Neuville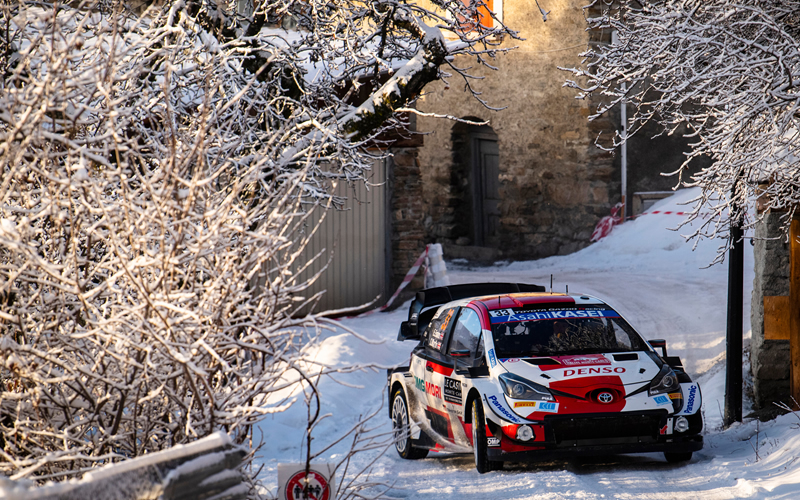 On perhaps is the worlds most challenging rally, Britain's Elfyn Evans alongside Co-Driver Scot Martin delivered a strong and sensible drive in their Toyota Yaris; a second-place finish to a 7 times world rally champ on his home event is not something that should be played down.
"It's been good, but I felt never 100% as it should have been. There were some good stages, but never consistently where I'd really like to be. Perhaps we were just a little below the point you could call the level of risk."

Elfyn Evans
Taking the final stage win (His 8th of the event) and full Power Stage points, Sébastien Ogier and Julien Ingrassia go down in the Monte Carlo history books for the most wins on this world-famous rally. Considering last week the pair were crawling out the wreckage of their crashed Toyota Yaris on a pre-event test, this their 8th victory on their home event, was the perfect way to start this their last full-time season in the FIA World Rally Championship.
At the stop line of the final stage Ogier said:
"That's not a bad end to the weekend! The car has been amazing – it's been such a pleasure. I almost have tears in my eyes and I think it was a good decision to do one more year. The team is great – such a huge thanks to all of them. Jari [Latvala] – welcome boss for the win!"

Sébastien Ogier
Toyota Gazoo Racing WRT had the ideal start to the new season, they leave the Monte Carlo and head to the second round, The Finish Arctic Winter Rally with a sizable lead over their main rivals Hyundai.
Words By Andy Cook – Xlerate
Feature Photo: Red Bull Content Pool