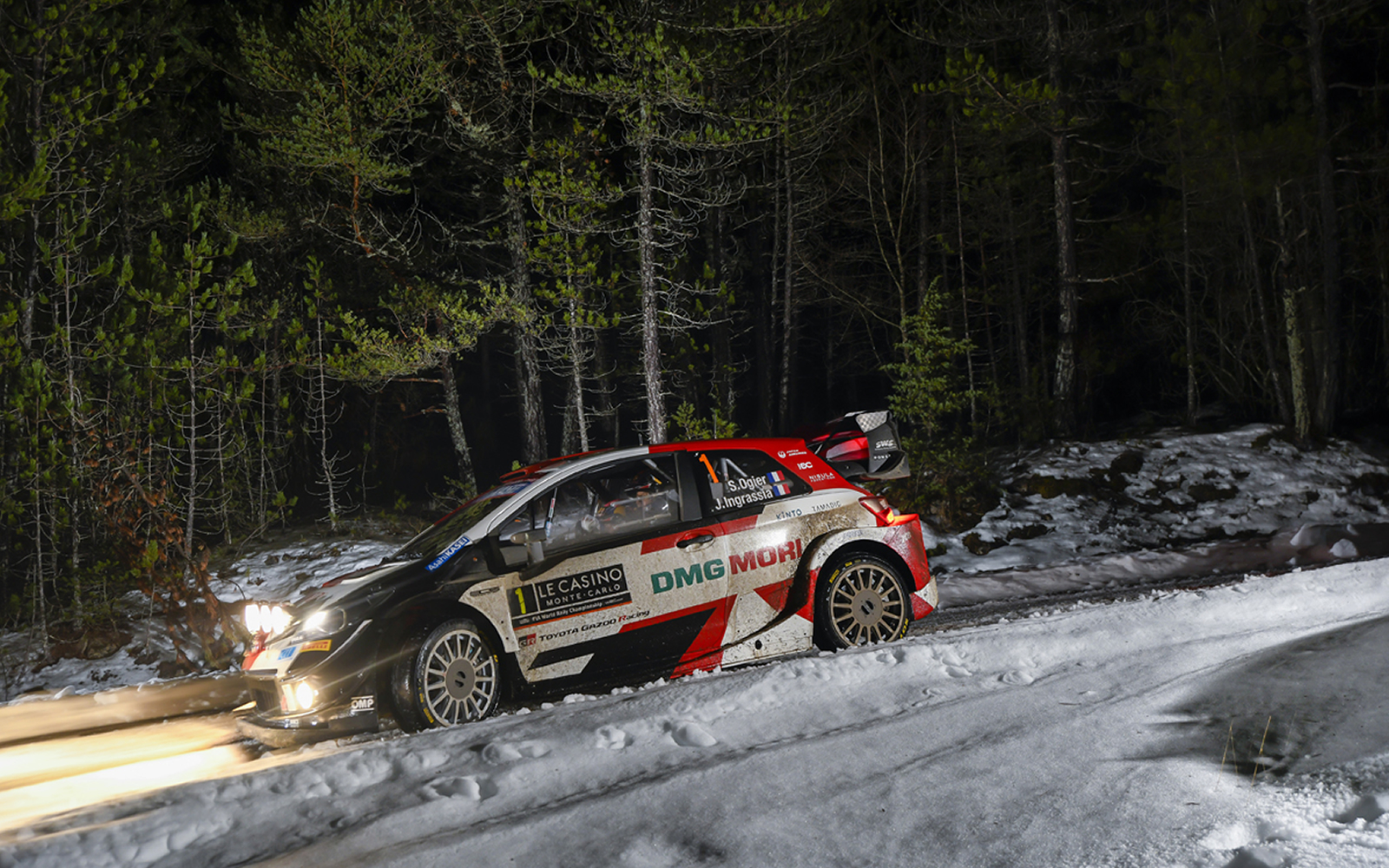 WRC | RD1 | MONTE CARLO RALLY 2021 | LEG 3
23/01/2021
It was another early start for the crews who now faced the typical Monte like conditions that we were expecting. The first test of the day was an 18km stage SS9 La Bréole – Selonnet 1, where parts of the stage would feel familiar from previous years. From the start, it climbed up to its highest point at about 5km in with a decent amount of snow and ice throughout; but it was at the end of the stage which was particularly bad; so it was a full set of studded winter tyres all around. The road order had now been reversed for today so perhaps offered up a bit of shake-up for the road conditions.
Pierre – Louis Loubet was the first car into the stage in the Hyundai i20 WRC setting the first benchmark of the morning.
M-Sports Gus Greensmith had what he describes as his worst performance yesterday, second on the road today was perhaps a chance to start afresh and get into the correct mind-set. He opened up the morning with a good stage posting the 5th fastest time which was a good confidence boost.
Spaniard Dani Sordo was another driver who wasn't happy with his Friday performance and we were expecting better from Sordo given his results last season. But today was like a new day and in the tricky conditions he opened up his day with a great time, posting the 3rd fastest.
"It's very tricky. In some places, there is a lot of grip but other sections are very difficult. Very easy to make a mistake."

Dani Sordo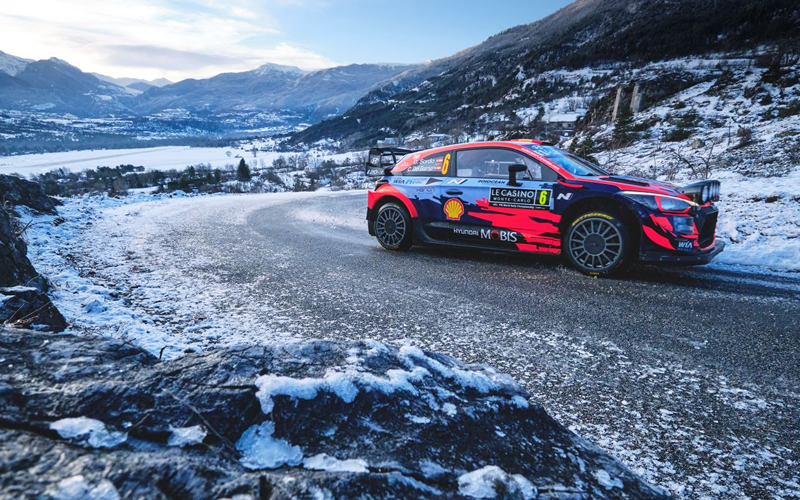 Thierry Neuville wanted to fight back today but had a brief mistake at approx 7 kilometres in, perhaps he was trying to push a little too much?
"We just went straight on at a corner, but we didn't lose a lot of time. A difficult stage, we had to find a rhythm and it didn't work all the way along."

Thierry Neuville
Kalle Rovanperä was delivering a good rally so far, he was 4th fastest on this stage and 3rd overall in an all Toyota lockout but said that "it didn't feel so good."
Ott Tänak who was third overnight had yet another disastrous start to the day picking up a puncture just a few kilometres into the stage after hitting a loose stone.
"It was at the beginning. I had a spin, then at the next corner there was a loose rock inside. It's a beautiful morning!"

Ott Tänak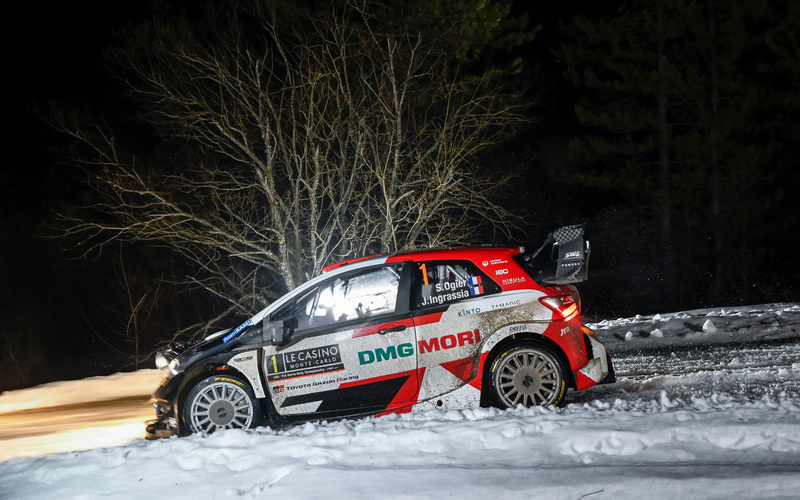 Frenchman Sébastien Ogier was on a mission today in his attempt to win one final Monte before his retirement from full-time rallying. Overnight he trailed his Toyota team-mate, Elfyn Evans, by just 7.4 seconds, but here he more than made up for this gap with an absolutely stonkingly good time. He blew Evans out of the water with a fastest stage time that was almost 18 seconds faster than the Welshman, taking over the lead of the rally from Evans with a 10.4-second lead.
"The one who matters is coming behind [Evans]. Some corners it felt like we didn't even have any studs, we were just sliding away. It was tricky."

Sébastien Ogier
Norwegian Rally Driver Mads Ostberg who won the WRC2 last year was commentating for WRCTV and said: "That's still a very good time from Evans, when you compare it to all the other normal people in the rally!"
Andreas Mikkelsen continued on with his WRC2 stage winning pace, looking very comfortable in the Skoda he was dominating the competition in his class.
"We drove comfortably. Very tricky conditions, but my information is really spot on. I have the best gravel crew in the whole world."

Andreas Mikkelsen
Next stage for the morning was THAT stage from last year where Estonian Ott Tänak had his huge high speed off, SS10 St-Clément – Freissinières. This 20km test had plenty of snow and looked very picturesque in the daylight from the helicopters pictures above. The snow and ice with the added artificial chicane meant there was no chance of a repeat for Tänak but alas it was to be a stage that would defeat him once again.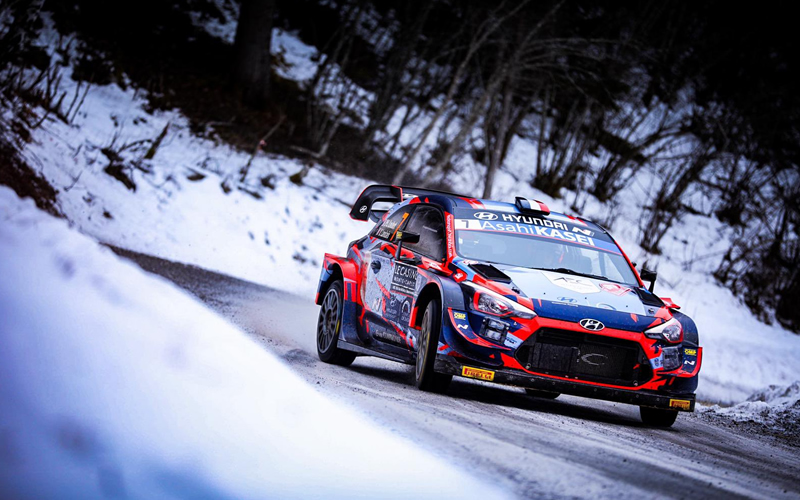 Once again Pierre – Louis Loubet was the first car into the stage and he set a very good time, second-fastest in fact, even though there was a lot of snow on the road and he was playing the role of a snowplough he had clearly made the best of his favourable road position.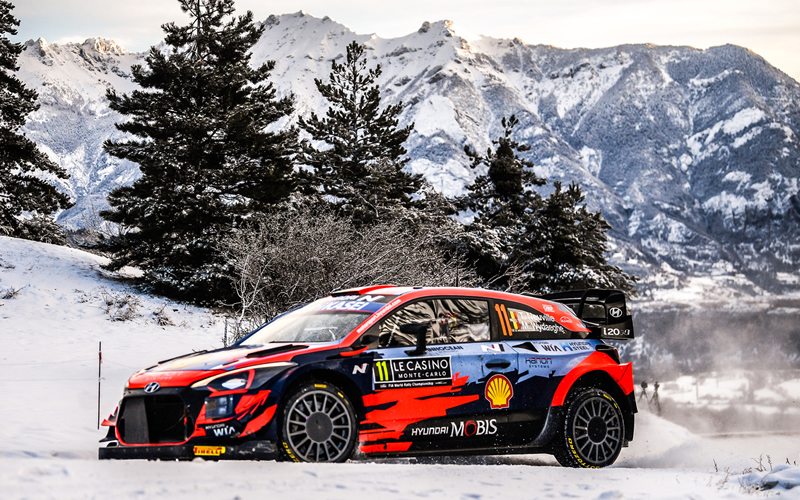 In this stage and in the snow, something had finally clicked for Thierry Neuville, netting his first stage win of the event and the year, he ended the morning just 1.4 seconds off from Rovanperä in the fight for the 3rd podium spot.
"We did a better stage – a much better rhythm in the car. I don't feel comfortable to be honest and I am hesitating too much."

Thierry Neuville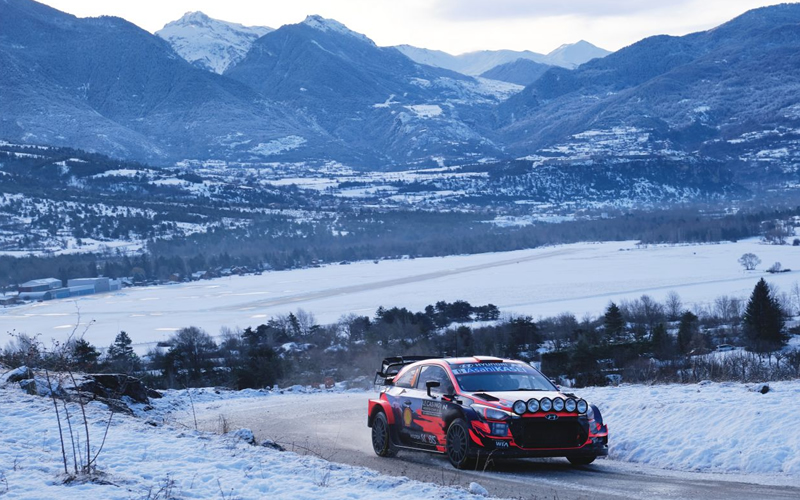 Clearly, this snow stage was suiting the Hyundais more because Dani Sordo also put in a good time to make it a Hyundai 1-2-3 a the top of the stage timings. Despite complaining that his information from his gravel crew wasn't particularly great.
"I didn't have good information about the surface. It was tricky, but the feeling in the car was not good."

Dani Sordo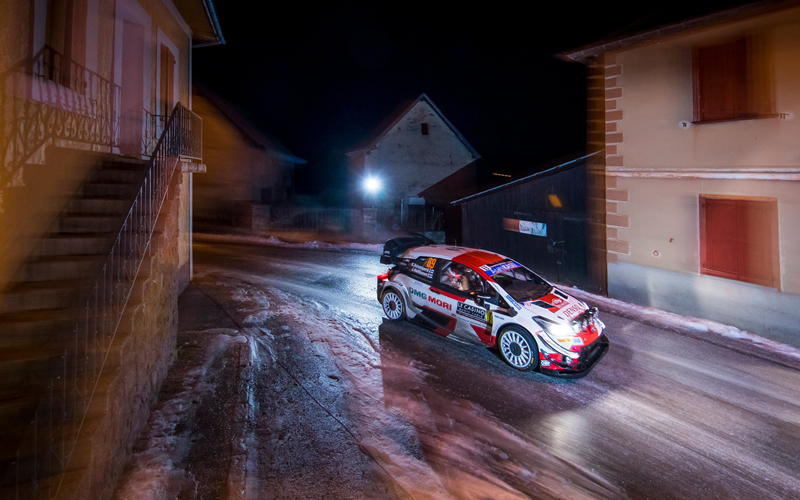 Kalle Rovanperä and Tokamota Katsuta rounded off the top 5 stage times for Toyota showing that the road conditions with its polished surfaces was getting worse further down the road order.
Rally leader Sébastien Ogier dropped so much time to Neuville due to the worsening stage conditions stating that "there was no grip". This was very clear from the live video feeds that there was a lack of traction from the 2mm studded tyres. Ogier did, however, manage to extend his lead over Evans here by a few seconds.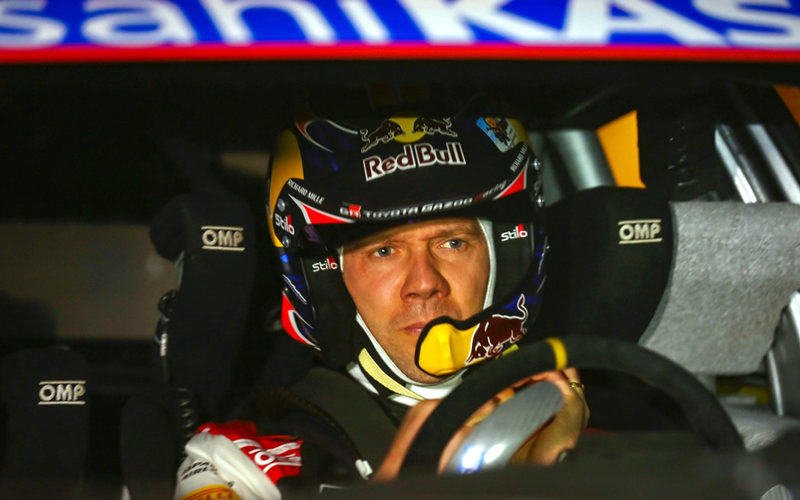 Ogier was later fined 400 Euros for not having his helmet strap fastened on this stage, considering the severity of the action he was lucky not to pick up a penalty, Ogier said that he just simply forgot!
For championship rival, Ott Tänak was once again to end his Monte adventure on this stage. Tänak who had picked up a puncture on the opening stage of the day was to meet the same fate once again.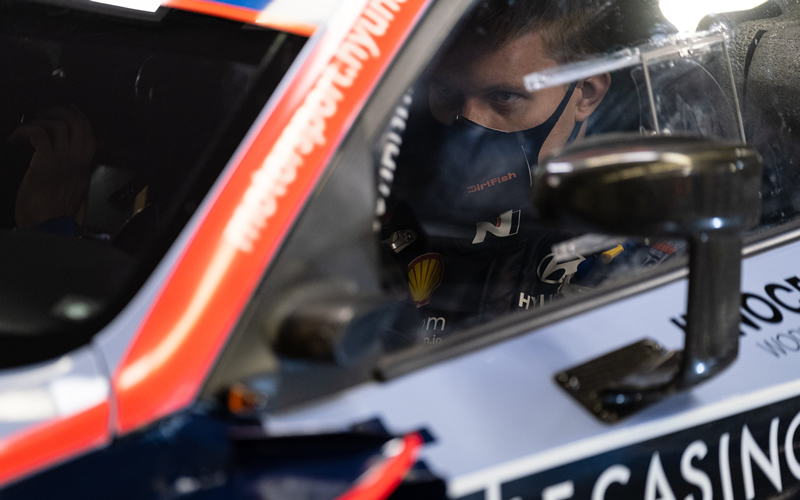 Unfortunately for him, he was only carrying the single spare so he was forced to stop mid-stage and put that damaged wheel from the previous stage back on the car. This was to ensure that he still had a wheel with rubber on in an attempt to make it back to service in Gap legally. Upon reaching Service, Tänak was then forced to retire for the day and from the event with no chance of super rally for the final day on Sunday.
Mikkelsen despite having a brief stop in stage said that although the grip was constant, it was constantly low. His closest WRC2 competitor Adrian Fourmaux unfortunately picked up a puncture which resulted in a huge time loss, right from the very first corner of the stage.
"On the first corner, we got a puncture. I did the whole stage on the rim and I spun once. I am really disappointed."

Adrian Fourmaux
This enabled Eric Camilli in the Citroen C3 R5 who caught him in stage to close the gap and possibly mount a challenge now for 2nd place?
Just a single-stage remained in the afternoon after service and that was the repeat of the early morning 18km La Bréole – Selonnet stage. This time around it was in the daylight and here is where the battle for 3rd continued on between Thierry Neuville and Kalle Rovanperä.
Belgians Neuville laid down the gauntlet but the young Fin fought back to keep his third position behind his Toyota team-mates.
"It was quite tricky and I had a problem with my ear plugs – Jonne had to scream because I couldn't hear the notes."

Kaller Rovanpera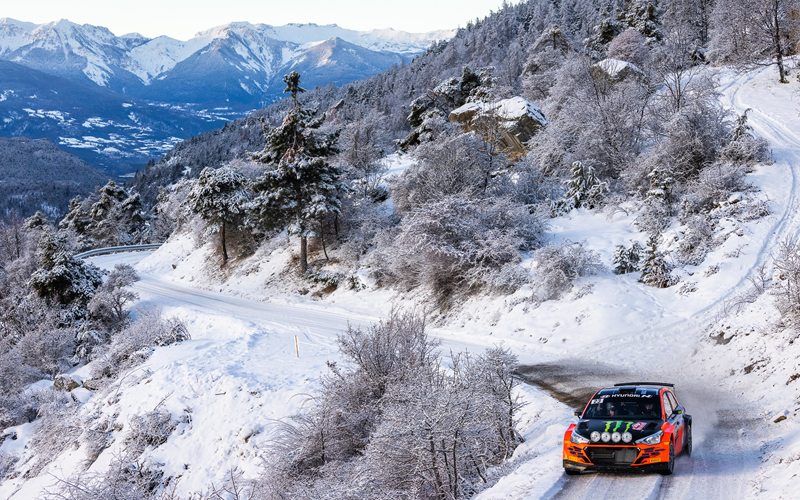 We've not heard much from young Oliver Solberg so far on this event, competing on The Monte off the back of his great Arctic Lapland rally performance he was making steady progress in his Hyundai R5 i20. Laying just outside of the top 10 overall behind Fourmaux and Camilli in the WRC2 class; on this final stage of the day he took his first R5 stage win and 5th fastest time overall beating some of the WRC cars.
WRC2 leader Andreas Mikkelsen ended the day with a more relaxed stage, sighting that with a big lead they had to take care in order to bring it home for TokSport WRT. Going into the final day with a whopping 2 minute lead over M-Sport's Adrian Fourmaux was surely going to be plenty in order for him to seal the deal on this, his opening WRC2 rally of his 2021 campange.
Rally leader Ogier said it was "Very clean" he also reported that "The conditions have changed a lot since the gravel crew have passed, so I had to trust what I saw. It was a clean drive for me." but it was his team-mate Elfyn Evans that appeared to still be bringing the fight to him.
The Welshman was up on the splits and took the final stage win of the day by 1.3 seconds. But with a 13-second gap from Ogier heading into the final day, where only another 4 stages and just 54km remain could he still be in with a chance of a win? Ogier who was almost desperate for his final home rally and 8th Monte Carlo win would not be giving so much of as second to him with out a fight.
"I needed that really! It's been a bit of a frustrating day, just not really being on the money. I tried to stay in the ruts, stay clean and out of trouble. We'll try and keep the pressure on [Seb]."

Elfyn Evans
There was no servicing for the remainder of the rally, only a tyre zone when the crews reached Monte Carlo. Toyota headed into the final day of the Monte with a 1-2-3. Would the new team boss Jari-Matti Latvala call team orders to safeguard an opening rally clean sweep? That's of course if Kalle Rovanperä can fight off the resurging Thierry Neuville who is hungry for a podium and just 7 seconds behind him in 4th and who will no doubt pile on the pressure.
Words By Andy Cook – Xlerate
Feature Image: Toyota Gazoo Racing WRT