WRC | RD2 – ARCTIC RALLY FINLAND 2021 | LEG 3
28/02/2021
Just two final stages covering approx 45km were all that remained on the final leg of the Arctic Rally Finland (Round 2 of the 2021 FIA World Rally Championships), and Estonian Ott Tanäk was on course to be written into the World Rally history books.
With an overnight temperature drop and some fresh snow, the conditions on the 28km Aittajärvi stage were ideal for this final high-speed blast on the snow and ice.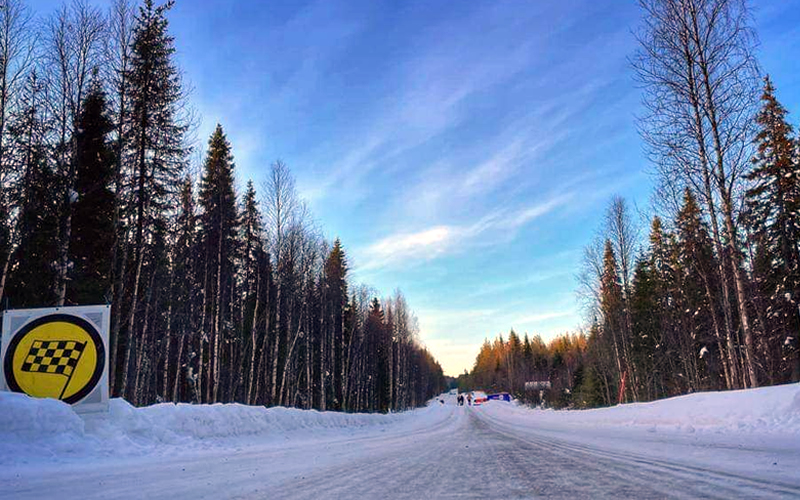 Photo: NEP Finland
Rally leader Ott Tanäk went into the final day with a 24 seconds lead over Kalle Rovanperä but it was all eyes on the battle for second place between the young Finn and Belgien Theirry Neuville.
On the penultimate stage of the rally Elfyn Evans set the fastest time beating his Toyota team-mate Rovanperä by just a second. But Kalla was being pushed hard by a hungry Thierry Neuville behind him in third, who was hunting him down. Kalle got the better of Thierry by the slimmest of margins (just 0.1 seconds) allowing him to maintain his small-time difference heading into the final Power Stage.
Photo: Hyundai Motorsport WRT
"We did a good stage but my pace notes were a bit slow. It's really tricky to commit to the pace notes so I was maybe a bit careful, but I tried my best."

Thierry Neuville
For Sébastien Ogier the Power Stage offered up one final little bit of hope of grabbing a few bonus points towards his Championship Campagne; where he was able to post the 5th fastest time to end this somewhat rally to forget for him.
Photo: Red Bull Content Pool
After paying the price for winning the Monte and being stuck with an unfavourable road position throughout the whole event. The Frenchman finally ended up way down in 20th place overall as a result of an altercation with a snowbank on the last stage of Saturday. At the stop line of the final stage he summed up his frozen adventure which was nothing like a happy ending in a Disney movie.
"I couldn't do more than that – that's the way it is, until the next one. It's a beautiful place to rally here. Of course, when you're first on the road it's not the same story, but that's the WRC game."

Sébastien Ogier
Photo: Toyota Gazoo Racing WRT
Ogier's Toyota team-mates Elfyn Evans and Tokamoto Katsuta finished the rally in 5th and 6th place overall, respectively. Welsman Evans, although won two stages here in Finland appeared to also be leaving the rally disappointed.
"It's not been the weekend we wanted. Okay, good speed at times but not what we wanted for sure."

Elfyn Evans
Hyundai returnee Craig Breen delivered a great result in Finland, not only for himself but the team also, but was perhaps being a bit too hard on himself at times. After landing an expanded programme for 2021 following the second retirement of Sébastien Loeb, the Irishman could settle back into the seat of the i20 on this his first rally back, without the pressure of not knowing when his next drive would come.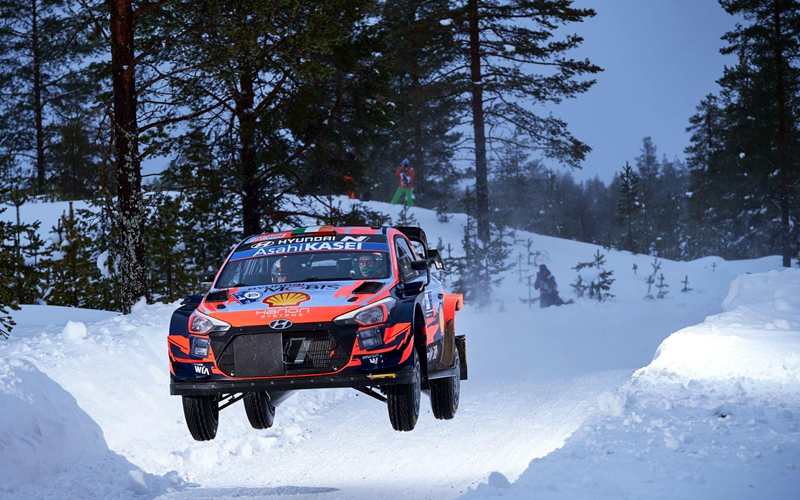 Photo: Hyundai Motorsport WRT
Right from the off on the very first stage, Breen and Co-Driver Paul Nagal put in a strong performance; with several impressive stage times they were consistently mixing it up at the top. Despite a last-minute Gearbox change in the early Sunday morning service, their efforts were rewarded with a 4th overall, just missing out on the podium to team-mate Thierry Neuville.
Photo: Hyundai Motorsport WRT
Neuville now on his second event with new Co-Driver Martijn Wydaeghe beside him calling the notes, netted his second podium finish, securing another 3rd place overall. Fighting it out with Toyota's Kalle Rovanperä from the midpoint on Saturday until the bitter end of the final stage, the rivals delivered a gripping battle for which the young 20 year old Finn came off the better man.
"I am satisfied with my weekend, especially considering some of our issues. We can't forget that we started third on the road"

Thierry Neuville
Heading into the final Power Stage, Rovanperä had a 1.9-second gap to Neuville and had no option but to give it his all. He had done enough to not only secure second place on the podium but gained the extra bonus points for the Power Stage win also; this earned him the lead of the driver Championship standings.
Photo: Toyota Gazoo Racing WRT
At times in Rovanperä end of stage interviews, he communicated his desire to do better, perhaps like Breen, he was also being a little too hard on himself here? Having fought off an attack from the likes of Neuville, a seasoned WRC driver and winning two stages he must deep down surley be pleased with his performance on this his home event?
"For sure, this weekend I wanted to fight for the top place and I made a mistake and we were not on the optimal pace. I was pushing the whole weekend, maximum all the time. It was a great weekend from my side and Jonne's side, we did everything we could and we are happy to get P2 here"

Kalle Rovanperä
Last into the Power Stage was Ott Tanäk, dominating the event from the very first stage on Friday afternoon by winning 5 of the 10 stages. He crossed the finish line with a 17.5-second lead, finally getting his first result of the new season and his first WRC win since winning his home rally in Estonia last year.
Photo: Hyundai Motorsport WRT
With the DNF on the Monte Carlo, coming into the Arctic for sure added the pressure on him to catch up with his Championship rivals, who already had points on the board. There's no doubt that his recent win on the Otepää Winter rally back home in Estonia gave him the ideal preparation and confidence boost that he needed heading into this new winter rally.
Photo: Red Bull Content Pool
"First, when you come to a new event it's always a bit unexpected. This weekend, we came to the home country of Toyota and we expected them to be very strong. The pressure was there and we knew it was going to be very complicated to take the fight.

In the end, we did a very good weekend – nothing too much, only one mistake yesterday. It's an amazing place, definitely one of the best places to have a winter rally, especially yesterday, it was so demanding. I think to come back here a second time would be much more enjoyable, especially when you know where you are going!"

Ott Tanäk
Of course, there was another Hyundai driver whose performance is worth highlighting here. I think the majority will agree that the drive of the rally came from the young Oliver Solberg. After joining Hyundai for this season to drive the R5 car in the WRC2 category, the opportunity arose to experience the full-blown WRC i20 on the Arctic, one for which he had no problems snapping up and boy did he impress. By only the second stage of the rally, he was laying down stage times that many other WRC regulars would be happy with. All might one add without his regular Co-Driver Aaron Johnston, who had to sit this one out due to testing positive for COVID. But maybe just maybe this was not actually a hindrance. In having the experience of stand-in Co-Driver Seb Marshall beside him on the notes, perhaps was a huge positive which actually appears to have made a big difference.
Photo: Red Bull Content Pool
Solberg finished the rally in an amazing 7th overall which speaks volumes for this young man's talent. Maybe once Mr Sordo finally hangs up his helmet, 19 year old Solberg will be offering up stiff competition to Craig Breen for the seat?
Oliver's father Petter had nothing but praise for his son:
"Rarely am I speechless or shedding a tear, but this weekend has been unbelievable so proud of Oliver for his attitude and amazing performance on his WRC car debut – such a performance shouldn't be possible, it's incredible."

Pette Solberg
In the WRC2 class former M-Sports driver Esapekka Lappi delivered a clear message back to not only his former team but the rest of the World Rallying Community. On the Monte Carlo for Round 1, it was former Hyundai driver Andreas Mikkelsen who came to dominate the class, but here in Finland, Lappis home country, it was his time to shine in the R5 category.
Photo: TOK Sport WRT / Lappi Social Media Channel
With no less than 8 out of the 10 stage wins, he led from start to finish in his VW Polo GTI. Lappi who exited from the top tier of rallying at Monza in December last year was left not only without a seat but any clear sense of direction back to the Championships. TOK Sport WRT offered up him a chance to get back out on the stages and If I'm honest, some like myself didn't expect him to dominate the event like he did.
Beating fellow TOK Sport WRT Driver, Mikkelsen with such a margin of over 47 seconds, one has to wonder what he could have archived if he was in a WRC car?
"Everything was perfect, we just missed the rally fans. Thanks to our team, sponsors and the rally organizers. I am really pleased with the level of competition this weekend, its show's that we are stronge. We keep pushing and the best is yet to come"

Esapekka Lappi
Photo: Red Bull Content Pool
Norwegian Andreas Mikkelsen, having competed on both of the first two rounds now leads the WRC2 Driver standing, sitting on 53 points ahead of Lappi in second. At this stage, we are not sure of Lappi's future plans, with regards to if we shall see him out on the stages again. We also have to consider that defending WRC2 Champion Mads Ostberg is planning to hang up his commentary microphone and return to the seat of his Citroen to fight with Mikkelsen.
Next up for the FIA World Rally Championships is another brand new event for the drivers and teams to tackle. With a month break in proceedings, Croatia will then step up to the World scene with a new Asphalt event based out of the capital city of Zagreb on 22nd-25th April. With some 22 stages expected to feature, round 3 of the 2021 season may also see a return of Rally Fans to the stages to spectate.
Words: Andy Cook – Xlerate | Feature Photo: Red Bull Content Pool