BRX | RD5 – LYDDEN HILL 2019
04/09/2019
Godfrey win at Lydden Hill scorcher to re-take the championship lead.
Julian Godfrey claimed victory and re-took the lead of the 2019 Toyo Tires UK British Rallycross Championship at Lydden Hill on Bank Holiday Monday.
The fifth round of the championship provided Godfrey with his third win of the season and moved him ahead of Derek Tohill in the points, with the two joint following round four.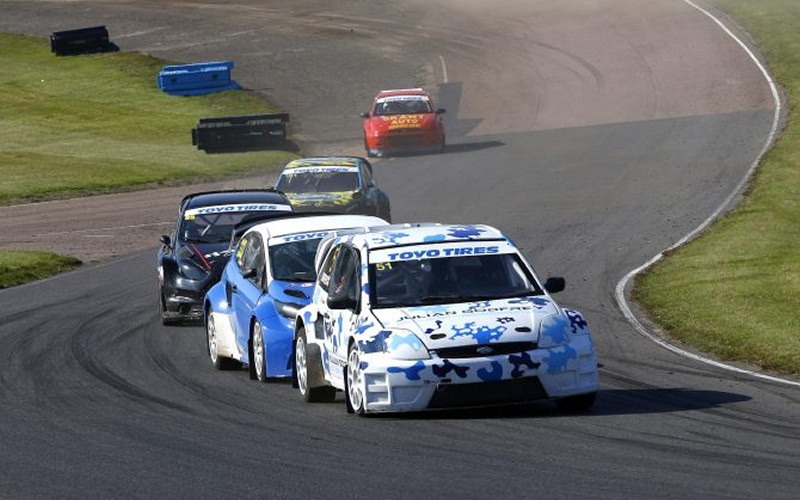 Photo: British Rallycross Championship
Godfrey topped the timesheets in both of Q2 and Q3 to take pole position for the final. It was, however, Jack Thorne, from the other end of the front row who made the best getaway to take the lead going into the first bend. However, it was Godfrey back in front coming out of the bend.
From the opening lap Godfrey led the race, only dropping positions when he took his joker a lap earlier than Thorne and Roger Thomas.
Photo: British Rallycross Championship
Thorne was trying hard to keep the gap close between himself and the lead man, but in the end had to settle for second.
Fastest in Q1 was Tohill, and he also started on the front row but was passed by Thomas at turn one. After taking his joker lap Tohill was stuck behind Steve Hill, who took his joker on the opening lap, losing time on the leaders.
Photo: Derek Tohill
Once Tohill was passed Hill, he was able to pass Thomas quickly but ran out of laps to gain any further positions from third.
Hill also passed Thomas in the closing stages of the race. Andy Grant was sixth whilst Simon Horton completed the order.
WRX racer was out in the Fiesta but had to retire from the meeting due to an overheating engine. Steve Mundy retired from Q2 after losing the left-front wheel.
With three rounds left Godfrey leads Tohill by five points in the championship standings, with Hill third.
BRX returns in just over three weeks' time with Round 6 at Pembrey Race Circuit on 21-22 September.
Words By: Kelly Thomas – Xlerate