WRX | WORLD RX OF GBR 2017
28/05/2017
The FIA World Rallycross championships continues to grow year upon year and it is fast becoming THE motorsport championship in the world. Now we realize that this may be a bit of a bold statement but it doesn't take a genius to see just why. This format, is fast-paced action-packed racing and its perfect for both today's and tomorrow's generation of Motorsport fans and its made for TV, besides how can anyone argue with legends such as 9x World Rally Champ Seb Loeb and our favourite character in motorsport Petter Solberg?
In the run-up to this; one of our highlight events the shock announcement came from the series promoter IMG that 2017 was to be the end of the British round of World RX at Lydden Hill and that for 2018 the event moves to a freshly built track at Silverstone. A controversial move in the eyes of some hardcore rallycross fans but when one sits down and considers it in-depth, it all makes sense. The promoter IMG wants to grow the championship even further and has a clear vision to make every round of this world-class motorsport championship have a festival feel about it. With its central location, ease of access and great facilities, Silverstone is the perfect fit for such an event and world-class series. Take our advise and make the trip to Norway's round and then "You Will Know" what is trying to be achieved here with the festival feel, only on a slightly bigger scale.
Parking all of the off-track politics and entertainment to one side let's focus on what all of us die-hard motorsport nuts enjoy most, the loud sounds of the Anti Lag on a 600+bhp 4WD road-going production like-ish car only with beefed-up performance, big spoilers, cool liveries and an all-round badassness to it.
This is what the fans travel from across the UK and Europe for, a bunch of crazy, yet very talented drivers from the world of motorsport all hyped up on adrenaline as they race against each other around a purpose build track of mixed tar and gravel; sometimes with the odd jump thrown in for good measure.
I headed down to Kent for the WRX farewell event at Lydden Hill where once again fans were treated to another instalment of this truly awesome form of motorsport. The weather was kind and the crowds were noticeable up on previous years.
I've always been a believer in there being a perfectly good hotel within a reasonable distance from most days out, but not in the South East of England when the World RX is in town ….oh no. Now I generally don't do camping but needs must and all that and so Saturday evening after the first day's action; I went hunting for a small patch of grass to pitch my World Ranger Storm Buster 4, a slightly cheap and nasty pop up tent. Like most blokes, I don't need instructions for things like this… besides "How hard can it be?" Over 30 minutes later and a sigh of "That'll do" I stood back and looked at it thinking "There's no way that'll withstand one of my farts let alone a gust of wind!"
Day two was when the action out on track heated up, even more, it was the knock out rounds followed by the finals today and the crowds had swollen even more, it was a case of elbows in at some of the more popular spots around the track to watch from. Today was a day for driving a VW Polo, Petter Solberg took the win ahead of teammate Johan Kristoffersson in the final race, with Ford Performance's M-Sport run Ford Focus of Ken Blocks Hoonigan Racing Divisions driver Andreas Bakkerud (wow that was a mouthful) taking the final step on the podium.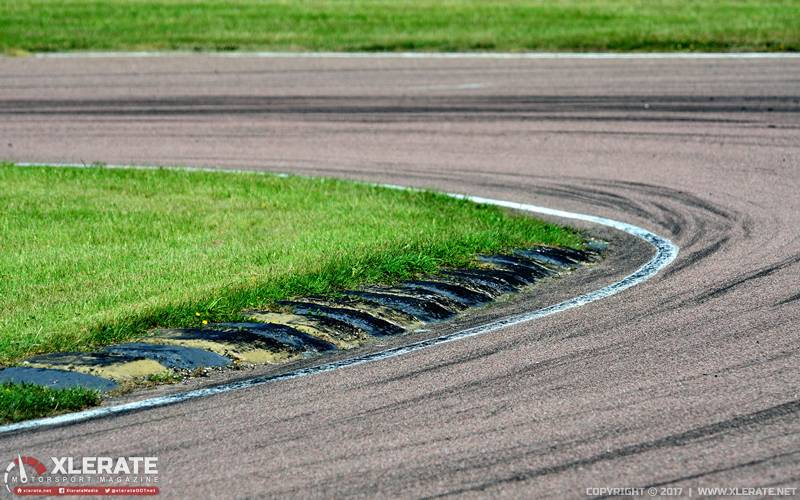 And so we leave Lydden Hill behind with good memories of some great World RX action and depart with a passing shot of just a small piece of its legendary but fond tarmac and one of its curbs, whilst looking to the future at Silverstone and the all-new Speed Machine Festival.
Words & Photo's By Andy C | Copyright © 2017 Xlerate