WRX | FIA WORLD RX 2018 PREVIEW & LAUNCH
26/03/2018
Now entering its fifth season the FIA World Rallycross presented by Monster Energy has established itself as one of the most exciting forms of motorsport on the world scene for both drivers and fans alike. As the new season fast approaches us, the excitement and buzz surrounding what lies ahead increases, the worlds media were invited along to Silverstone  – The Home Of British Motor Racing and the new home of Britain's round of the Championship for the 2018 Official Launch & Test Day.
Paul Bellamy, World RX's Managing Director for the series promoter IMG along with Stuart Pringle, Silverstone's Sporting Director talked to the voice of RX, Andrew Coley in the pre season press conference. Bellamy talked about how WRX enters an exciting new season with two brand new purpose built tracks at the Circuit of Americas (which will play host to the inaugural World RX of USA in September) and Silverstone (which will host Britain's round along with the awaited Speed Machine Festival) being bought on board in addition to last year's South African trip but he also expressed the importance of existing favourites from around the world remaining as part of the calendar.
Pringle spoke about Silverstones efforts in building the new track and how they worked with the FIA and IMG. Silverstone still have work ahead of them as they prepare the track and its facilities in readiness for the May event, which will see the FIA World RX join the all new Speed Machine Festival, a vision that both IMG and Silverstone jointly share. Pringle commented on how fans were anxious about the possibility of restricted viewing at Silverstone, but he had reassurances that with the building of a new grandstand and raised banks around the circuit it would yield great viewing opportunities of the action.
Recently Silverstone played host to its first every Rallycross meeting when the Toyo Tires MSA British Rallycross Championship christened the track in competition for it's opening round this year. Despite the bitterly cold winter conditions, the international entry list drew in a crowd of die hard RX fans who were treated to FIA World RX regulars from the likes of Team Peugeot Total Drivers Sebastien Loeb & Timmy Hansen along with EKS new signing Andreas Bakkerud as well as a host of British talent for an action packed day which saw Leob take the honors. This was to be a great learning curve for Silverstone, as they worked out the logistics of an event of this type, such as marshall posts and safety barrier locations. The BRX championship will return once again at the end of the year for its final.
This year a strong field of permanent teams and 15 drivers will line up at the opening round in Barcelona next month, promising to deliver another cracking hard fought battle for the title, so let's take a little look into them.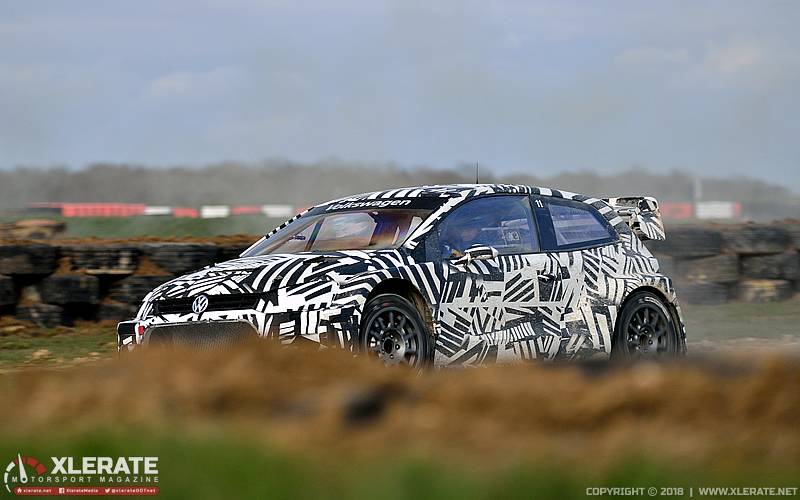 PSRX VOLKSWAGEN SWEDEN
Last year's champ Johan Kristoffersson returns with the No 1 on his car to defend his 2017 Title alongside Peter "Hollywood" Solberg for Team PSRX in the VW Polo R, with the factory backing of Volkswagen Sweden brining a strong team package Solberg said "it was great to be part of the winning team last year". Talking to Andrew Coley in the press conference he talked about how he is getting a bit old now, and that for many years he enjoyed battling with the likes of Leob in the WRC "I want to be up there fighting again this year", "this is what we do it for, to hopefully win".
When asked about his recent outing in the WRC on Rally Sweden, Johan said that with the nature of rallying where the driver approaches a bend or part of the stage only maybe once or twice over the event, he believed that team mate Solberg's background in rallying could have possibly helped him have the edge on the joker lap. The thinking is that any advantage no matter how small that could be gained from or could potential benefit one in the joker lap was well worth the effort, if nothing else he had fun doing WRC Sweden. Kristofferson has grown from strength to strength since is first handful of outings back in 2013/14. From the runner up spot in 2016 to fellow countryman Mattias Ekstrom to a dominant title winning season last year under the PSRX outfit he heads the field away as part of an intelligent team who work together on every round to get the most out of their team tactics.
TEAM PEUGEOT TOTAL
The Worlds most successful rally driver returns for his third fulltime season with the now factory backed Team Peugeot Total as he continues to master this discipline. Loeb has had a pretty busy off season, what with competing in the Dakar, the odd outing with Citroen in the WRC in Mexico and his recent win at the opening round of the British Rallycross championship, could this be his season for a shot at a World title in RX?
Loeb once again joins the young Timmy Hansen from Sweden, the son of Ken Hansen, the most successful rallycross driver in history, in this now not so family run team driving the Peugeot 208 WRX. "When it was Peugeot-Hansen team, it was really busy for me, what with it being a family run effort, now I can focus on my driving more". This is the first season where Peugeot takes the RX outfits efforts in house, hoping that this will yield results for not just the nine-times WRC Champ Loeb but Timmy as well who is hoping to add to his win in Canada last year. Timmy's brother Kevin will also drive a Peugeot 208 under the TEAM PEUGOT TOTAL banner but as an individual entrance.
EKS AUDI SPORT
In the shock announcement last year that Ford Performance would pull the backing from Ken Blocks Hoonigan Racing Division RX program with the Focus RS RX, it left Norwegian driver Andreas Bakkerud looking for a seat. He wasn't on the market long before being snapped up by Audi Sport backed the EKS RX outfit to run alongside the 2016 WRX Champ and two-time DTM title winner, Mattias Ekstrom.
Bakkerud got to grips with his new ride, the Audi S1 Super car at Silverstone recently in the opening round of the British Rallycross Championship where after dominating all three qualifying sessions he finished third overall behind Team Peugeot Total Drivers Loeb & Hansen. Now that Bakkerud has made a new home in the Audi with Team EKS he looks to bring the fight in an already proven package this season.
Team boss Ekstrom said "Like in previous years, I had the opportunity to do both DTM and RX this year, but I chose to go with my heart and do what I wanted to do more, and that was Rallycross". Ekstrom can now focus solely on his driver/team owner World RX campaign for 2018 and hopes that with the continued support of Audi Sport he and his time will be in the fight for the title again. With his good relationship with new team mate Bakkerud, Team EKS Audi Sport have high expectations this year.
OLSBERGS MSE
Kevin Eriksson returns to his father's Olsbergs MSE team for a third season. Eriksson is famed amongst RX fans for THAT OUTRAGEOUS overtake around the outside on the first corner of the final at Esteringing Germany, one of the most watched RX videos on the internet. He will join fellow Swede Robin Larsson in a pair of Ford Fiesta's as they hope to be in the competitive fight.
GRX TANECO TEAM
Bringing a new manufacture to the World RX paddock, Finnish based GRX team headed up by two time WRC champ Marcus Grönholm will field two Hyundai i20's, which will be driven by son Niclas and Russian Timur Timerzyanov. Talking to Andrew Coley at the pre season press conference the pair talked about how much potential they thought the i20 had, work still continues in preparation for the season ahead and they haven't had as much seat time as they would have liked to have had but they are confident that it's a good car, I guess time will tell?
GC KOMPETITION
Finally the Pro Drive built and developed Renault Megane RS broke its cover following sneaky teasers on social media over the past few months, bringing another new mark to the Championship. The Megane will be driven by French pair Guerlain Chicherit & Jerome Grosset-Janin. Chicherit has made a number of appearances in RX driving a JRM Mini RX back in 2015 but for 2018 he makes his maiden full time program, he recently used the opening round of the British Rally Championships as a shakedown in a Renault Clio RS in order to get some seat time. Grosset-Janin brings a wealth of experience from his past times Ice Racing and stint in the French rallycross, he also makes his long awaited full season at the top level, both are looking to develop themselves further as drivers.
TEAM STARD
Latvian Janis Baumanis will enter his third full season in the World RX and his second with Team Stard, he will continue at the wheel of a Ford Fiesta and is hoping to secure his first WRX Podium this year.
SEBASTIEN LOEB RACING
There's nothing more encouraging for a young up and coming driver than having the backing of a legend in motorsport that is Sebastien Loeb. Young Belgian Gregoire Demoustier is lucky enough to have been picked up by the man himself to compete in a full season of the World RX in a Peugeot 208 prepared by Sebastien Loeb Racing team. Demoustier comes from a background in single seaters but in 2017 he made a number of appearances as he tried his hand at rallycross, let's see what the future holds for this young man and how he develops under the guidance of Loeb.
So what else is new for 2018?
Permanent championship competitors now have stricter controls on testing, only being allowed to test at WRX tracks during official test days, testing at other venues however remains unrestricted.
The Techie Bits:
Number of engines used in the season is reduced from three to two.
Number of turbos reduced from two per event to four per year.
Tyre use is restricted to 12 per event, from round 3 onwards, this comprisses a max of eight new and four from previous events.
Gear ratios (previously free) are now restricted to two sets of ratios per years.
Rear aerodynamic device is fixed for the year.
The 2018 Calendar is as follows:
R1 – BARCELONA, SPAIN – APR 14 – 15
R2 – MONTALEGRE, PORTUGAL – APR 28 – 29
R3 –  METTE, BELGIUM – MAY 12 – 13
R4 – SILVERSTONE, GREAT BRITIAN – MAY 26 – 27
R5 – HELL, NORWAYY – JUN 09 – 10
R6 – HOLJES, SWEDEN – JUN 30 – JUL 1
R7 – TROIS RIVIERES, CANADA – AUG 04 – 05
R8 – LOHEAC, FRANCE – SEP 01 – 02
R9 – RIGA, LATVIA – SEP 15 – 16
R10 – AUSTIN, USA – SEP 29 -30
R11 – BUXTEHUDE, GERMANY – OCT 13 – 14
R12 – CAPE TOWN, SOUTH AFRICA – NOV 24 -25
So there you have it, a preview of the  FIA World Rallycross Championships 2018, we look forward to the action, who will your money be on?
Words & Photo's By Andy C | Copyright © 2018 Xlerate