PREVIEW | TITANS RX 2019
26/06/2019
The brand new Titans RX series kicks off at Essay circuit this week. The series was first announced last October and was set up by Max Pucher as a cheaper alternative to running rallycross Supercars. Since then a number of high-profile drivers have joined the championship and are set to take part in a 6 race calendar on half a dozen old school rallycross circuits. The series is setting itself out as a more traditional form of rallycross due to a number of differences to the World Rallycross Championship. With the inaugural season of Titans RX just about to start let's look at the championship and what it is set to offer.
The Car
It is a single-make series with the car, the PanteraRX6, developed in house by MJP Racing who also run the series. 3 bodies of car have been created, the Hyundai i30, the Audi A1 and the Mercedes Benz A-Class which should all give near-identical performance due to their similar shape and sizes.
The car's performance would put some world rallycross cars to shame and all this at one-fifth of the cost, supposedly it is possible to rent a car for only €20,000 per round. The 530hp beasts can reach 0 to 100km/h in less than 2 seconds and are designed to cope with tarmac, gravel, jumps and a fair amount of contact. The car is far from basic though as the drivers will even be able to change the car settings during the races. They are lighter than Supercars so have a similar power to weight ratio as the world championship cars.
Calendar
There are 6 rounds, each doubleheader meetings visiting France, Great Britain, Portugal, Austria, Hungary and Germany. 3 of the circuits are picked up after the World Rallycross championship dropped them, Lydden Hill, Montalegre and finale Estering. Each circuit is a purpose-built rallycross circuit that has been on the European and World Rallycross championship calendars in the past. Grass banks, gravel traps and solid walls are there to punish any driver mistakes rather than tyre bundles and open runoff of some recent World Rallycross circuits.
Format
With every race weekend having 2 finals the timetable for each race day is jam-packed. In the morning there are 3 qualifying sessions followed by 2 semi-finals and a final at the end of the day. The intermediate points scoring format is very different to World Rallycross. Drivers gain more points for winning their individual race rather than setting the best time.
For each on-track overtake they make they gain 5 points as opposed to only 1 point gained for everyone they are quicker than in the race time. And overtake they will have to do as the joker lap has also been done away with other than to act as a penalty. This is to encourage more on-track passing. Each qualifying race is also 5 laps long, the semi-finals are 6 laps long while the final is 7 laps in length giving more time for that do or die lunge.
Points
Championship points are only dished out after the final has finished ranging from 25 points for the winner of the final down to 1 point for 15th meaning a dominating driver can have their weekend turned upside in the semi or the final. To add extra pressure to the final weekend the German round will offer double points to make sure the championship battle goes right down to the wire.
Drivers
A large selection of drivers have been announced with backgrounds in Rallying, Rallycross, Touring Car and SportsCar racing. 9 drivers are expected to attend all 6 race meetings including Toomas Heikkinen, Craig Breen, Hayden Paddon, Timmy Hansen and Kevin Hansen with Andrew Jordan and Nelson Piquet set to miss 1 and 2 rounds respectively.
Alexander Wurz will also race and share driving duties with Nelson Piquet. Jerome Grosset-Janin is set to race at round 1 at least. Reini Sampl, Csu Csu, Tamara Molinaro and Ronny C. Rock will also run the full season with Andreas Steffen and Antoine Massé making guest appearances in the championship.
Reini is notable in that he will use hand controls due to an injury he received in a skiing accident in 1996 while Tamara Molinaro was the 2017 Ladies European Rally champion and will make her rallycross debut this year. Between all the drivers set to do battle they have a combined 169 world rallycross starts, 39 podiums and 10 wins and they collectively have 9 world rally championship podiums and 1 win between them.

Championship predictions
With only a test weekend to go off of there is not much to base who might come out on top. However, it would be difficult to look further than the Hansen brothers as the favourites. Currently leading the World Championship and in equal machinery to everyone else, they could well take a clean sweep of victories throughout the year.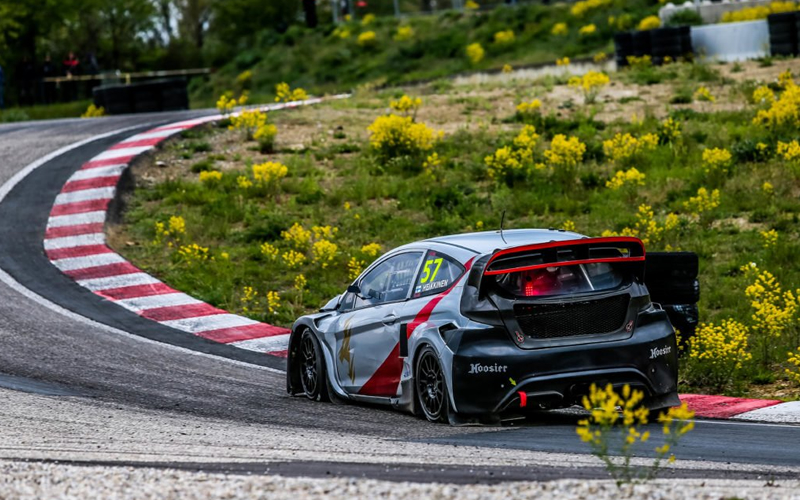 Looking to stop that will be Rallycross ace Toomas or Topi Heikkinen having won 2 world championship races in the past. Craig Breen and Hayden Paddon will look to put their mixed surface experience to good use but may struggle as they get used to the contact heavy rallycross racing.
Andrew Jordan will also be set to challenge for victories having started his racing careers in the mixed surface category. He was runner up in the British Rallycross Championship in 2007 and after several years out, was quickly back up to speed in his World RX debut in 2014 with a podium at Lydden Hill.
Consistent seat time should put him in a good position to end up on the podium but missing the first round due to a BTCC clash has all but ended his championship hopes before the season even starts. Nelson Piquet has also won a round in the Global Rallycross Championship back in 2015 but only contesting 4 round out of 6 including missing the double points round will restrict him to seeing how many victories he can rack up.

Round 1
The opening round will see 12 drivers do battle on the tight and technical Essay circuit that last hosted the European Rallycross Championship in 2011. The run to the first corner is short and leads immediately into a fast chicane so expect many cars to take to the grass as the pack tries to go from 4 or 5 across down to 1 or 2 wide at every race start.
Antoine Massé will make a wildcard appearance and the 2018 French Supercar Rallycross Champion will be a strong bet for a podium on a circuit he finished 2nd at last year. Jerome Grosset-Janin will be the other home driver and has a lot of experience at the circuit including taking a supercar win back in 2012 so seeing a Frenchman on the podium is a real possibility.
Word By Callum House – Xlerate
Photos: Titans RX