PREVIEW | WRX | RD4 | SILVERSTONE – GBR 2019
23/05/2019
WORLD RX BATTLE SHIFTS TO ALL-ACTION SPEEDMACHINE FESTIVAL
The fourth round of the FIA World Rallycross Championship presented by Monster Energy, the Dayinsure World RX of Great Britain is the centrepiece of the SpeedMachine Festival at Silverstone this weekend.
 
The opening three events of 2019, have served up fiercely-competitive racing, plenty of incidents – and the odd surprise. Silverstone promises more of the same.
Timur Timerzyanov arrives for the British event fresh from a maiden World RX victory at Spa-Francorchamps. The Russian will look to progress beyond the semi-final place he secured in 2018 in the GRX Tanceo Hyundai i20 – and add to his world championship 'wins' column.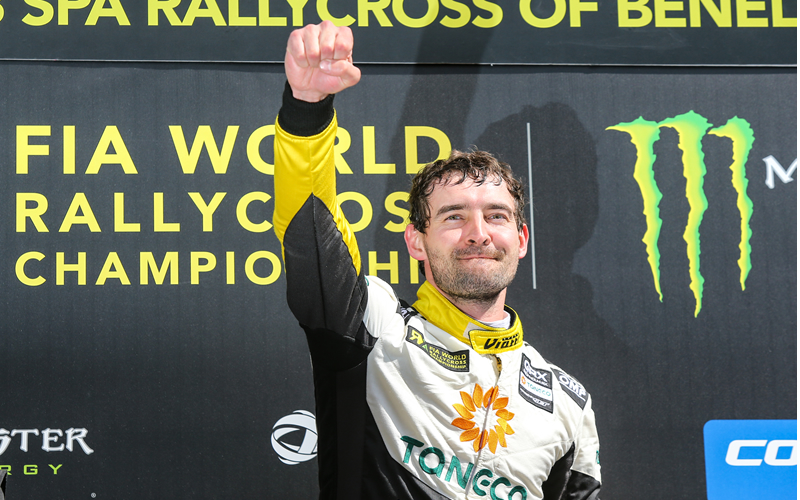 "It is great to visit such a famous track as Silverstone which has seen a lot of champions and a lot of great drivers over the years," he said.

"The festival crowd is like a concert-hall atmosphere. There is plenty for fans to do in the paddock between the racing. The track is technical and it is often hard to find the right grip but that's part of the challenge I guess.

"I waited 64 starts for my first World RX win in Spa-Francorchamps, I am really looking forward to getting another one as soon as possible."

Standing in his way will be the Hansen brothers in a pair of Team Hansen MJP Peugeot 208s. Kevin maintains his overall lead in the drivers' standings on 69 points with an 11-point cushion over older brother Timmy.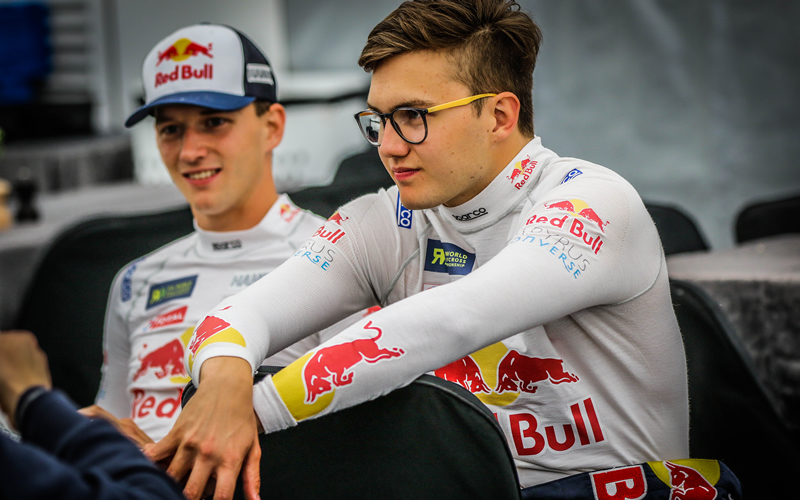 Timmy was irrepressible in Barcelona in round two, claiming maximum points from six wins. At Spa-Francorchamps, both brothers found themselves down the pecking order after day one but Timmy mounted a spirited recovery to reach the final where he finished fourth.
"Spa-Francorchamps wasn't ideal but we're still recovering well from our setback at Abu Dhabi. I'm looking forward to Silverstone because I know we have the pace to succeed here; I have the track record for fastest lap as it stands, after all," he said.

"A problem with the car last year stopped me from making the Final but generally speaking our Peugeot 208 WRX is tough as nails. It took a beating in the rough gravel at the final turn at Spa, plus we brushed the wall, but it was still quick regardless. Of course I'll be keeping an eye on the big jump and the sometimes heavy landings it can generate but I've got the speed to win, so I'll be pushing as hard as ever."

Kevin, meanwhile, narrowly missed the final at Spa-Francorchamps, the first time he has been absent from the big dance this season. Kevin is expected to challenge strongly this weekend.
"I'm really looking forward to Silverstone because it's a track that I know really well. It's quite technical and I think it suits my driving style. I went well there last year," he said.

"Spa-Francorchamps wasn't so easy for us, so I'm looking forward to getting to Silverstone and seeing what we can do. We're leading the championship but that doesn't mean we're thinking about the championship situation and the points. I really want to push hard at Silverstone and squeeze a little extra out of myself to see what I can do. Obviously that comes with a little more risk, but it's a risk that's worth the reward. I've got some confidence, so let's see what happens."

Upholding British honours will be Monster Energy RX Cartel's Liam Doran in the Audi S1. Doran had set the pace after Q2 in Belgium, advanced to the final, but ran into trouble at the Raidillon hairpin in the final and finished sixth.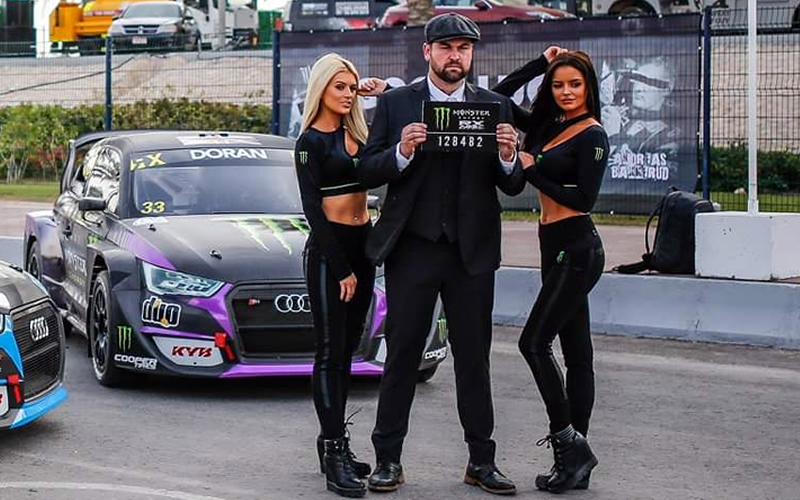 "I had built some momentum in qualifying at Spa a track I really loved, so to miss out in the final was tough to take," he said. At Silverstone, the British Bomb is well aware that Britain expects. "It will be intense in front of my home crowd but I'm aiming to put on a show,"
There will also be local support for Xite Racing's Oliver Bennett. The Bristolian recorded his first qualifying win of 2019 in Spa-Francorchamps and is finding improvement in the Mini Cooper – free of the front suspension gremlins of the opening rounds.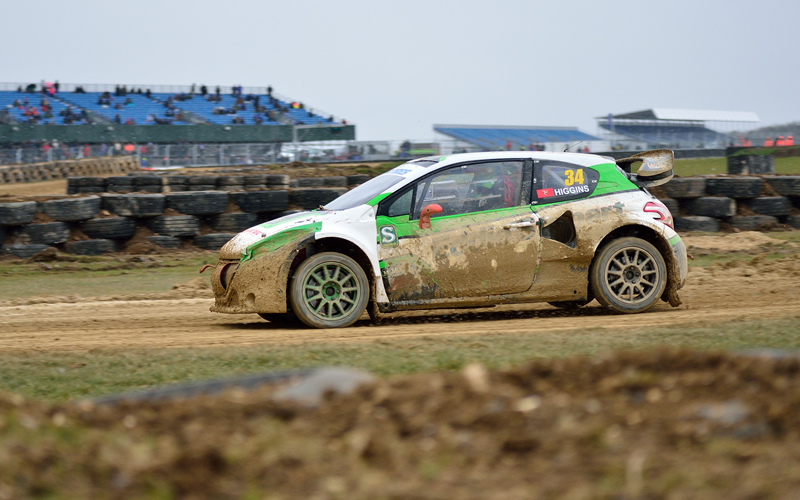 British Rallycross Champion and sometimes James Bond film franchise stuntman Mark Higgins pilots a Peugeot 208 in his second successive home appearance as a wild card.
Niclas Gronholm, who sat out the Belgian round with illness will again miss the British round. He will be replaced, pending stewards approval, by Joni Wiman in the second of the GRX Taneco Hyundai's alongside Timerzyanov. Wiman, who stood in for his fellow Finn at Spa-Francorchamps, finished third in the final after a great recovery drive in only his second World RX outing.
Doran's RX Cartel team-mate, Andreas Bakkerud was second to Timerzyanov in round three after a third place in Barcelona. He was also second to title-winner Johan Kristoffersson in the Silverstone final last year and has a British victory from 2014 on his CV. He confirmed he will have the raucous support of the Bakkerud Blue Army at SpeedMachine.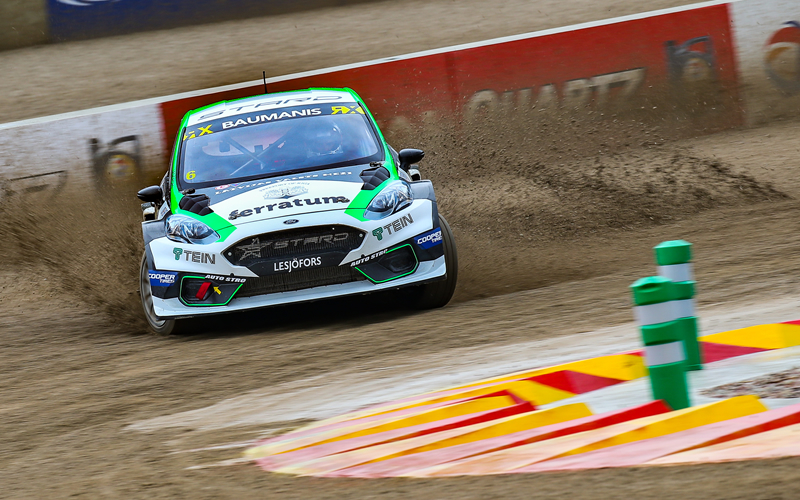 Team STARD's Janis Baumanis is the only man to feature in all three finals in 2019 and currently lies fourth in the overall standings on 52 points, one behind Timerzyanov. The Latvian will be joined by Finland's Jani Paasonen in the second STARD Ford Fiesta.
Christian Szabo, of Hungary, had a DNF in Q4 at Spa-Francorchamps in the EKS Sport Audi S1 though he did manage to make it to the semi-finals – a feat he has achieved at all three events to date capped by a final appearance in the opening event in Abu Dhabi.

The former European Super1600 champion has impressed in his debut World RX season and would welcome an incident-free run at Silverstone.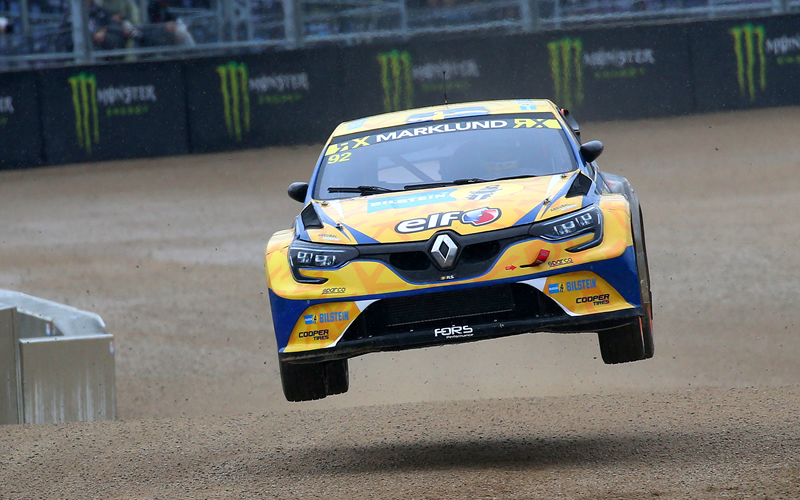 Sweden's Anton Marklund was an early pacesetter in Belgium for GC Kompetition but finished out of the placings in his semi-final along with GC Academy's Cyril Raymond. Fellow Frenchman and team boss Guerlain Chicherit and Belgium's Guillaume De Ridder will go in search of a change of fortune.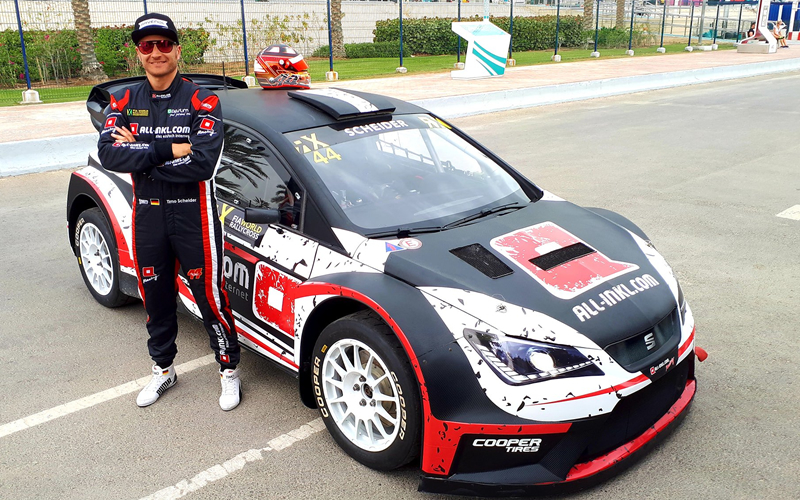 It promises to be a busy weekend for the ALL-INKL.COM Muennich Motorsport team. Besides fielding DTM champion Timo Scheider in World RX, team boss Rene Muennich and Mandie August will also race Seat Ibizas in the European Supercar event.
 
The FIA European Rallycross Championship for Supercar also kicks off this weekend at Silverstone.
 
At the head of the entry list, and top of the list of favourites for success is Swedish driver Robin Larsson, the 2014 Euro RX Champion. He will drive the Audi S1 that Mattias Ekstrom won the World RX title within 2016, and raced two weeks ago in Spa.
 
The Euro RX Supercar Championship will be run over six rounds this season, starting in the UK and joining World RX events in Norway (Hell), Sweden (Holjes), France (Loheac) and Latvia (Riga), while also having a standalone event at the Estering in Germany, in August.

SpeedMachine, the ultimate adrenaline-fuelled weekend, promises plenty in the way of action on and off-track from three categories of rallycross, a homage to stars and cars of yesteryear, Monster drift shows and dragsters, e-sports, world-class music acts including headliners Sean Paul and Jax Jones and lashings of street food.

Press Release cutesy of FIAWorldRallycross.com
For more about SpeedMachine, please visit