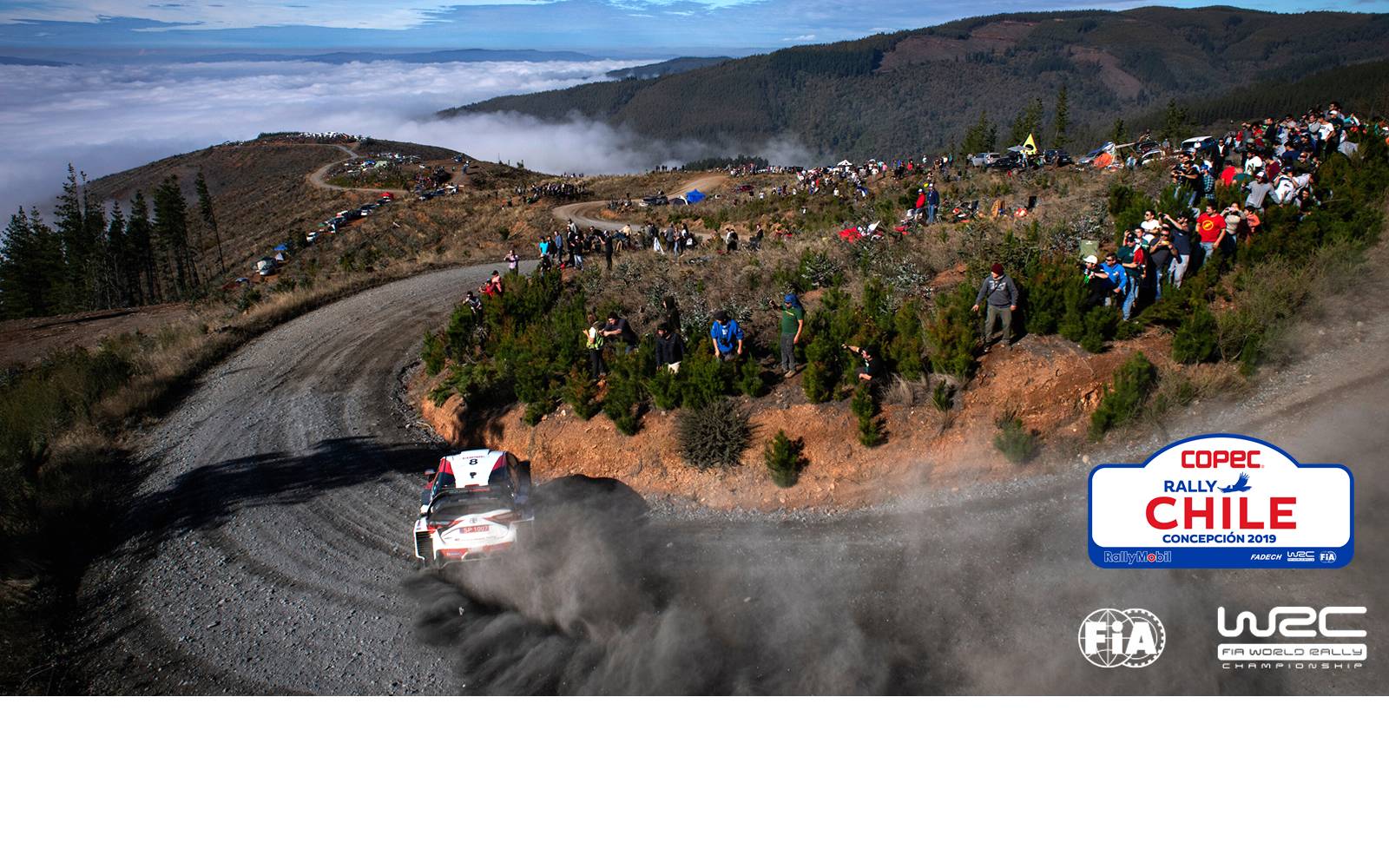 WRC | RD6 | COPEC RALLY CHILE 2019
23/05/2019
With no prior knowledge, data, reference points, previous pace notes or onboard videos that could be studied in advance; The Copec Rally Chile with its 17 gravel stages totalling 325km, offered up a fresh exciting new challenge for Round 6 of the FIA World Rally Championship, becoming the 32nd host country in the history of the WRC.

The stages in parts looked very similar to that of Wales, Hyundai's Andreas Mikkelsen who spent a decent part of his early career in the forest of Wales topped the shakedown timings on Thursday morning ahead of Toyota's Ott Tanak.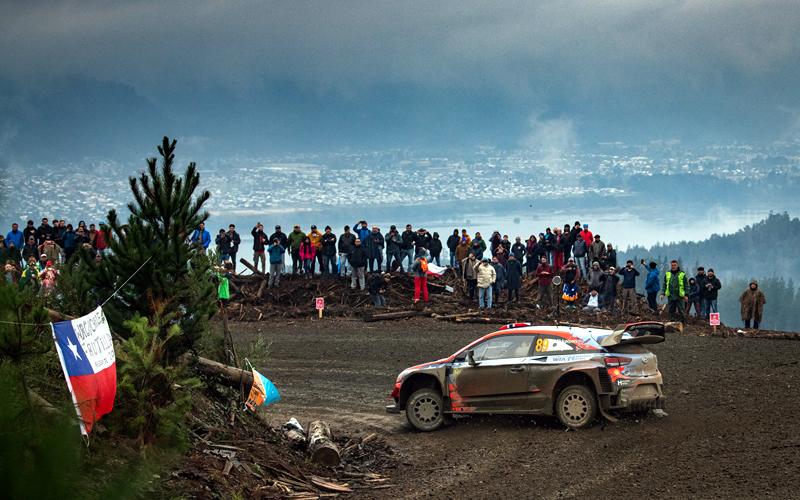 Andreas Mikkelsen:
"Friday is the key day for getting a good result. The stages look quite slippery and with the weather forecast for some rain, it will be an advantage to be early on the road".
As the crews crossed the start line in the host city of Concepción on Thursday evening, Hyundai's Thierry Neuville led the Championship standings following on from his win in Argentina and heading into this, the second of the South American doubleheader.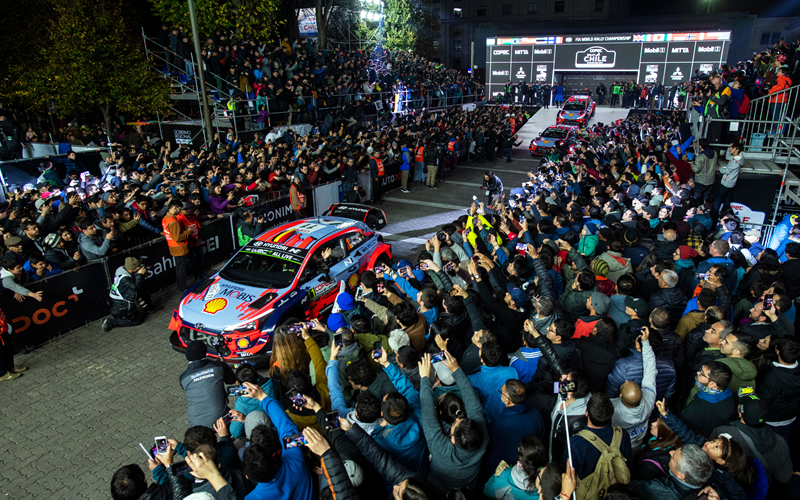 But was the Belgian going to follow that up, along with his Rally Corsica win, to make it a hat trick?

The opening challenge of the rally was the 17km El Pinar stage, a slippery test which saw the Toyota's of Kris Meeke and Jari-Matti Latvala post the exact same fastest time ahead of M-Sports Elfyn Evans. Clearly, these boys were confident in the conditions from the off; but what about the Championship contenders?
Neuville who was first on the road struggled to find his confidence, sighting that his pace notes were simply not working. Current World Champ Sèbastian Ogier found the stages different to what he saw on the recce and stalled his Citroën C3 in this opening stage.
Whilst his team-mates were off to the perfect start, Toyotas unofficial No1 driver Ott Tanak complained of a lack of grip, he also stalled his engine at the same place as Ogier and then had trouble restarting it.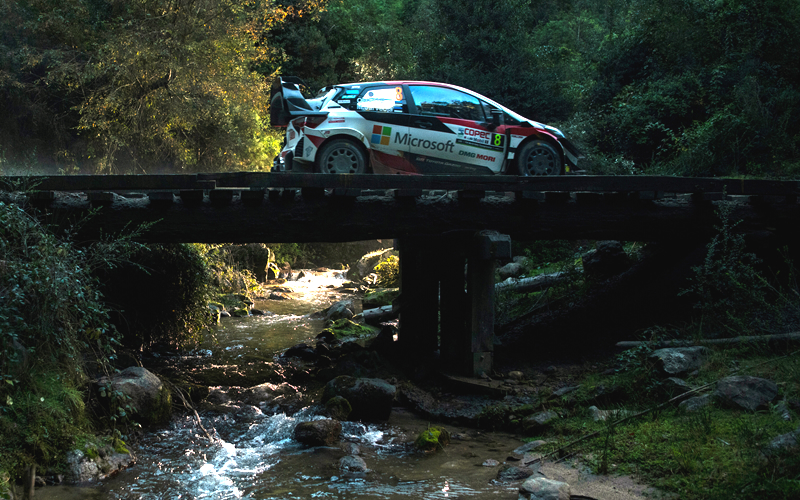 The second stage, SS2 El Puma 1, was the longest of the rally. A nice 30km for the crews to get their teeth into. Finding it extremely demanding and hard to get the right pace with his notes, Tanak thought that his driving wasn't great and also felt the stage was really bad. Despite all this negativity, Tanak won the stage and now took up his position at the top of the overall leader-board.
Also starting to find their feet were Ogier and Neuville in second and third respectively. Ogier commented on how pretty the roads were but found it hard to gain traction in places; maybe a little less viewing of the scenery and a little more focus on the job in hand was required?
Neuville's run through El Puma was interrupted by a red flag which was issued for safety reasons; and although the stage was quickly restarted, the Belgian was awarded a notional time which was some six seconds slower than Tanak. Neuville was not happy and understandably so, seen as he was on the pace with Tanak at the first few splits.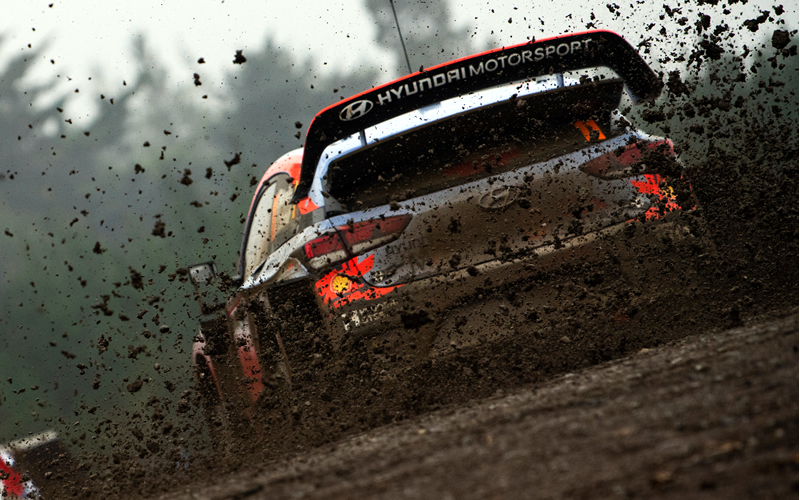 With a final 22km stage of the mornings' loop before the midday service, Neuville landed his first stage win, beating Latvala by a mere 0.2 seconds. It wasn't enough to compensate for stage 2 or move him up in the overall standings, but third overall was a reasonable start.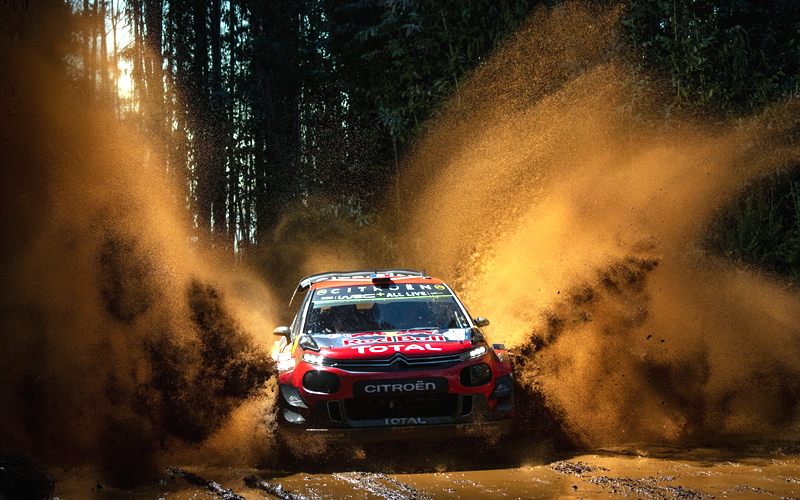 Following some significant changes, Ogier was a little happier with his C3's performance compared to that in Argentina. Second ahead of Neuville by half a second was nothing really but worryingly that Toyota Yaris of Tanak had already started to ease out a lead of more than 6 seconds.
Ott Tanak:
"It's going well so far but it's tough, the roads are challenging. They are fast, slow, constantly changing and the visibility was tough with the sun and the shadows. First time in Chile is a big job."
After the midday service, Tanak set about building up his lead with a victory in mind already. He won both SS4 & SS5 extending his lead over Ogier by some 23 Seconds. Ogier said that he was giving it everything, but Tanak was once again very fast!
Meanwhile, despite Neuville getting a stage win in just before service, it wouldn't be enough to spur him on. Yet again struggling in the El Puma stage and only posting the 7th fastest time. He really tried in SS5 and pushed a lot, but with a lot of wheel spin; a 6th here would see him drop a place to Latvala.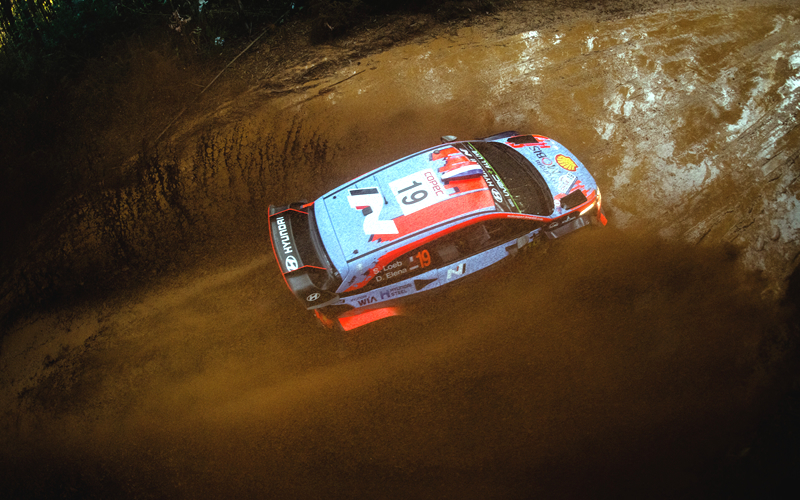 The final stage of the day saw a nice surprise stage win for Hyundai's Sèbastian Loeb. Loeb who was back out for the team on his first gravel rally in the i20 really enjoyed this stage "with all the people around it looked like a video game" he commented. Loeb beat team-mate Neuville by just 0.6 seconds on the short 2.2km Super Special Stage in Concepción to end his day in 6th.
In the WRC2 Pro category, Skoda's Kalle Rovanpera locked in a battle with Mads Ostberg topped the timings. Mads had won all three of the mornings' stages, but in the afternoon loop the young Fin, Rovanpera fought back to win both SS4 & SS5.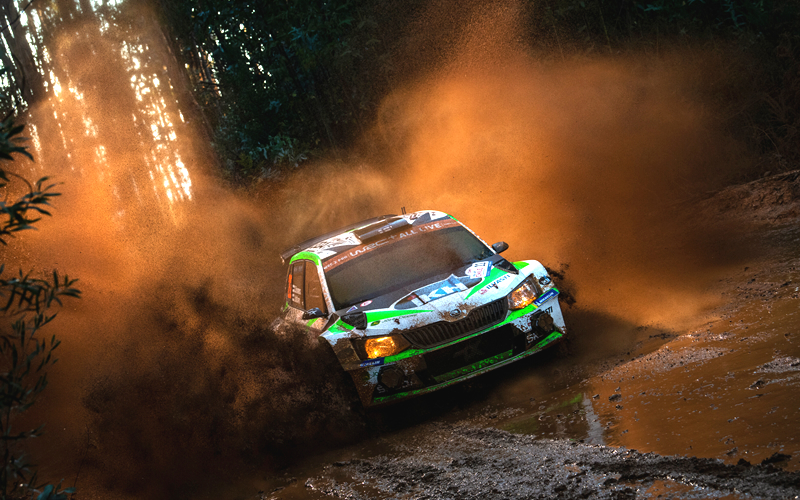 After the first stage of the afternoon, the 30km SS4 El Puma, Ostberg was "not happy with the setup" of his Citroën C3 R5, saying that it was "not working well in the lines" & "we need to improve".
Improve he did in the final super special stage of the day with a win, beating Rovanpera by just 0.3 seconds, but it was not enough to end the day in the lead.
At the end of the challenging opening day of this new rally in Chile, by winning three of the six stages Toyota's Ott Tanak led Citroëns Sèbastian Ogier by more than 22 seconds with Jari-Matti Latvala in third.
Ott Tanak:
"It was a good morning for me and an even better afternoon. I am getting a great feeling with the car. I will try to keep this focused in the next two days"

It was a more compact route for the second leg of the event, with 120km of competitive stage action. Thierry Neuville started the day off on the right foot by winning the opening 20km SS7 – Rio Lia test, beating rally leader Ott Tanak by 0.4 secs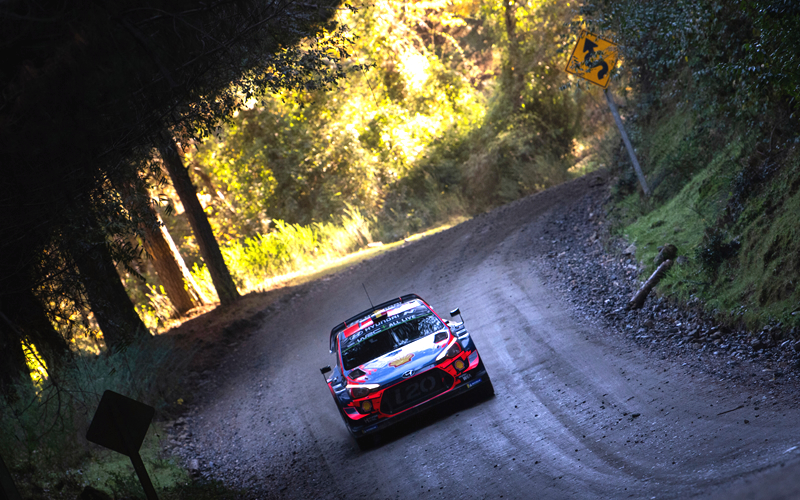 Neuville reported that "The car feels good" despite the stages still being tricky, maybe he just had a good night's sleep?
Whatever the reason for it, in the very next stage he would wish that it was all just dream or a bad nightmare even, which would be a more fitting description for what was about to happen.
Welshman Elfyn Evans had a bit of a wakeup call by having quite a big moment in this one, going off the road for several meters. Fortunately, his Ford Fiesta showed no sign of any damage and he was able to continue on to post the third-fastest time; this was enough to move him up a place to 6th OA.
Not so lucky was fellow Brit Kris Meeke! Under pressure from Loeb behind him, it was to be a real bad start to his day.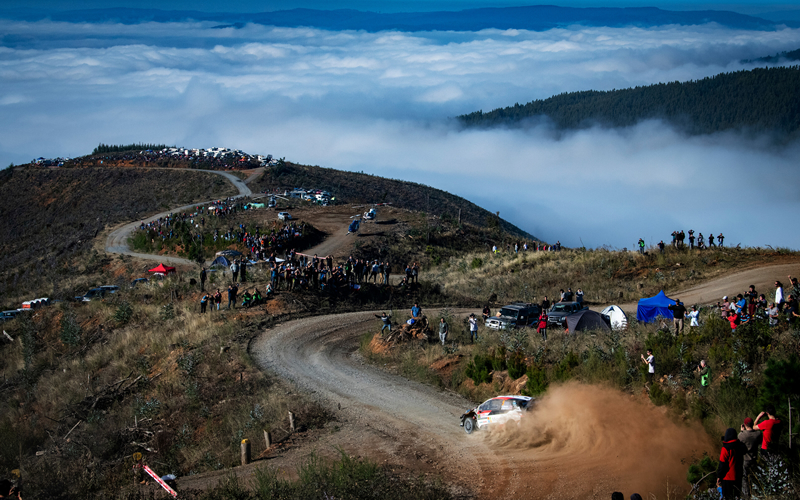 Meeke had a frustrating low-speed roll which caused a fair bit of damage to his Yaris. All four wheels were still pointing in the right direction; and so in true Colin McRae style, he carried on regardless, holding up team-mate Jari-Matti Latvala in the process; resulting in a lost 5th place.
KrisMeeke:

"It was a slow corner where I ran too wide. There must have been a tree stump or something near the edge of the road that I hit"
Jari-Matti Latvala:

"I think Kris didn't realize we were behind him after he went off the road. In these cases, we should have time benefit"
Now well into only his second day on gravel, Loeb was really starting to get to grips with the i20 on the loose stuff. He won SS8 Maria La Cruces by the smallest of margins, but never the less a stage win was a stage win, just 0.2 seconds faster than Latvala.
Sèbastian Loeb:

"I really enjoyed the stage and the car feels pretty well. I pushed hard, so I am pleased to see the time was not bad".
While Loeb was enjoying his stage win, the Hyundai team were certainly in no mood for celebrating; because their No1 man Thierry Neuville had a big off in the very same stage. A huge roll, the biggest of his career destroyed the i20 and ended their rally, airlifted to hospital for checks both crew members were bruised but OK.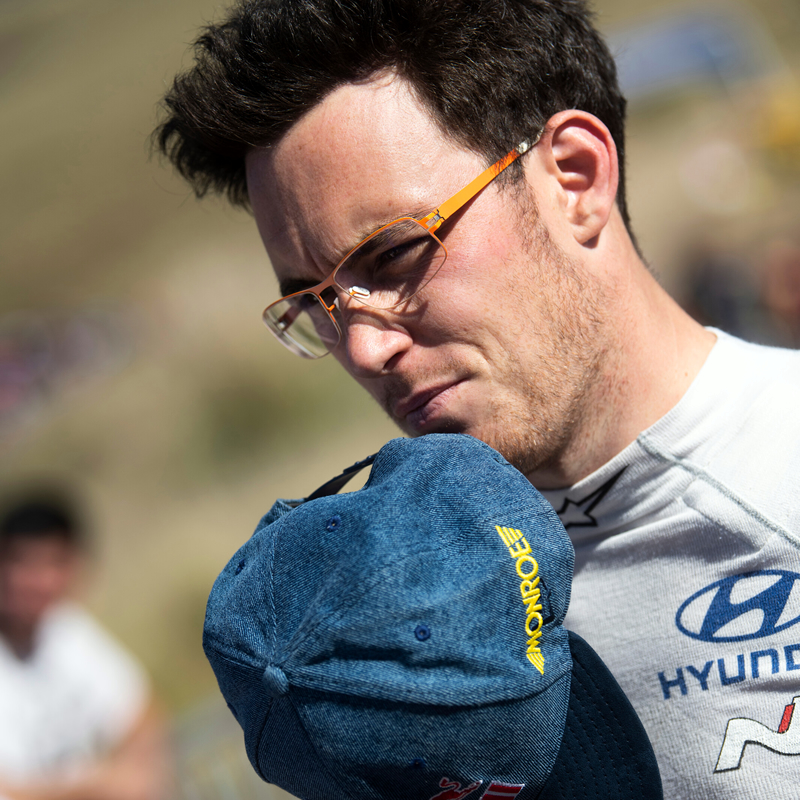 Neuville returning from his hospital check-up said "the pace note was a little optimistic"; his departure from the rally was a big blow to the Championship campaign but he still believed it was open at this point in the season.
Meeke proceeded to continue on with his battered Yaris, choosing to remove the damaged windscreen "for safety reason" before the stage start.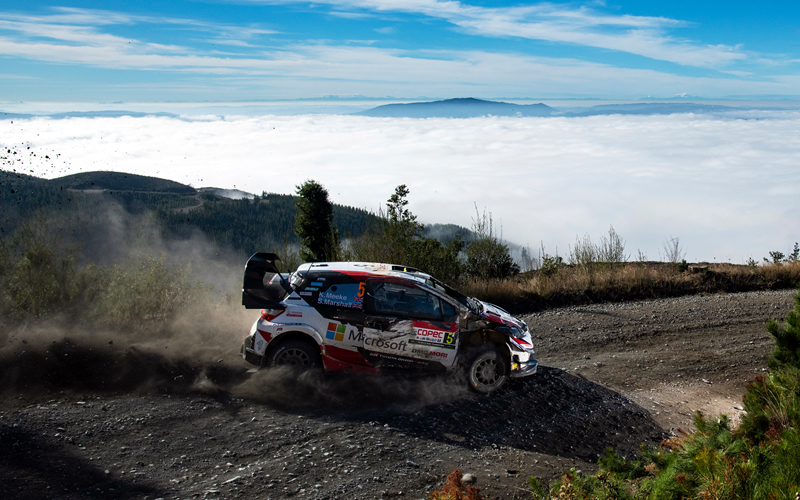 However, his chosen place of doing so, in the time control before Stage 8 (TC8), was not such a wise choice. It was foul of the rule book, the stewards picked up on this and it would come back to bite him.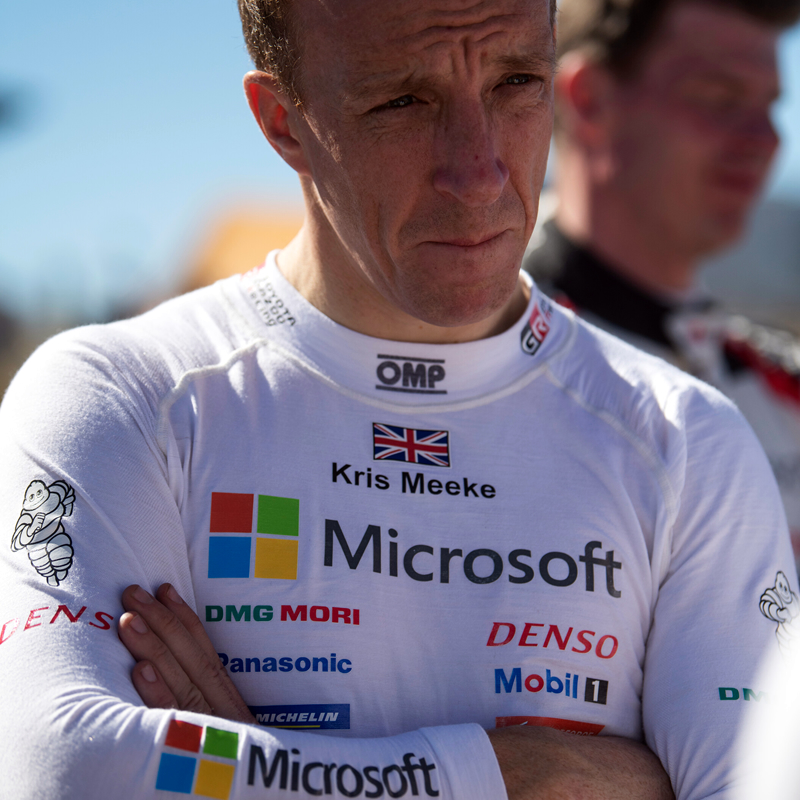 Later receiving a one minute time penalty which dropped him down the standings, Meeke was not impressed and was very vocal with his thoughts on the situation.
Kris Meeke:

"I get a penalty for trying to make the car safe… They're all on for action for road safety, but when you make the car safe it gets you a f*****g penalty! How's that? What do they want me to do? Lose my eyesight?"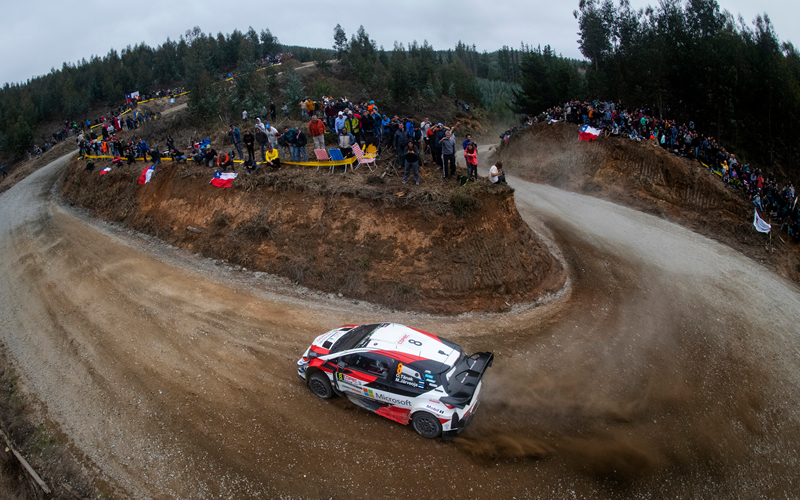 In the final stage of the morning's loop, SS9 Pelun 1, Tanak landed his first stage win of the day, beating Loeb by just 0.2 sec. Loeb was putting in an impressive performance so far, in an attempt to keep up with the ever dominant Tanak. At the same time he was also showing up Andreas Mikkelsen who was "Still driving on the safe side", Mikkelsen was only in 8th overall by the midday service.
Sèbastian Loeb:

"I am starting to understand how to drive the car, which was different to what I was used to. I feel this can be a good rally for us"
Ott Tanak:

"Gaps are very, very small, but I feel fine because we are driving nice and clean. We have no worries at the moment"
Back out for the afternoons' loop of stages and Ogier thought that it was about time that he won a stage, SS10 Rio Lia 2 it was to be, beating fellow countryman Loeb.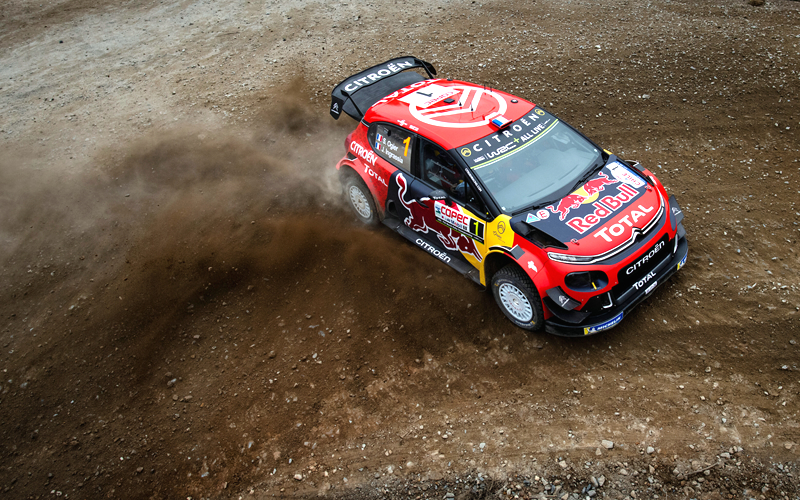 However, he was still some 30 seconds adrift from Tanak, it was already starting to look like a one-horse race and that the only interesting battle would now be for the remaining two podium spots.
Tanak who managed 4th fastest in that stage would be back on form in the very next stage, winning SS11 ahead of Loeb, who once again laid down the second-fastest stage time.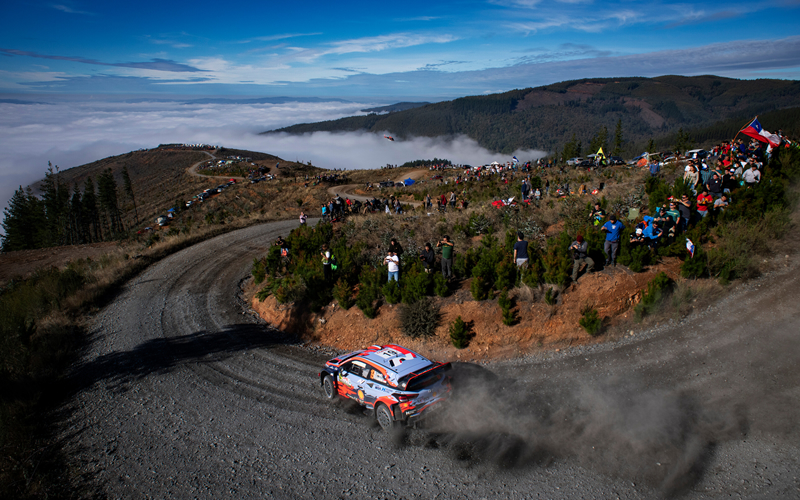 Loeb who clearly had "The Feeling" was up for a fight, mixing it up at the top and would continue on that pace by winning the final stage of the day (SS12 Pelun 2), his third of the rally.
Unfortunately for Toyota, after being promoted following Neuville's exit in the morning, Latvala suffered mechanical issues midway into this stage. Clipping a rock and damaging a drive shaft saw him not only lose some 10 minutes but also losing out on his podium place.
He had dropped right down to 13th, handing 3rd to Loeb, what a disappointment it was for the Fin; not what was deserved considering the hard work that he had put in.
Sèbastian Loeb:

"It was a positive day for us. Here, it was foggy at the beginning. We are pleased to be quick and free of problems in the i20 WRC. Latvala's problem in this stage makes it easier to settle in third place"
Kalle Rovanpera and Mads Ostberg continued on in their WRC2Pro battle throughout the second day. Rovanpera opened up the day with the first stage win of the morning but that was mainly thanks to Ostberg who was plagued with brake problems.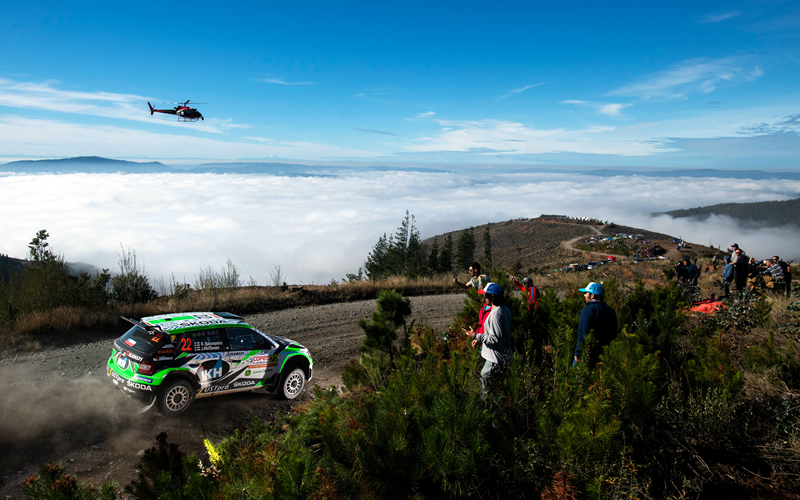 Losing some 36 seconds, Ostberg did manage to fight back by winning the other two stages of the mornings' loop. However, the lost time from SS7 was looking to be far too much for him to stand any chance of clawing back.
Mads Ostberg:

"I've had brake problems since the first stage today. All the fluid went out in the rear brakes and I am lucky to be here. Unfortunately, this might cost us the class win and I guess it's going to be difficult to keep in the fight"
Mads continued on the fight after the midday service winning both SS10 & 11, but it was looking like Kalle was on for the win here in Chile, as he rounded the day off with a final stage win in SS12.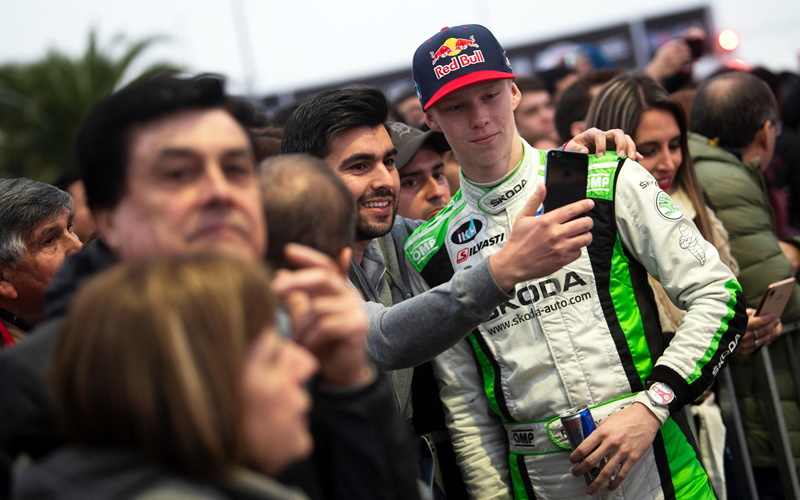 Heading into the final day Ott Tanak was primed ready for his second victory of the year, with a comfortable 30+ seconds lead over Sèbastian Ogier, who in turn had Sèbastian Loeb nipping at his heels.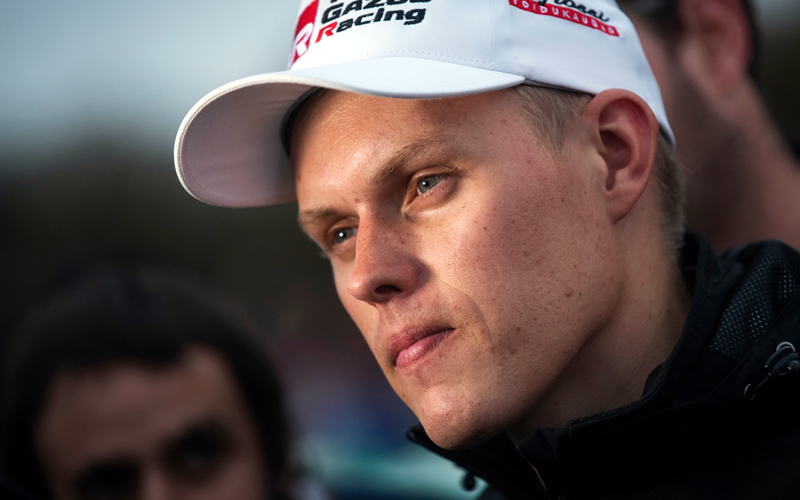 Ott Tanak:

"It was a tough day and in these kind of conditions it's difficult to control anything. I tried to find a good rhythm but in the last stage, with fog, rain and the wrong tyres, everything was wrong. We made it through and the gap is good, but we need to focus tomorrow"

The final leg of the event was the shortest, with just 4 stages totalling 58km left to tackle on this all-new Chilean adventure.
All hyped up from the previous days time penalty, Kris Meeke diverted all of that anger into attacking the stages. He opened up the final days' action with a stage win (SS13 Bio Bio 1) beating team-mate Jari-Matti Latvala by 0.4secs.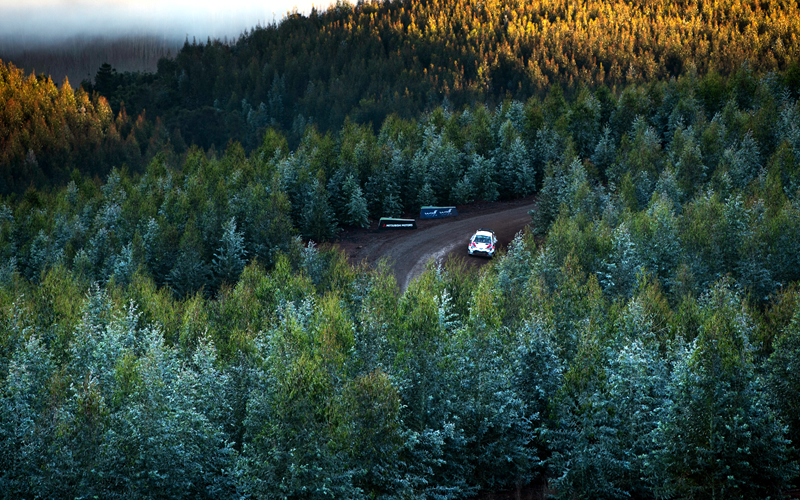 The Toyota pair were most likely both on a high-speed practice run ahead of the re-run as the Power Stage later on. After all, due to their miss fortunes, they were both way down the leader-board now, so power stage points were all that they could look forward to.
Kris Meeke:

"It was quite a nice stage, similar to Rally GB".
Jari-Matti Latvala:

"I really wanted a podium finish, so I was pushing really hard. Taking risks is like that. I am sorry for the team. My target for this leg is being fast in the Power Stage."
Although winning the second stage of the day, SS14 Lircay; Ogier who was still trailing the lightning-fast Ott Tanak, was still some 24 seconds behind with just two stages remaining.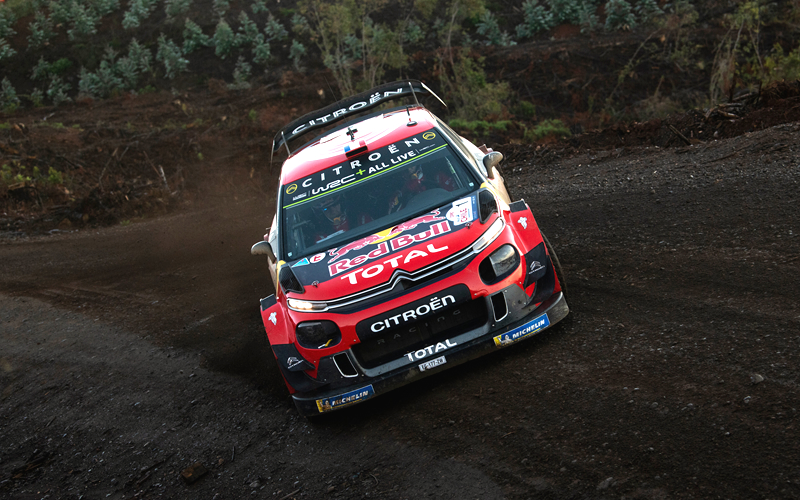 By now, knowing that Neuville was to score "Nil Points" here and the realization of not being able to catch Tanak, he was settled on bringing home second place. But he still would have to have one eye on his mirrors as Monsieur Loeb was still knocking on the door for that second spot.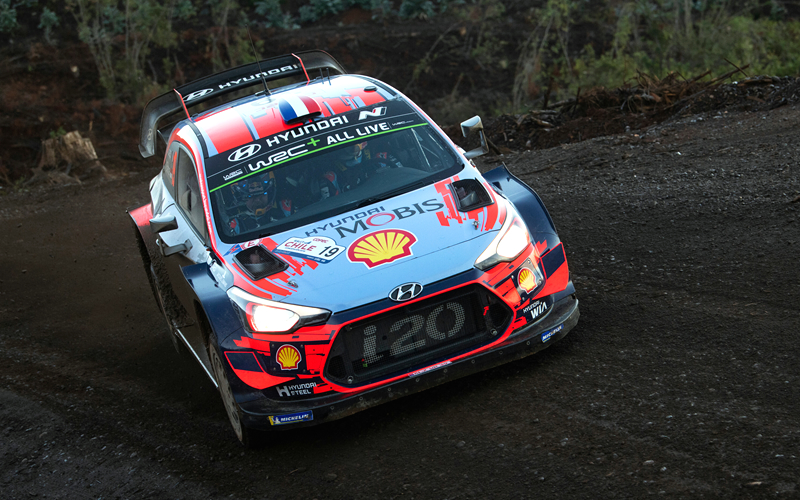 In the penultimate stage of the rally, Loeb continued to nibble away at the time difference between the two Frenchmen and took his fourth stage win of the event. With fifteen drivers titles between them,  just +4.6 seconds separated the pair heading into the final power stage showdown.
Norway's Mads Ostberg was determined to show that he was the fasted man of the WRC2Pro category on this event.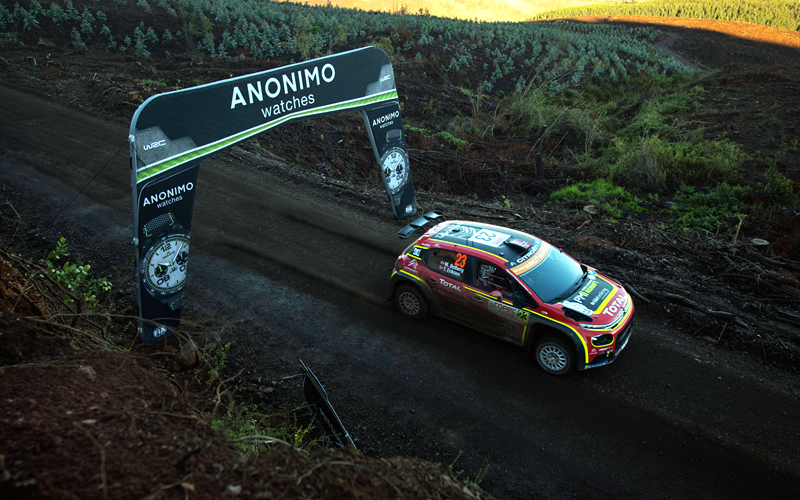 Stringing together a clean sweep of stage wins on the final day, he reduced the deficit to Kalle Rovanpera to 23.6 seconds. Ultimately his time loss on the previous day from his brake problems was just too much of an ask and so he settled for the runner up spot.
Mads Ostberg:

"I am happy that we were to get some more speed out of the car in Chile. It's a pity we were denied of a new win due to technical issues after leading during the first day."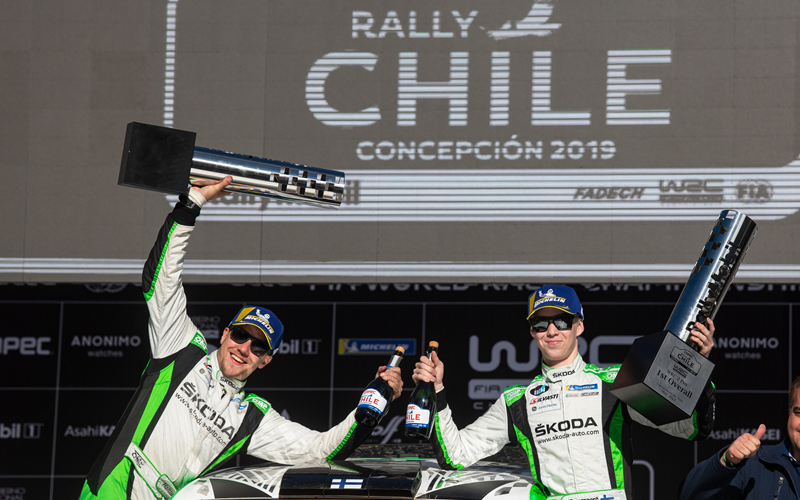 Despite only winning 4 out of the 16 stages compared to the 12 that Ostberg won, playing it cool, calm and collected on the final day, finishing 8th overall Rovanpera brought home his Skoda Fabia R5 for the WRC2Pro win.
Kalle Rovanpera:

This feels great because we had not had a good start to the season, so a win is fantastic, even more in our first visit to this country. Big thanks to Skoda Motorsport because they did everything right. I am also pleased with my own performance in these demanding roads."
SS16 Bio Bio 2 The Power Stage would be the last Chilean challenge for the World's best. With more than 20 seconds lead, all Tanak had to do was cruise the final 12km of the rally to lift the trophy.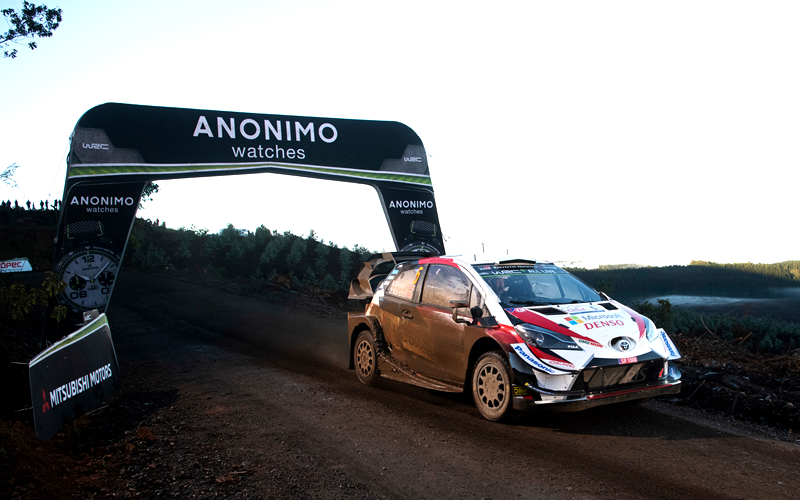 After winning the previous run of the stage, the best that Kris Meeke could muster up this time around was the 5th fastest time. This was a bit of a disappointment considering he was aiming for the maximum PS points. A final stage disappointment to add to a disappointing 10th overall finish to a new rally which he started off so well in on the opening stage was a bad result.
Kris Meeke:

"It was a difficult event and certainly not a result to go home pleased with."
Another Toyota driver to also have a disappointing rally was Jari-Matti Latvala, he along with Meeke showed their pace in parts, but the damage was done with his mistake on SS12 which would prevent him from delivering anything better than 11th overall.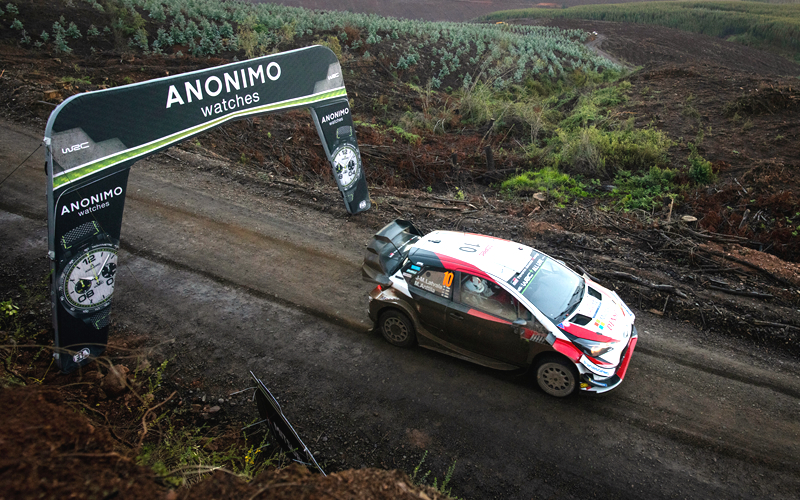 Picking up some power stage points by posting the third-fastest time here was of no real conciliation to him. In the fight for a podium place at times, it was a case of what could have been here in Chile for Latvala.
The M-Sport team on the surface appeared to have had a rather subdued rally; but actually finished with a good result, with both of their drivers in the top 5.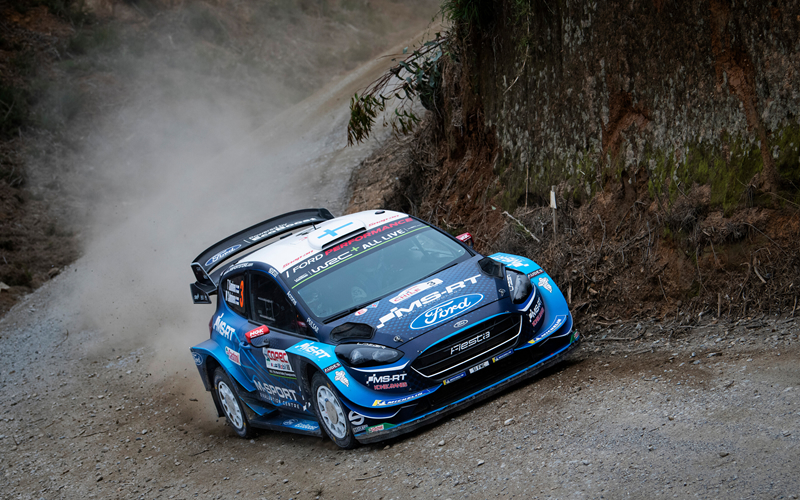 Scoring in the Power Stage for his 6th fastest time, Teemu Suninen made an improvement here in Chile, from 7th in Argentina to finishing 5th overall, just behind teammate Elfyn Evans.
Teemu Suninen:

"It's a good result for us with two good final positions for Elfyn and me. We were able to catch some nice points. M-Sport did a good work here."
After the big dent to his confidence following his altercation with a big rock in Argentina, Evans despite delivering a safe measured drive, only really had a handful of half-decent stage times throughout the rally.
With the Chilean stages looking so similar to those of his home country Wales, one really thought that he would be in the fight just a little bit more. With the 7th fastest power stage time and finishing 4th overall, it looks more impressive on paper than I feel his performance actually was.
Elfyn Evans:

"It was a positive rally for the team, but it was never easy. Conditions were mostly difficult. We gave everything we had until last night and today we took it a little easier.
Le Maestro Loeb finished off his first-ever gravel rally in the Hyundai i20 with a 4th fastest Power Stage time. In what was a fantastic performance, he battled it out with fellow countryman Sèbastian Ogier throughout the rally to finish up on the third spot of the podium, his first podium finish for the team.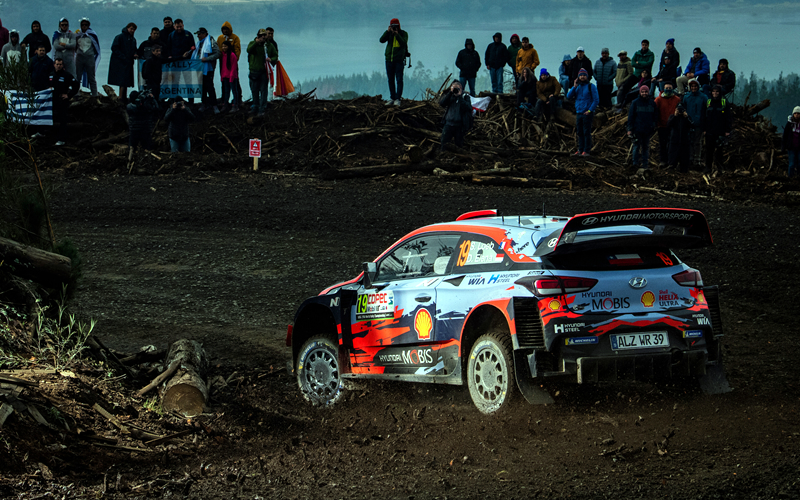 Where his teammates either crashed out (Neuville) or failed to perform in the case of Andreas Mikkelsen, Sèbastian Loeb was the only saving grace for the Hyundai team.
After the highs of Argentina just two weeks previously, where their main man Neuville was victorious whilst being backed up by Mikkelsen, rally Chile was a poor result for the team.
Sèbastian Loeb:

"Congratulations to Hyundai Motorsport for making a very good job. We had a solid pace and the last two days were particularly satisfying. I am happy to see I am among the front-runners again."
Despite having the added distraction of a fire extinguisher seemingly deploying itself mid-stage, Ogier ended the rally with a second fastest power stage time, contributing further bonus points to his Championship campaign.
Thinking that Tanak would just cruise it to the end and not take any risk, Ogier thought that he had the power stage in the bag, but oh no Tanak was feeling greedy.
Fending off a 9 times World Rally Champion in Loeb throughout the rally, Ogier despite still not having the car that he really wants underneath him finished second to Toyotas Ott Tanak.
Sèbastian Ogier:

"It's a good second place in Chile after an interesting battle with Loeb"

Going down in the WRC history books for winning the first-ever Copec World Rally Chile, the Estonian led from the second stage of the first day and never really looked back, nor did he look troubled at any point. Winning the sixth round of the Championship by some 23 seconds was a fantastic result for both him and Toyota Gazoo Racing WRT.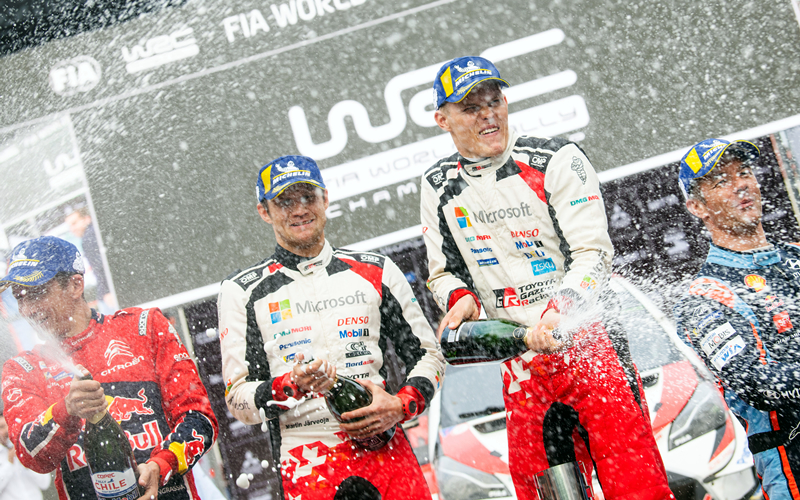 Ott Tanak:

"It's great to finish this first edition of Rally Chile like this. It's been three very demanding days which required plenty of concentration and energy. I am happy for myself and particularly for the guys at Toyota Gazoo Racing. We lost the lead in two events before, so it was our time to win now."
After his two setbacks in Corsica and Argentina where he lost the rally lead, this, his second victory of the year so far, now moves Ott Tanak (112 pts) up into second in the standings overtaking Hyundai's Thierry Neuville (110 pts); who leaves Chile with a no score. Citroëns Sèbastian Ogier now leads the drivers' Championship by 10 points.
Hyundai Shell Mobis WRT (178 pts) still lead Toyota Gazoo Racing WRT (149 pts) in the Manufactures with Citroën Total WRT (143 pts) not far behind in third ahead of M-Sport Ford WRT (100 pts).

Next up is a return to Europe for the first of three gravel rallies. Vodafone Rally De Portugal promises to be another action-packed event where the passionate Portuguese fans come out in their thousands.
Words By Andy Cook – Xlerate
Photos By Jaanus Ree © Red Bull Content Pool