TRX | RD 9 & 10 | HUNGARY 2019
18/10/2019
The Titans RX series made the trip to Hungary and the Nyriad rallycross circuit for rounds 9 and 10 of the championship. The 1.2km long track is notable for its fast speed and lack of run-off with any mistake usually ending in a tyre barrier or concrete wall.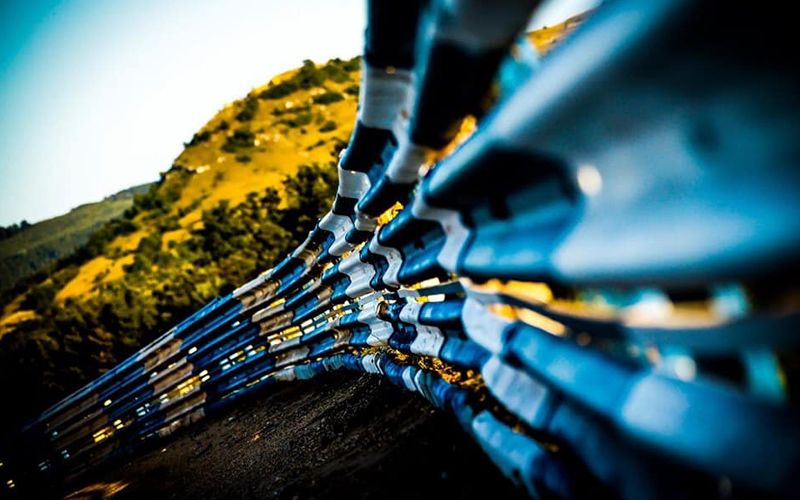 The last European championship round here took place back in 2013 and saw a series of large accidents including a roll and 3 other massive accidents with Timmy Hansen taking his first-ever Supercar win so he was expecting to challenge for victory.
Local driver, Tamas Turi made his debut as did Ramona Karlsson and with Craig Breen and Hayden Paddon racing in the WRC for Rally GB they were replaced by German Dietmar Brandt and Austrian Werner Panhauser respectively.
ROUND 9
QF
Toomas Heikkinen won Qualifying on Saturday after topping every session. His clean start in Q1 gifting him 1st from 5th on the grid was crucial and he led the rest of qualifying.
Timmy Hansen came in second overall after finishing every race in second. He had to pass CsuCsu and Tamara Molinaro in Q3 with his brother, Kevin following through on both overtakes. This gave the championship leader 3rd overall after only winning his first race, coming when he pulled clear of the field into turn 1 from the middle of the grid. Jerome Grosset-Janin came back from a 4th place finish in Q2 after being spun into turn 1, to win his final race after a brilliant start and slot into 4th. CsuCsu was 5th ahead of Andreas Steffen after winning in Q2 by passing Abbie Eaton and Molinaro. Reini Sampl was a season-high 7th after winning his Q2 race thanks to a perfect launch and surviving contact with Panhauser.
"We struggled a little bit with the starts and I had a technical problem which set us back a bit"

Kevin Hansen
Tamara Molinaro slotted into 8th thanks to some great starts and would have been higher if not for a spin in Q3. Ramona Karlsson won 2 races and failed to finish in the other to end 9th with Abbie Eaton in 11th after hitting the barriers in Q2 and retiring and losing positions at turn 2 in Q3 but passed Brandt and McCarthy on track. Tamas Turi slotted between the female racers with Perry McCarthy the last driver into the semi-finals. Werner Panhauser made contact with several cars losing too much time, Dietmar Brandt twice spun and twice hit other cars while Ronny C'Rock failed to finish in Q1 and Q2 after backing his car into the wall before not starting Q3.
"Big mistake in Q1 saw me clip the Armco barriers with the rear. This pretty much brought my day to an end. Only managed a couple of laps in Q2 before retiring the car because of damage"

Ronny C'Rock
SF1
The rain had started to fall before the race with only CsuCsu on wets out of the top 3. Kevin best start from CsuCsu but Topi held the inside line with Reini going around the outside of CsuCsu to take 3rd but by being pushed into dirt CsuCsu regained the that spot immediately. CsuCsu used his wet tyre advantage over the leaders to put pressure on Heikkinen and Kevin and passed both over the remainder of the race to start on the front row in the final.
Both times he dived up the inside of to overtake into the tight gravel hairpin which was getting wetter every lap. When Kevin was passed he slowed going towards the final corner letting Topi by but regained speed before losing out to Reini. Abbie Eaton couldn't pressure the paraplegic driver with Karlsson way behind in last.
"A semi-final with too many small mistakes put me in 6th position and I missed the final. New race tomorrow, and I'll take the positive feeling with me from the beginning of the day"

Ramona Karlsson
SF2
Perry McCarthy had a big crash at the first start forcing a red flag and the British driver missed the rest of the weekend with damaged ribs. 
Timmy led with Molinaro trying to go around Grosset-Janin but settled in behind instead. Tamas Turi ran wide at turn 1 giving Steffen the inside to turn 2 and covered off the local driver. The gaps got bigger during the race except for Molinaro needing to cover off Steffen on the final lap with the German looking to put a nose down the inside of the Italian racer but to no avail.
FINAL
In the damp final, Timmy led the field from pole into turn 1 and the rest of the field slotted in behind in single file with home hero CsuCsu ahead of Grosset-Janin, Heikkinen, Kevin Hansen and Tamara.
On the fast run down through turn 3 CsuCsu clipped the inside wall breaking his steering and forced him to pull off into retirement. This gifted Grosset-Janin second while Timmy pulled away up front.
On lap 2 Topi dived up the inside of the Frenchman at the hairpin to take second place and began closing on Timmy. Kevin got up behind Jerome and on lap 5 tried to dive up the inside of the penultimate corner but to no avail. On the next lap, he got the cut back out of the gravel hairpin and with much better drive powered past. Out front, Heikkinen could only close to within 1.5 seconds leaving Timmy to take his second successive victory. Topi and Kevin completed the podium ahead of Jerome who lost 7 seconds on the final lap and Tamara who ended up 23 behind the race winner.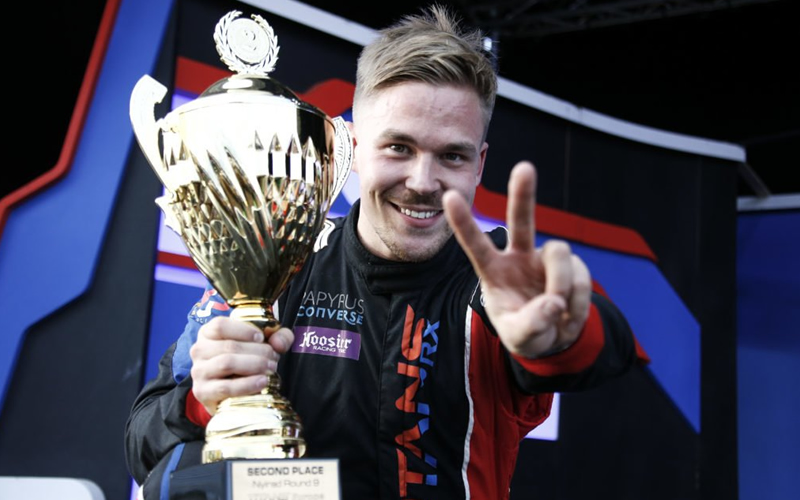 "Saturday was a strong day, I managed to be P2 and I had some good chances to even win"

Topi Heikkinen
ROUND 10
QF
Kevin Hansen topped qualifying for day 2 in Hungary. He won Q1 and Q3 thanks to lightening start to beat his brother Timmy who won Q2 outright by going around the outside into turn 1 and made a clean pass for P2 in his race in Q1.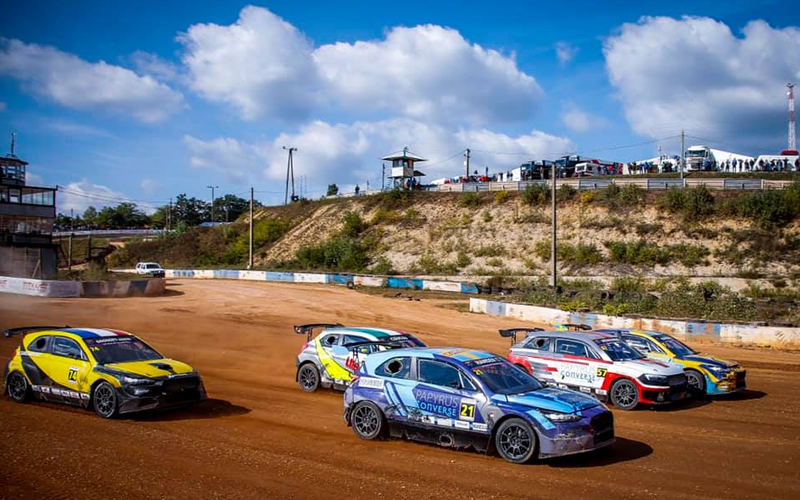 Topi could only manage 3rd with 1 race win and a pair of 3rds. He held off Timmy in Q1 after multiple side by side moments and plenty of contact right up until the final lap. Local hero CsuCsu was 4th after 2 race wins including a pass on Jerome ahead of the consistent Abbie Eaton who recovered from being muscled out on lap 1 of Q1 to end in 3rd. She would later spin Molinaro and received a penalty but finished high enough to progress to the semi-finals.
"I felt like I drove really well, I was really fast, had good launches, but still that wasn't enough because Kevin got a better draw so he got off in front and he did an equally good job so there was not a moment where I was near enough to get by him"

Timmy Hansen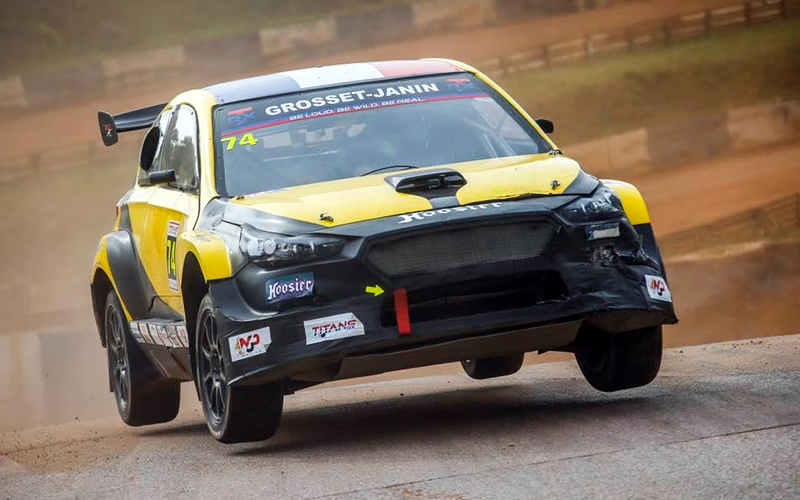 Jerome Grosset-Janin was quick but due to poor race finishes ended in 6th on the same number of points as Ronny who won his Q2 race thanks to all other drivers spinning or crashing off. Ronny then made a great pass on Brandt into the narrow turn 4 and got stuck in with Turi to pass him for 3rd in Q3. Andreas Steffen, Tamas Turi and Dietmar Brandt completed the top 10 despite Brandt spinning in Q1 and stalling in Q2. Werner Panhauser who spun in Q1 and hit the wall twice in Q2 was just ahead of Reini Sampl with the Austrian running wide clipping wall in Q3 and both were the last drivers in the top 12 after Ramona Karlsson and Tamara Molinaro suffering a DNF from the lead and DNS respectively with Eaton also spinning from the lead in her Q2 race.
"Engine failure put us out for the day after Q2"

Tamara Molinaro
SF1
Kevin made the best start from pole with Heikkinen slotting into second followed by Abbie Eaton then Tamas Turi with Panhauser trying to go up inside. Ronny was left on the line but closed back on the pack. Panhauser spun in turn 1 on lap 2 but no other overtakes were made during the rest of the race giving Kevin pole for the final.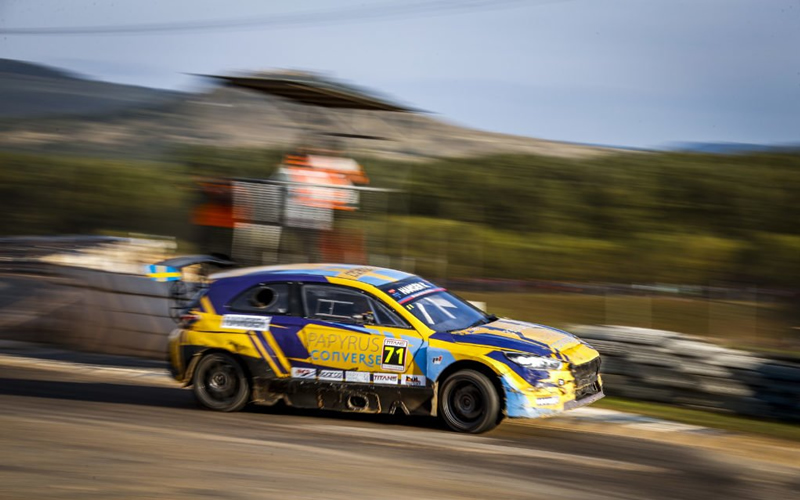 "The bit that connects the steering wheel and accelerator pedals to the seat seemed to repeatedly malfunction all weekend. Probably needs to be rewired under the helmet. A weekend to forget"

Ronny C'Rock
SF2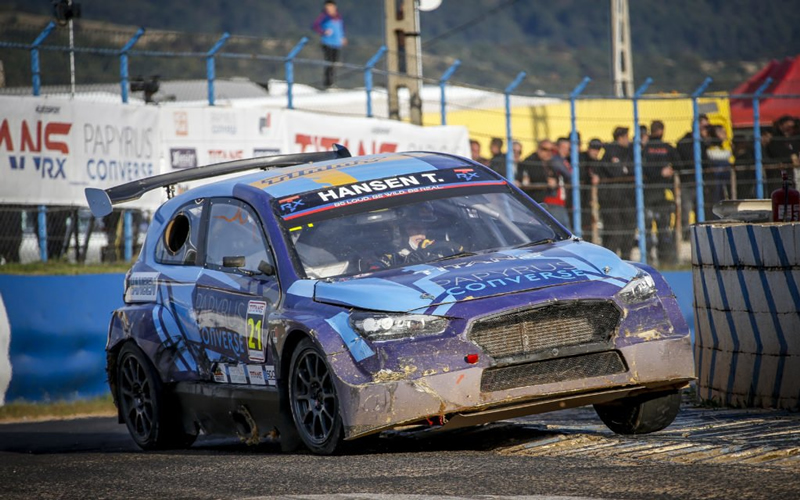 Timmy Hansen led Jerome Grosset-Janin from CsuCsu with Andreas Steffen also going through dropping the local driver to 4th. Worse was to come when CsuCsu slowed on the run through turn 3 and pulled off. Reini overtook Brandt with Andreas' body work rubbing on his tyre causing a large amount of smoke. Like in the first semi-final there was no other close racing with Timmy joining his brother on the front row.
FINAL
Kevin got the best start and led Timmy by just pushing him wide through turn 1. Heikkinen pushed Jerome wide to take 3rd with Eaton ahead of Steffen. Heikkinen closed in on Timmy with the pair bumping into each other including into the hairpin on lap 1. Steffen hit a wall and spun on lap 2 forcing him to retire with a broken wheel.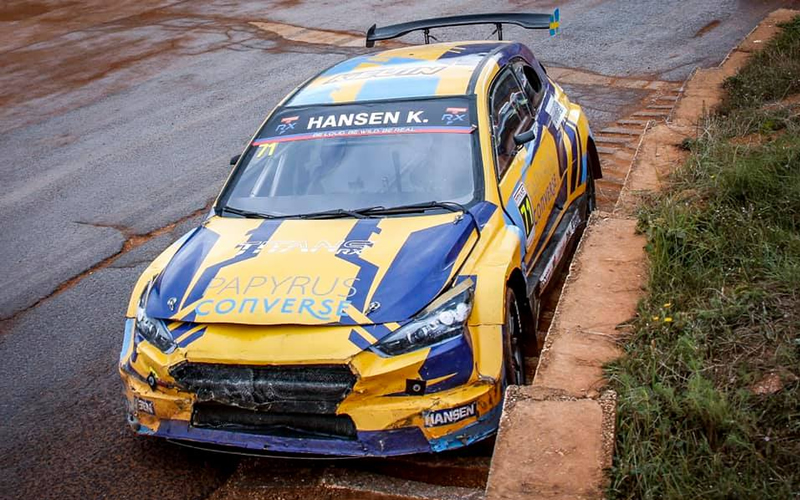 Kevin pulled away from Timmy out front who had dropped Topi. The Fin was then passed by Grosset-Janin on lap 4 and Jerome managed to hold off the championship hopeful for the rest of the race. Despite clipping the wall going onto the final lap Kevin stayed out front to beat Timmy Hansen by seven-tenths of a second. Grosset-Janin secured his first podium since the opening weekend back in June.
"On Sunday I really wanted to win again. I was tired of not winning so I really pushed hard and I was really focused all day, pushing myself very hard and getting a very good rhythm"

Kevin Hansen
By winning Kevin extended his championship lead to 9 points with Timmy overtaking Heikkinen by 1 point ahead of the final round. Estering hosts the season finale with a double-points weekend meaning any driver can win the championship with a perfect pair of rounds no matter what the others do. The oldest rallycross circuit in Germany had been the championship decider for many previous series so is expected to provide yet more close racing especially with the tight turn 1 and wall lined circuit.
"Of course it helps a bit when you have your brother next to you. I should probably bring my brother next time. I have a twin sister who does horse riding so she can probably come and join"

Topi Heikkinen
Words By Callum House – Xlerate
Photos: Titans RX & Team Hansen MJP