TRX | RD5 & 6 – PORTUGAL 2019
14/08/2019
ROUND 5
Craig Breen made his return to the series after skipping the previous round to focus on Rally Finland instead where he finished 7th. Hayden Paddon would sit out the meeting due to injury having crashed in testing for the same rally. Tom Coronel made his rallycross debut along with local driver Armindo Arajuo and Spaniard Ivan Ares. Alexander Wurz was set to drive Piquet's vacated car but had to pull out which gave Oliver Webb another chance to drive in the series.
QF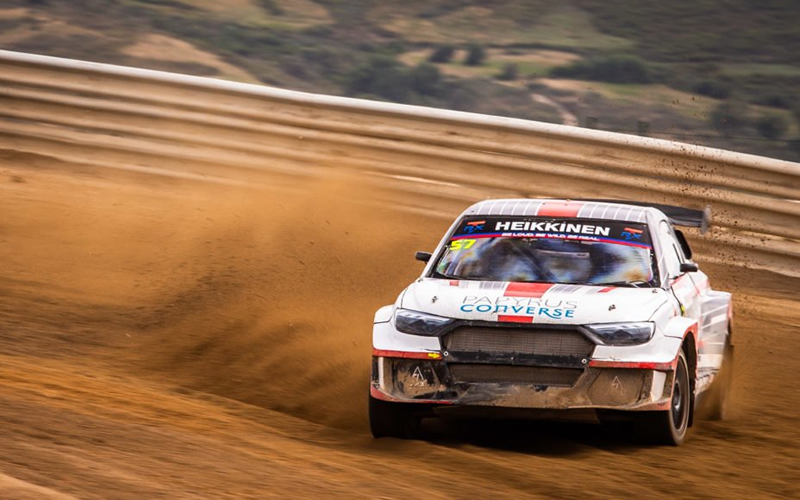 Topi Heikkinen topped qualifying from Kevin Hansen after winning 2 of the 3 sessions. He only lost Q2 to Kevin when the Swede outbraked everyone at turn 1 but Topi finished in 2nd after a late-race overtakes on Breen to move up. In Q3 Topi pushed Kevin wide at turn 1 and wasn't headed from there.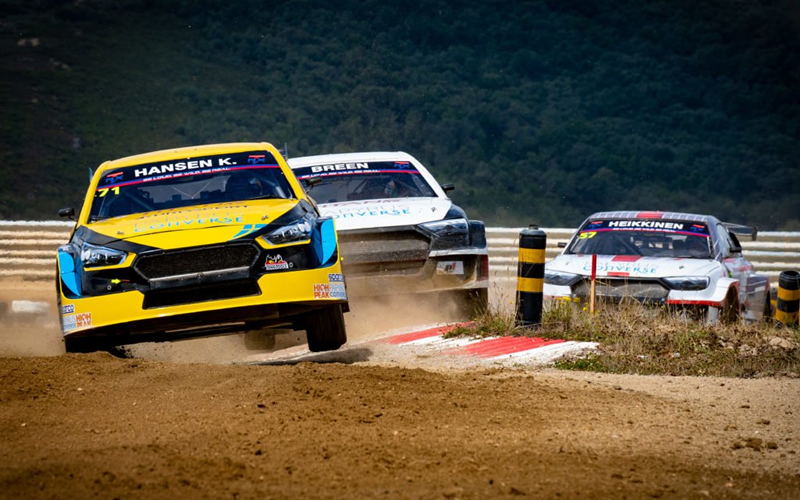 "I had a really good launch but then got a bit pushed wide in turn 1 which was a shame. Then I think it's really equal between us in the top. We are through to the semi in a good position. I've been sick for a few days so I'm trying to keep up."

Kevin Hansen
Local driver Armindo Arajuo used his rally experience to sit an incredible 3rd after winning 2 of his races despite having no prior rallycross experience.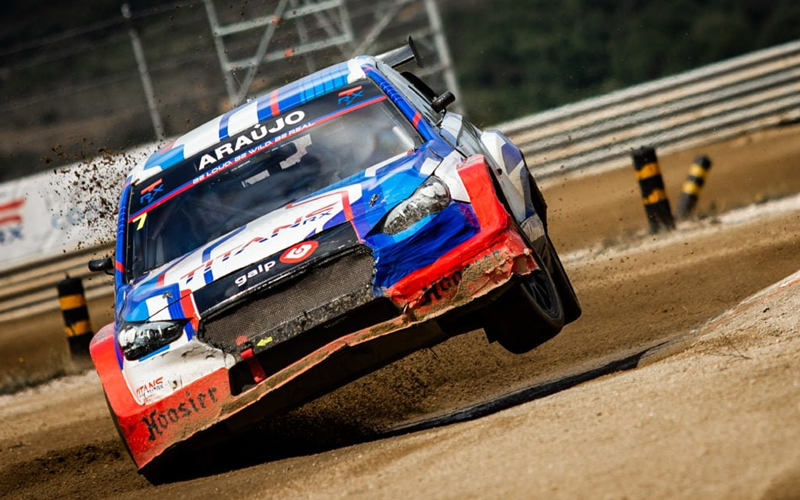 "I'm really happy. I'm trying to learn the car. I'm feeling more comfortable in the car now and I think I'm learning the starts"

Araujo
Breen was ahead of Timmy after the Irishman was 2nd fastest in Q1 and staying ahead of the Swede in Q2 with a pass on Ares in Q3 firming his qualifying position. Each session Timmy lost out at turn 1 after contact with other cars and had to pass someone during each race.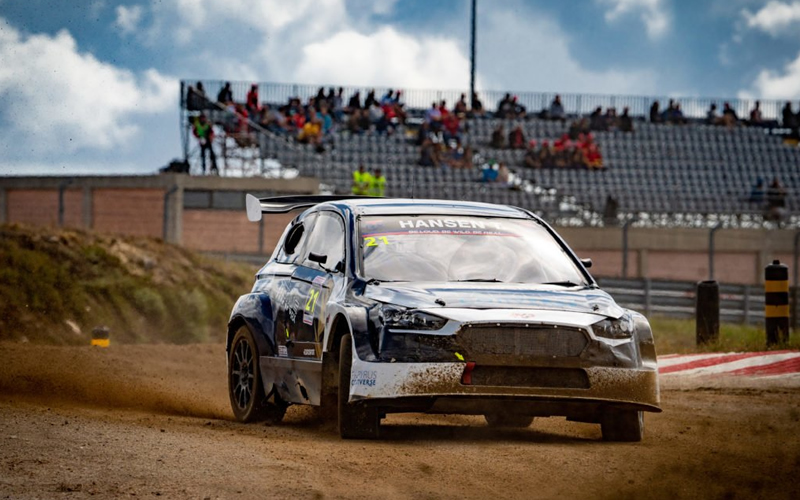 "I've had quite a tough day. I think the pace has been good. Today I've had two good runs but I haven't been in the front."

Timmy
CsuCsu stayed clear off all the carnage to end up in 6th in qualifying. Andrew Jordan, Ares and Jerome Grosset-Janin were in the same race in Q1 with Ares hitting Jerome twice before passing him. Jordan made mistakes in Q2 and Q3 to lose out on a possible front row start. Ares and Jerome kept it clean in the remaining races to round out the top 9.
"Q1 was a bit rough for me. I managed to get a good start in Q2. I tried to get consistent on my lap times. Not to overdrive or make mistakes and just make it at the end."

Jerome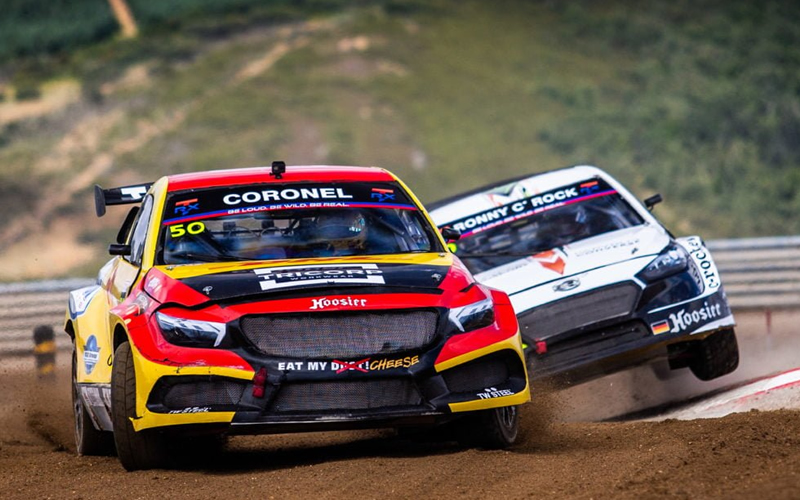 Ronny C'Rock, Oliver Webb and Tom Coronel started Q1 by coming together at turn 1 and all spinning. Ronny stayed on track to take 10th in qualifying despite finishing 4th and 5th in Q2 and Q3 while Coronel and Webb had opposite fortunes as the Dutchman spun twice more in Q1 and had to take a penalty lap in Q2 which let Webb finish ahead in each session.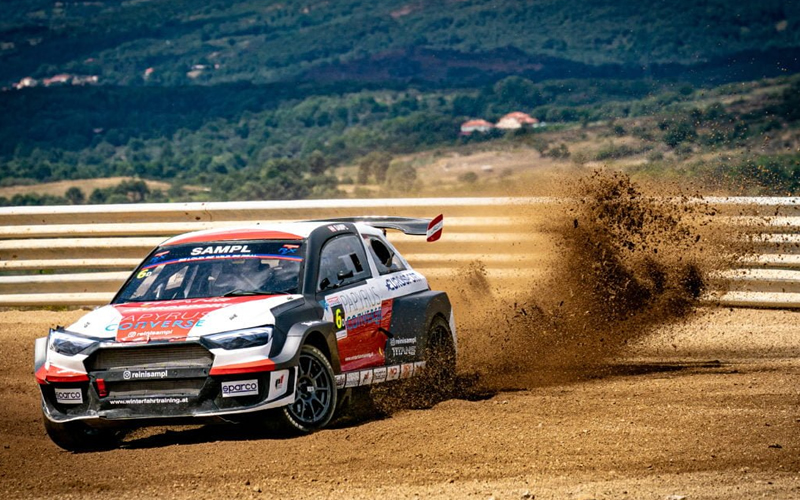 Reini Sampl was slowest in Q1 and retired in Q2 due to contact with Coronel firing him into the wall and needed a miracle in Q3 to reach the Semi-finals. In the first race of Q3 Webb and Coronel squeezed Molinaro coming out of turn 1 causing Molinaro to stop on track bringing out the red flag while Tom and Oliver couldn't take the restart due to damage. On the restart, Perry McCarthy completed 2 penalty laps then slowed leaving Reini alone on the circuit. By winning he gained enough points to qualify for the semi-finals. Webb had already gained enough points after finishing second in his Q2 after passing Sampl while Coronel was eliminated. The retirement for Tamara and Perry meant they both finished their day after no stand out results from either.
"Just a bit tight into turn 1. Me and Tom were quite close and I think his front right hit my rear left and that broke both his toe link and my toe link."

Oliver Webb
SF1
Araujo stalled on the grid and Grosset-Janin had to take avoiding action. The Frenchman still got a good run down to turn 1 tried to go around Heikkinen, Timmy and Jordan but could only get 3rd place. Webb settled into 5th until Jerome ran through the gravel at turn 1 and dropped back 2 positions to 5th. Arajuo and Grosset-Janin closed on Webb coming onto the final lap but neither could make a pass. Topi and Timmy stayed clear out front.
SF2
Kevin took the lead from Ares and both romped away to first and second. Ronny took the inside line of CsuCsu at turn 1 with Sampl in 5th and Breen in last after taking a penalty lap for jumping the start. Before the end of the first lap, Breen found a way past to gain 5th.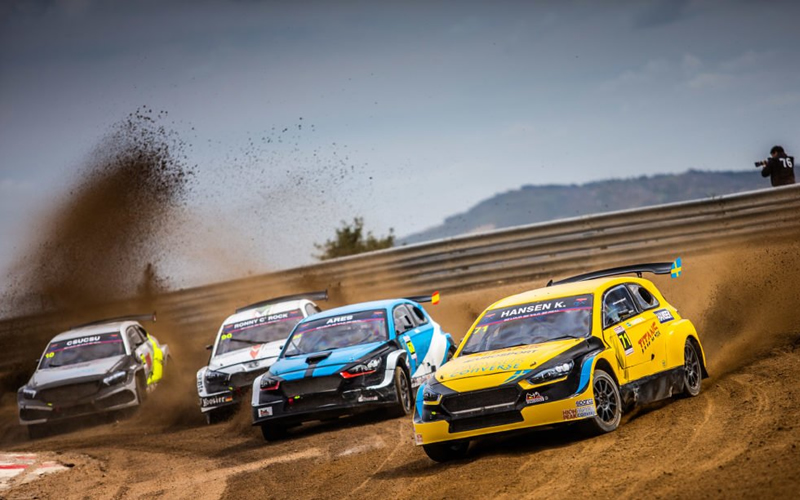 CsuCsu made heavy contact with Ronny and muscled past the German as the pair went side by side for half a lap. Breen closed on the pair and cut back out of turn 1 to take 4th. On lap 4 Breen tried to pass CsuCsu on the dirt but instead completed the overtake out of turn 1 on the next lap. By using the cut back to push past CsuCsu he grabbed the last spot in the final.
"It wasn't exactly what I wanted, having jumped the start in the semi-final and having to take the penalty lap. But it was fun, I enjoyed it." 

Craig Breen
FINAL
Kevin cut across Topi on the run to turn 1 and took the inside and the lead. Timmy had the inside of Jordan but the Brit went around the outside to take 3rd. Breen ran in last as Ares stopped on track with a technical issue. Topi looked to pass Kevin on the dirt and sat right up behind the Swede.
The top 5 maintained their gaps with no one able to pass. On the penultimate lap, Kevin defended from Topi and out of turn 1, Heikkinen got stuck on Kevin's rear and was hanging in the air. The pair slowed and in the mess Jordan took 2nd. Heikkinen then ran wide on the loose section giving Timmy the last spot on the podium. The final lap saw the field close up and the top 5 crossed the finish line separated by 3 seconds. Kevin took his 2nd ever Titans RX win to extend his championship lead.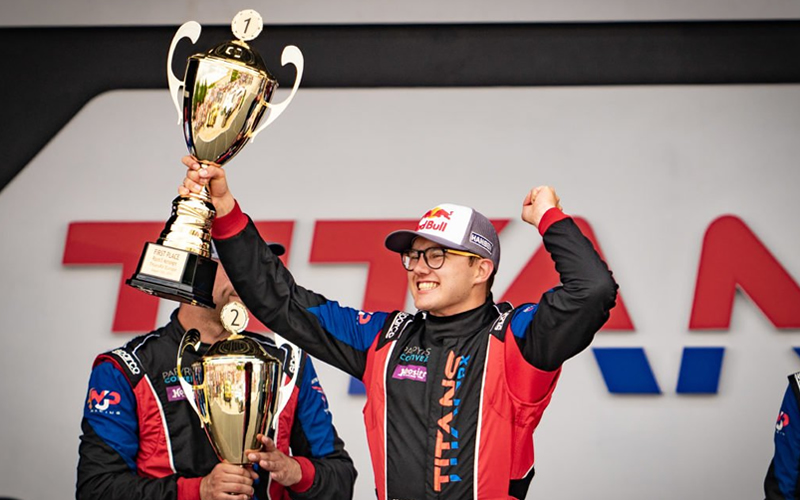 "I made a really good start and when I was ahead of him [Topi] after turn one I said now we give it all. I didn't see how bad he hit me but I heard he was up in the air. I managed to escape then had two more nice laps to grab one more win."

Kevin Hansen
ROUND 6
QF
The Hansen brothers were the 2 quickest in every session with Timmy winning every session. The pair were never headed throughout each race and were just ahead of Topi in Q2 and Q3. Heikkinen won his first race by cleanly passing CsuCsu after the Fin was pushed wide at turn 1 when the whole pack pushed CsuCsu into the eventual race winner.
"I'm very confident. I really get to know my driving on the track. I had a really good run but I stalled the engine one time so I was close to stop. Some small mistakes but overall it was an okay run."

Kevin Hansen
Breen was another impressive 4th place after winning his race in Q3 and passing Jerome and CsuCsu in Q1 and Q2 respectively. Jordan and Araujo rounded out the top 6 after winning their races in Q2. In Q1 Jordan stopped on the apex of turn 1 letting Ares and Perry past but stayed ahead of Araujo and both repassed Perry before the race ended.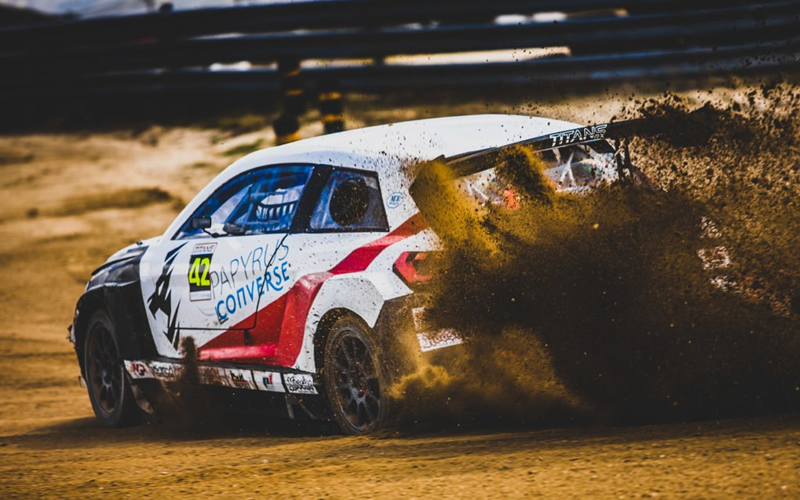 "I made a bit of a mess at the start of it. In one of the ruts I lost the front and completely ran wide and dropped 3 or 4 seconds. I was way back. I was sizing him [Grosset-Janin] up for the last couple of laps and fortunately I could see he was leaving a bit on the entry to the first bit so I went for it and it worked."

Craig Breen
Jerome was overtaken by Jordan in Q2 on the run to turn 1 after a forceful move but still set the 5th fastest time followed by last in his Q3 race, albeit 6th fastest overall which landed him 7th in qualifying. Ronny finished 3rd in each race after overtaking Coronel in Q2. He tried to overtake CsuCsu as Breen made his move but instead slid into the side of the Hungarian and couldn't pass. Rounding out the top 10 were Ares, who showed great speed but struggled for good race position, and Tamara. She was on the fringes of the top 12 in the times but won her final race after surviving contact at turn 1 with Coronel.
"I have a small list in my brain and the last step before the podium was to win a heat. I did it so now I have to tick the other box."

Tamara Molinaro
CsuCsu and Webb were the last drivers in the semi-finals as the Hungarian always set quick times but was overtaken in each race costing him points. Webb managed a couple of overtakes and despite dropping to 3rd in his Q3 race from pole he progressed through to the top 12. He tried to overtake Coronel and even dived up his inside but ran too wide letting the Dutchman back through.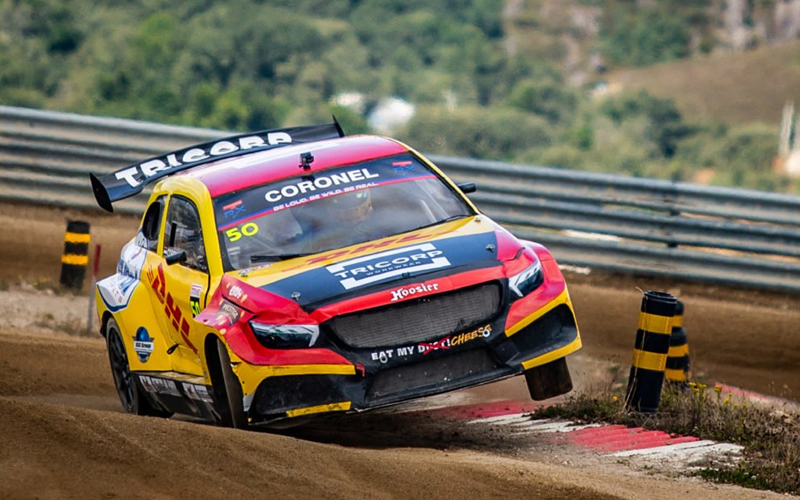 Coronel set top 12 lap times each session but couldn't pass anyone and lost too many race points to qualify. Perry and Reini propped up the timesheets in each session and couldn't keep cars behind them in any race.
SF1
Timmy Hansen led Heikkinen as CsuCsu went from 6th to 3rd down to turn 1. Andrew Jordan tried to get the cut back on the Hungarian but couldn't take back third place. Jerome made a pass on Jordan near the end of lap 1 but cut across Andrew which fired the Frenchman into the barrier. Ivan Ares stayed with Jordan as the pair closed on CsuCsu but they couldn't close enough to even attempt a pass. Timmy continued his domination out front to keep up his run of leading every lap that day.
SF2
Tamara made the best start from 5th and squeezed between Araujo and Ronny to take 3rd. She then tucked to the inside and covered off Webb and Ronny. They both tried to go around the outside but had to settle in 4th and 5th. Webb attempted a move in the loose section but backed out and Ronny dived up the inside to take the position.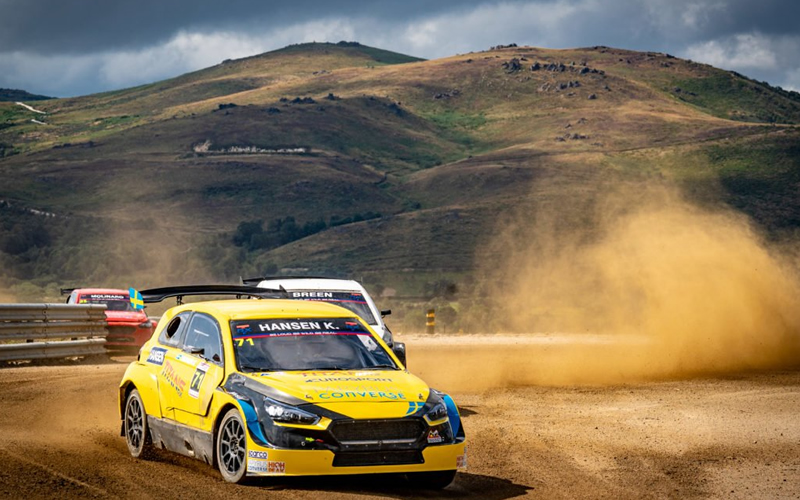 Kevin led Craig out front and the Irishman put heavy pressure on the championship leader. Kevin ran wide on the dirt and Breen went up the inside but backed out with so as to avoid the barrier and couldn't pass in the rest of the race. Araujo retired for with a technical issue.
FINAL
Kevin made the best start from the front row and cut to the inside. However, with the whole field pushing behind this forced Kevin wide and he dropped to 2nd with Topi right behind and Timmy took the inside and the lead out of turn 1. Breen and CsuCsu were close behind with CsuCsu getting the cut back on the dirt to overtake Breen with Molinaro then diving up the inside, passing her boyfriend for 5th.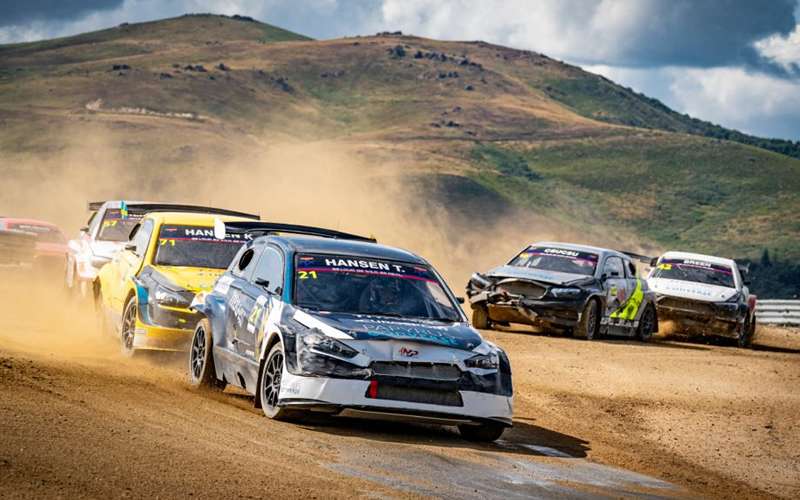 Breen wasn't able to overtake on the exit of the corner but on the next lap, Molinaro tried to defend into turn 1 and ran wide enough to give Craig the position. Then on the following lap, Breen got a good run onto the straight to overtake CsuCsu. The gaps fluctuated for the rest of the race with Tamara taking a serious look at overtaking CsuCsu, to no avail. Out front, nothing could stop Timmy from winning his second Titans RX round after leading from start to finish.
"I could fight with the guys and Craig especially. When I overtook him, I was so proud of myself. But I think tonight he will sleep on the sofa because he passed me back again. I think it's funny to see boyfriend and girlfriend fighting on the racetrack, but we respect each other and we would never be bad on purpose."

Tamara Molinaro
"It was a perfect day. Kevin had a brilliant start and he beat me off the line. Then unfortunately for him there was a big train of cars on the inside and I got pushed from the back and there was Kevin at the front to pay the price. It was a tricky final with water on the track and Kevin behind was super-fast but I manged to just keep it together and keep in front so it feels great to have the trophy."

Timmy Hansen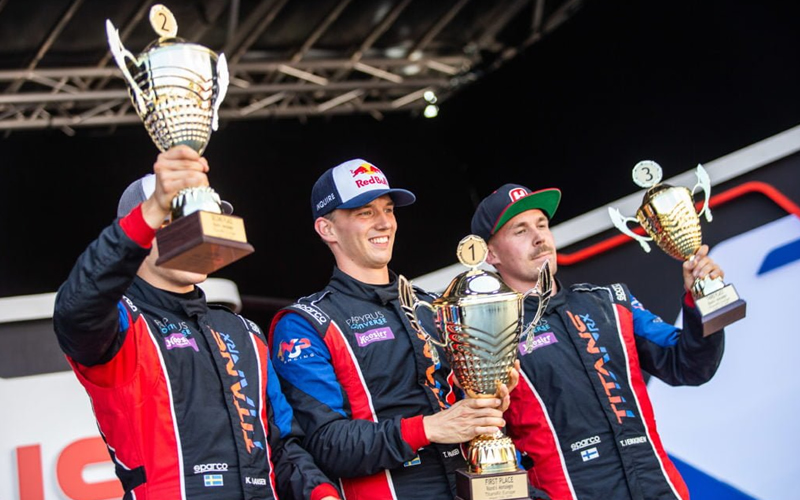 Timmy Hansen jumped up to joint second in the championship with Topi Heikkinen with Kevin extending his lead to 10 points.
NEXT UP
Next up is the MJP Arena in Austria in 4 weeks time. Most of the drivers have tested or raced the car there previously so the field should be even closer. Andreas Steffen, Nelson Piquet and Haydon Paddon are expected to return to their cars.
Words By Callum House – Xlerate
Photos: Titans RX