WRX | RD4 GBR | SPEED MACHINE FESTIVAL 2018
27/05/2018
"The Home of British Racing", Silverstone hosted its first-ever FIA World Rallycross round in front of thousands of motorsport fans but was the action on the new RX circuit as hot as the weather? Without a doubt it most certainly was. Reigning champ PSRX Volkswagen driver Johan Kristoffersson proudly wearing the No1 on the side of his VW Polo R continues to dominate the World of Rallycross; but how was he to fare up on this new track? Well, he wasn't flying high all weekend, he did have a slight blip in Q2 on the Saturday only managing 4th in his heat and there was a real "big moment" which got all the fans gasping in the first semi-final on the Sunday, more on this in a bit.
On Saturday Kristoffersson's teammate Petter Solberg was fastest off of the start line leading with a Q1 win; while Team Peugeot Total's Timmy Hansen topped Q2. One would have thought that Timmy's teammate Sebastien Loeb or EKS Audi Sport's driver Andreas Bakkerud would have been the ones leading the way. These guys have got previous on the Silverstone track, having both competed here in the opening round of the British RX early on in the year, this surely would have given them both the edge over the others right?
Loeb was indeed lurking about at the sharp end with some great results in the Quail's, he was third in Q1 and 2nd in both Q3 & Q4…… hmm maybe taking part and winning the first round of the British RX was a stroke of genius giving him a slit edge which might just pay off.
Bakkerud, however, was seemly not so sharp, appearing to get worse as the QF's progressed, with a 4th in Q1, 5th in Q2 and 7th in Q3 was he even going to make the semi's at this rate? Well, he just about rescued it in Q4 with a 3rd. Normal service resumed in Q3 & Q4 for Kristoffersson who was back on form making it 3/4 qualifying wins.
Kristoffersson, Bakkerud, K.Hansen, Rustad, Eriksson and Solberg lined up for the first Semi-Final but it was chaos into turn one of the first lap. Having only just scraped it into the Semi's, Solberg collided with his teammate Kristoffersson totally wiping out the tyre wall. This resulted in a red flag which was lucky for them both, more so for Solberg who had sustained some damage and a puncture from it. The red flag allowed them to gather themselves ready for the restart whilst the repairs to the tyre wall took place. Solberg eventually had to retire from the race unable to complete laps 3 & 4 due to his wounds sustained from the incident and thus exiting from the British round reflecting on what was a pretty poor result for him.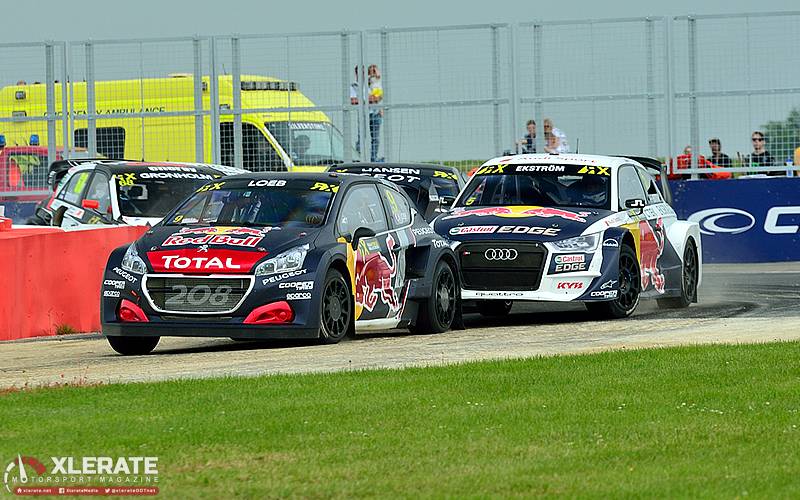 Loeb, Ekstrom, Gronholm, Grosset-Janin, Timerzyanov and T.Hansen took to the track in SF2, this was nowhere near as eventful as SF1 and the pace wasn't as quick as the SF1 boys either, it finished exactly how they lined up. Looking at all the evidence (The results sheet doesn't lie), this new RX track is a bit of a tight one and it looks to be very difficult to pass on.
And so the top 3 from each SF made it into the final of the first-ever World RX at Silverstone and just like in the semis, it finished as they lined up. PSRX Volkswagen's Johan Kristoffersson took the win (his third of the season thus far) with EKS Audi Sport's Andreas Bakkerud in second and Team Peugeot Total's Sebastien Loeb rounding off the podium.
So what have we learnt of this new RX track?
It's is a bit on the short side (only 927m in length), it's tight in places and looks to be difficult to pass. The jump, although spectacular to see, when approaching it at full chat, big air can be had which results in a heavy landing, drivers from all classes talked of back problems from the impact. In my opinion, this circuit is in desperate need of some curbs, turn 10 just as it joins the main straight is crying out for "some big curbage action!" The track held up well, after the initial layer of dirt had been swept to the side the surface was rock hard which helped to speed things up a bit. On the viewing front, although better than expected, there is room for improvement, lots of wire fencing up at the turn1 end and the great distance from T5 at the other end makes for a bit of restricted viewing for the fans.
And how was it for the paying punters who love RX and all things motorsport?
The FIA World Rallycross was the headline of a much bigger picture, The Speed Machine Festival, a weekend full of motorsport and motoring related content for both the avid and casual enthusiast. Add in some rather tasty grub (DJ BBQ we salute you for your EPIC burgers) and a fairly decent music line up to boot. Some baseline junky called Jizzy Rascal and a dangerous sounding chap called Lethal Jizzle got all the kool kids flossing on the dance floor (that's a joke by the way, please don't sue us!), it all made for a pretty badass weekend really.
Yes, there were a number of loyalist from the Lydden camp that revolted, however, a lot of diehard RX fans simply could not resist seeing the World's best in action on home turf, even if it did mean having to stump up what some thought to be a fairly large amount of cash. However when one sits down and thinks about it, how much do people pay to watch a bunch of pre Madonna's kick a ball around a pitch for 90 minutes? or what does a music fan pay for a weekend at one of the big music festivals? And so there you have it, maybe it's not such a bad deal then is it?
Words & Photo's By Andy C | Copyright © 2018 Xlerate