EXCEL'LENT SHOW | THE LONDON CLASSIC CAR SHOW 2018
17/02/2018
As I grow older I find myself being drawn away from the more modern performance stuff and more towards Classic, Retro and generally Old Skool Cool cars, every now and then I dip my toes into the classic scene by attending a few local-ish shows; and so when The London Classic Car Show rolled into town at the Excel it was the perfect way to spend a day out.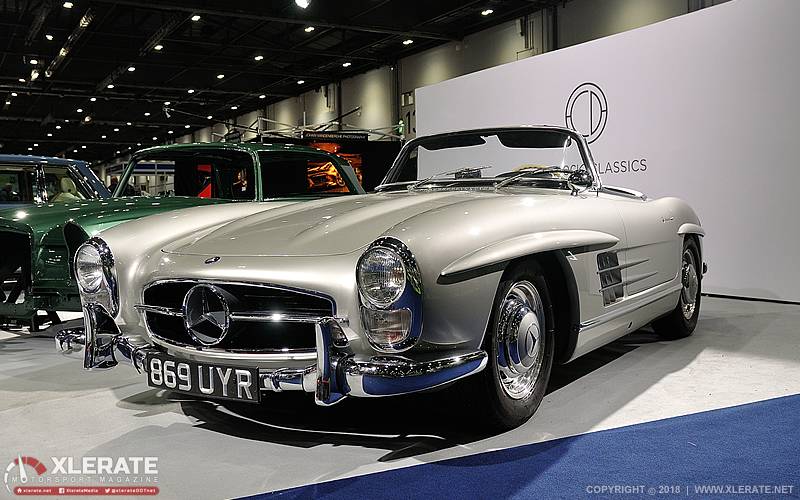 Walking around the show you could tell that there was a bit of money about the place, in almost every direction I could see something that would look right at home in my own garage, however I think I fell head over heels in love with an immaculate Merc SL300 which was sitting pretty under bright lights. The show wasn't all about the high end exotic and sought after classics, oh no there was examples from all tiers on the affordability scales, there was even a group of blokes having a general chit chat about potential future classics on the live stage, come on guys, the Citroen Saxo a future classics! your avin us on here….. aren't you?
The Grand Avenue offered up a chance to see some of the shows cars parade up and down in front of the anorak wearing enthusiast; providing them with the opportunity to point out what was not in period or correct for that specific model in that particular year (that's a joke by the way, please don't send in letters of complaints). While Granddads, Dads and groups of blokes on "a lads day out" talked about how they "used to own one of them back in the day" mutterings of "oh I wish I had kept it", or "If I only I hadn't of crashed mine" could be heard as they re-lived their memories.
A highlight of the show was the GETAWAY CARS feature curated by star of the popular motoring TV show For The Love Of Cars, Philip Glenister. Taking inspiration from TV, Films and real life crime, it had everything from the run of the mill Ford Transit for loading up the loot in, to the gangsters choice in the Jag, it left that burning question on everyone's minds, which would you choose?
Some of the UK car clubs had a reasonable representation as well, I was particular drawn to the RS Owners club stand on which an absolute mint MK1 Escort Twin Cam was on display and the Audi Quattro owners club stand had a rather tasty selection of the beast on show too. I even stopped by the Bonhams auction just to experience the buzz of well to do classic car collectors raising their hands and spending large sums of wonga on what they hoped would be great investments.
This car show is a must for any Classic car enthusiast, being inside, its guaranteed not be rained off and if you have a pride an joy to show off, it won't get stuck in the mud on a grass field or the local village green.
Visit the show website to find out about next years event: www.thelondonclassiccarshow.co.uk
Words & Photo's By Andy C | Copyright © 2018 Xlerate