ERC | RD4 – BARUM CZECH RALLY ZLINT
The FIA European Rally Championship headed to Zlín in the Czech Republic for Round 4 of the 2021 season. Having been a part of the ERC for no less than 16 years, this years edition of the Czech rally was the 50th and once again offered up a challenging test across 15 Asphalt stages which covered some 210km.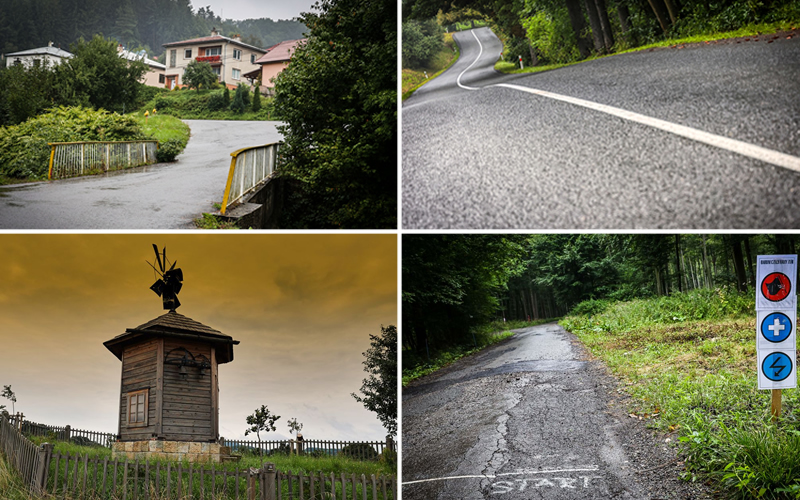 Before the rally had even begun there was early drama for defending ERC champion and title contender Alexey Lukyanuk. The Russian suffered a sizable crash during pre-event testing which rendered his Citroen C3 out of action. Unable to repair the damage or find a replacement car ahead of the rally, he was left with no option but to sit out the rally, a terrible blow to his title defence.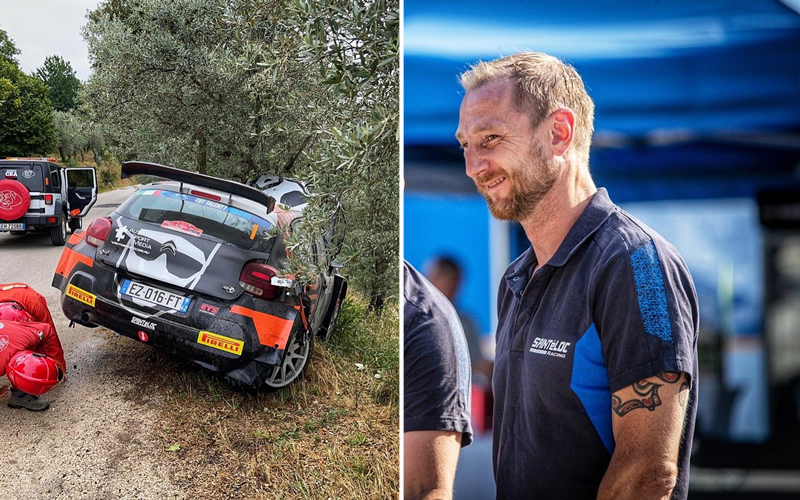 Photo: Lukyanuk Social Channels
Having not competed in the ERC since 2019, local hero Jan Kopecký returned to compete on this, his home event. Having won his home rally every time since 2015; the Czech driver was once again the favourite and even more so since Lukyanuk failed to start.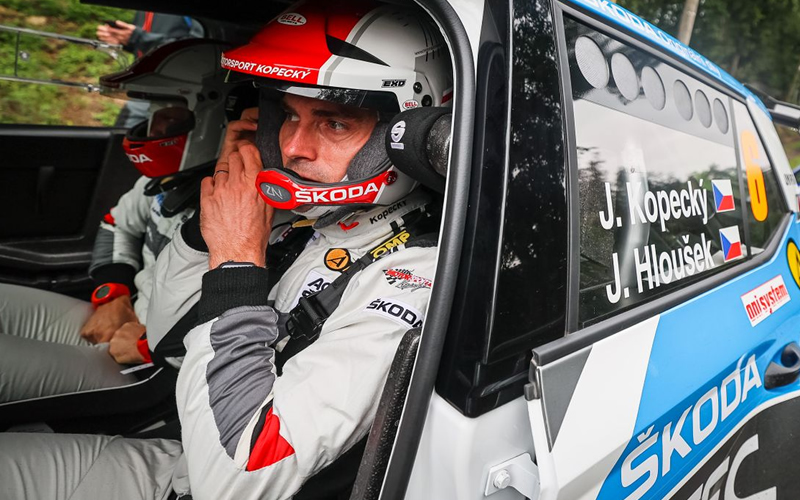 A short 4km shakedown test took place ahead of the rally, for which Norwegian Andreas Mikkelsen in the TokSport run Skoda Fabia Rally 2 Evo car topped the timings on.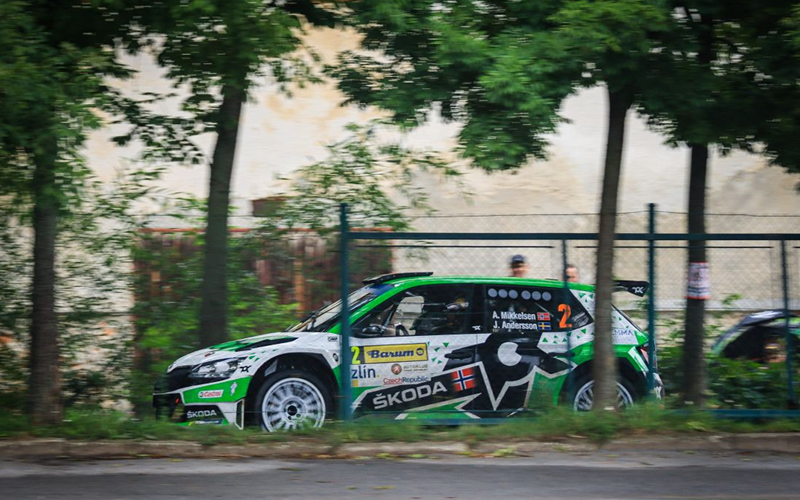 The rally got underway on Friday evening with an opening night-time superspecial stage in Zlín, where Jan Kopecký got his rally underway with the first stage win infront of his many home rally fans.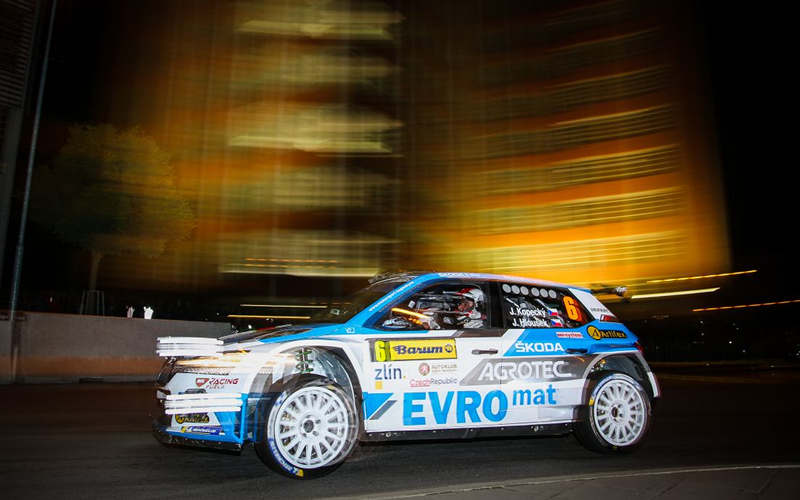 Saturday's morning leg of the rally started with a 12.7km test, Březová 1 and Kopecký continued on where he left off by winning both of the morning's loop of stages to lead Andreas Mikkelsen by 8 seconds heading into the first service stop. The early indication was that Kopecký's superior local knowledge was going to make this rally uncontestable for the likes of Mikkelsen.
Not one to simply give up, Mikkelsen was able to step things up a notch in the first stage of the afternoon loop, grabbing his first stage win on the 8.4km Komárov 1 test.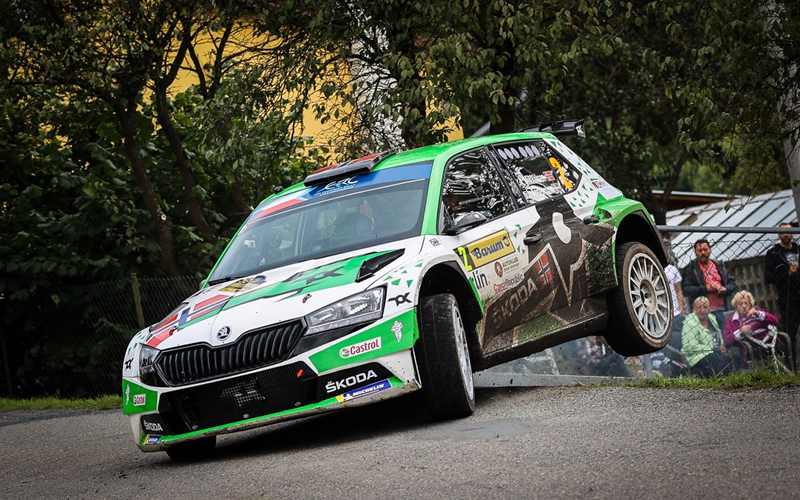 Over the course of the afternoon stages, Kopecký continued to extend his lead out front. However, a couple of stage wins on SS5 & SS7 saw another Czech driver, Erik Cais in a Ford Fiesta Rally2 overtake Mikkelsen for second place before one final service halt ahead of two nighttime stages which would round the day off.
On the final stage in the darkness, the second run over the Pindula stage, Cais managed to overhaul Kopecký to end the day as the overnight rally leader by just 2.1 seconds.
"Hell, heaven, rollercoaster? Incredible. Best stage I drove. There was more fireworks than during New Year, it was like a small Monte Carlo. Thanks to all the incredible fans today, I have no words. Big thanks to my dad, hope he will be proud today,"

Erik Cais
The second leg of the rally covered 80km over a further 6 stages. Erik Cais went on to dominate the rally throughout the morning, by winning all three of the morning stages he had extended his lead over Kopecký to more than 20 seconds.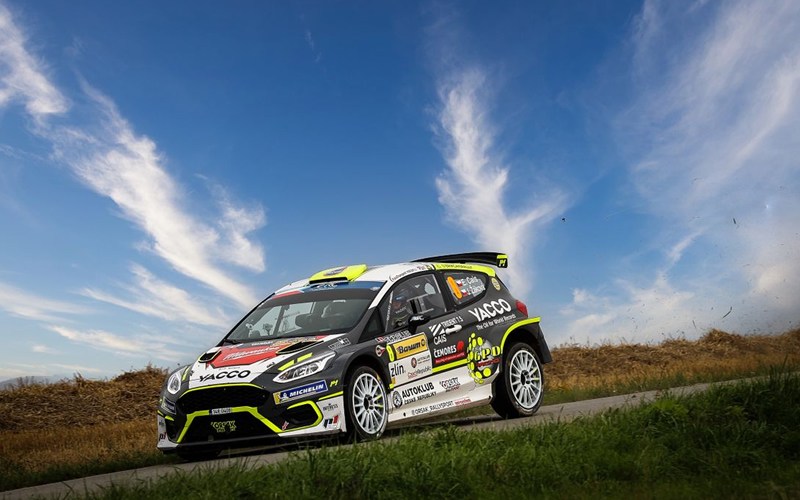 Over the repeated loop of afternoon stages, Cais added a further two stages wins, maintaining his 20second gap to Kopecký. However, on the final stage of the rally, he pushed his Fiesta a little too far. Falling at the final hurdle, an accident had handed the victory over Kopecký.
"I feel Cais deserved to win. It was a really difficult rally, changing conditions, some places wet, some places dry. Big thanks to Honza, to the whole team, I'll be back next year."

Jan Kopecký
Kopecký's last-minute win has rounded up his Barum Rally victories to 10 in total. Finishing in second was Andreas Mikkelsen, who struggled to match the pace of the local Czech drivers. Nevertheless, this second-place finish at Barum when his main championship rival, Lukynuk failed to compete nets Mikkelsen the championship lead.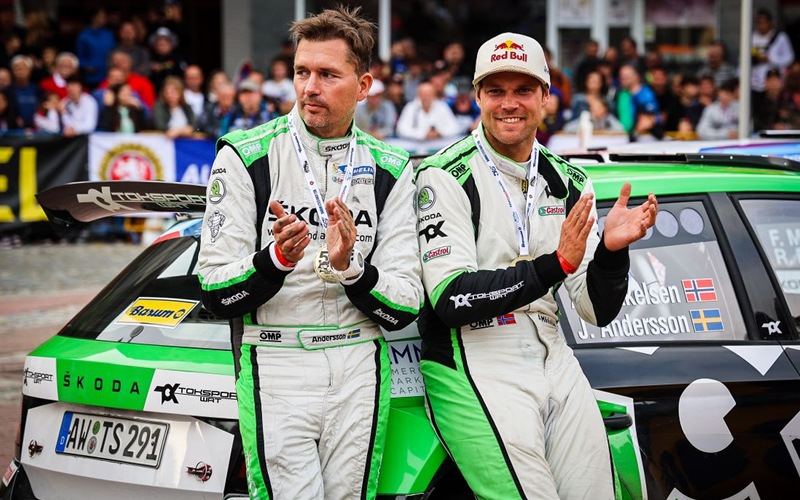 "It's been a good weekend. It was not easy to come back to Barum rally after almost 10 years, the guys were really fast. We were doing our best."

Andreas Mikkelsen
Next Up
The ERC moves to the stunningly beautiful Portuguese Azores for round 5 16th-18th September and it's a return to the gravel on for its rescheduled date.
Words By: Andy Cook | Photos: ERC Media