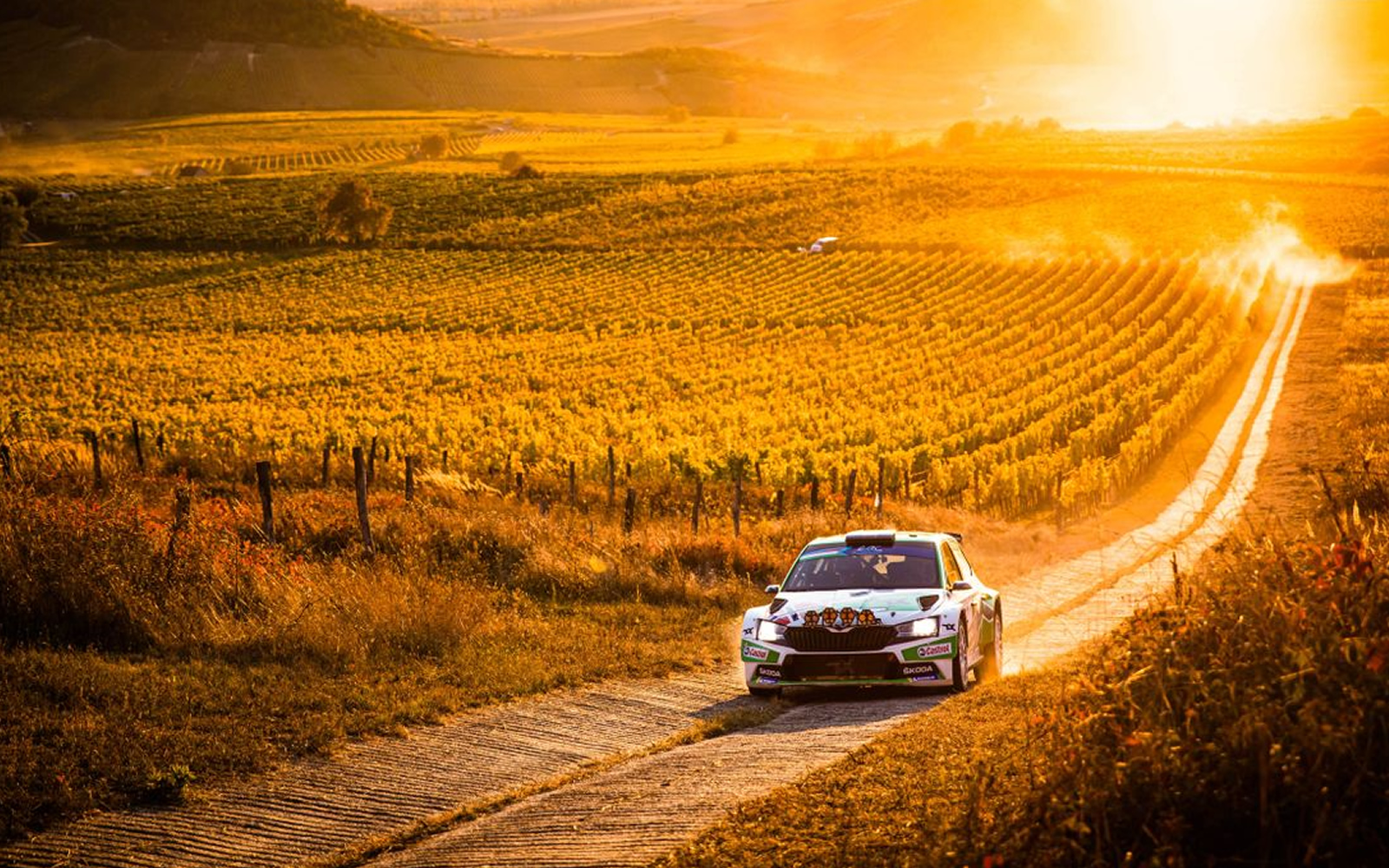 ERC | RD7 RALLY HUNGRY
26/10/2021
After his previous two victories at the Azores and Fafe rallies, heading into the penultimate round of the 2021 European Rally Championship at Rally Hungry, Andreas Mikkelsen had one hand on the 2021 ERC trophy already with his 71 point lead.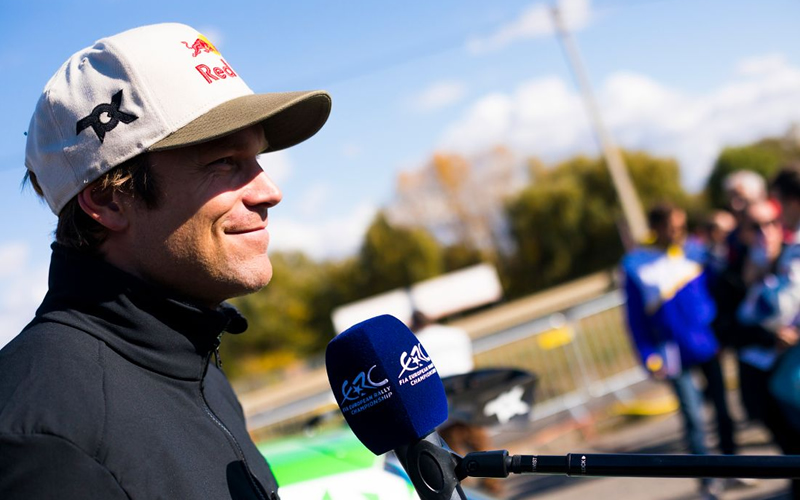 A fast mixed asphalt rally was the 7th round of the ERC and covered 182km over 14 stages which would allow the Norwegian Mikkelsen to be crowned his second international rally title in just a week.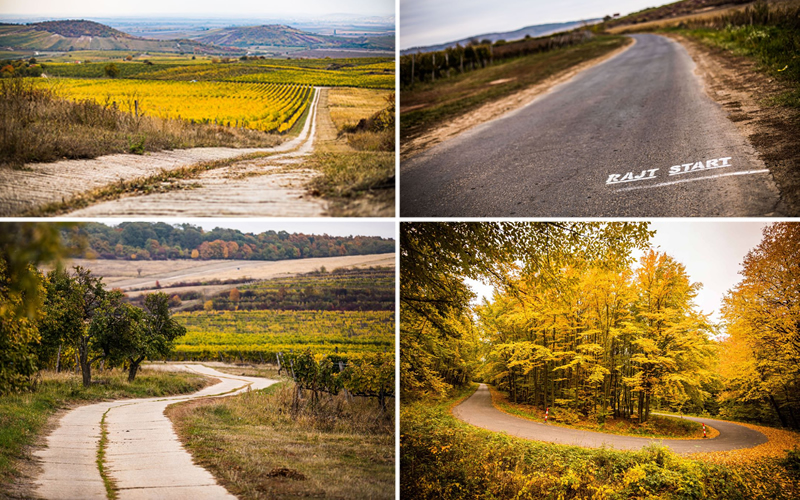 The event got underway with a short 4.35km Shakedown qualifying test for which a returning Nikolay Gryazin topped the timings ahead of another ERC returnee, Mads Ostberg who was really focusing on his final Hungarian Championship rivals.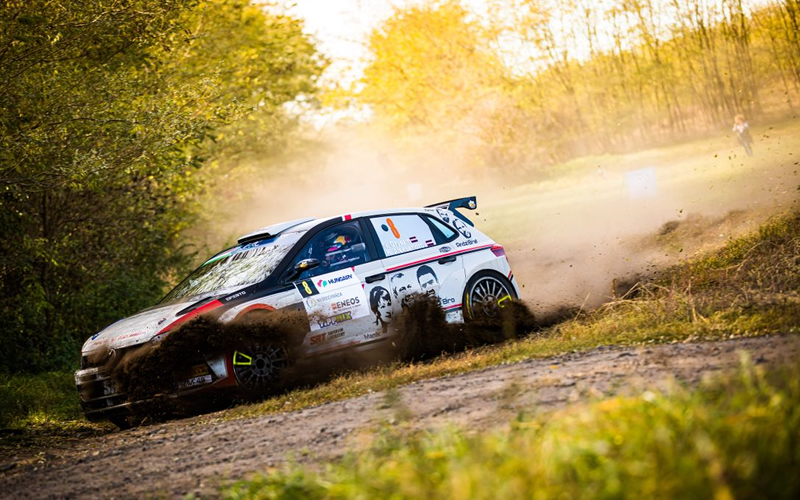 Gryazin opened up the rally with the first stage win in his VW Polo GTi R5 car on the short 2.49km super special stage in Rabocsiring on Friday evening.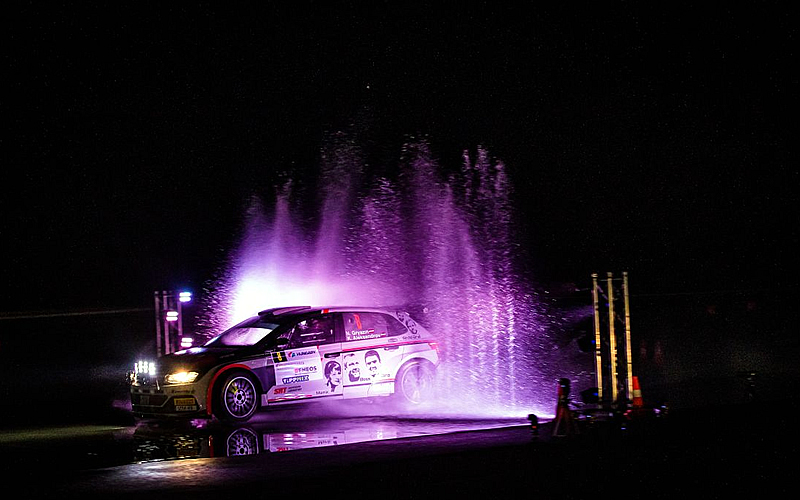 The first full day of action covered 103km across 6 stages (3 stages to be repeated) and would begin with the 16.7km Ujhuta test where Mads Ostberg was first to run into difficulty with a spin which sent his Citroën C3 Rally car into a ditch. With a lack of spectators around to help, the Norwegian lost a chunk of time but at least was able to get going again.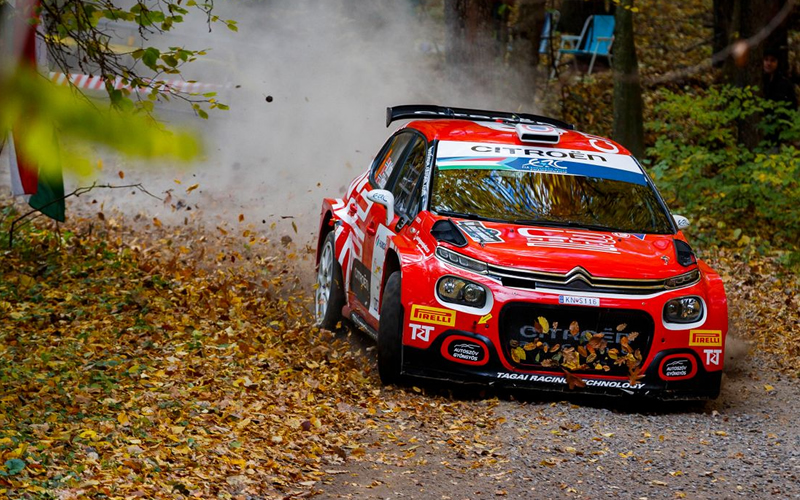 In SS3 the longest stage of the day, Mikkelsen our Champ in the waiting was struck with electrical issues on his Skoda Fabia Rally2 EVO. A loose wire in the engine bay was causing him a massive headache and although he believed to fix the bad connection on the road section after, the issues persisted into SS4. In his compensational driving, he stalled the car and lost further time.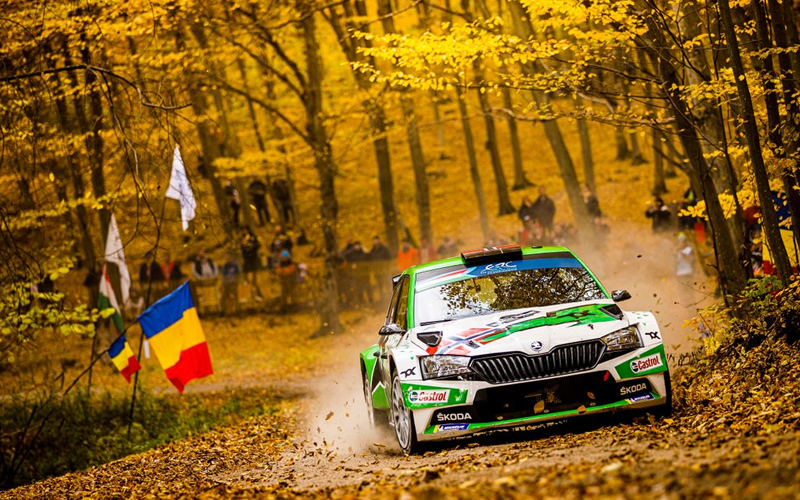 Gryazin who was fastest on all three of the stages thus far was to have an off on one corner in SS4 but he was still leading the field at the end of the morning loop with a 7.2 second lead of Erik Cais.
With the first of the repeated runs a new leader took over from Gryazin, Czech man Erik Cais got the better run through SS5 in his Ford Fiesta Rally2 car to snatch the lead by just 0.4 seconds. However, his lead was very short-lived, on the very next stage he picked up a puncture which not only handed the rally lead straight back to Gryazin but dropped him down to 10th overall.
Mikkelsen was now up into third but on the final stage of the day, he was also struck down with a front right puncture which dropped him down to 7th overall. Meanwhile, Mads Ostberg was on a bit of a charge winning both stages 6 & 7 to climb from 8th to 3rd overall, despite having an off after pushing a little too much.
At the end of the first leg of the rally, Russian Nikolay Gryazin had a lead of almost 26 seconds over Skoda Rally Team Hungarias Herczig Norbert, with Ostberg +13.9 seconds behind in 3rd.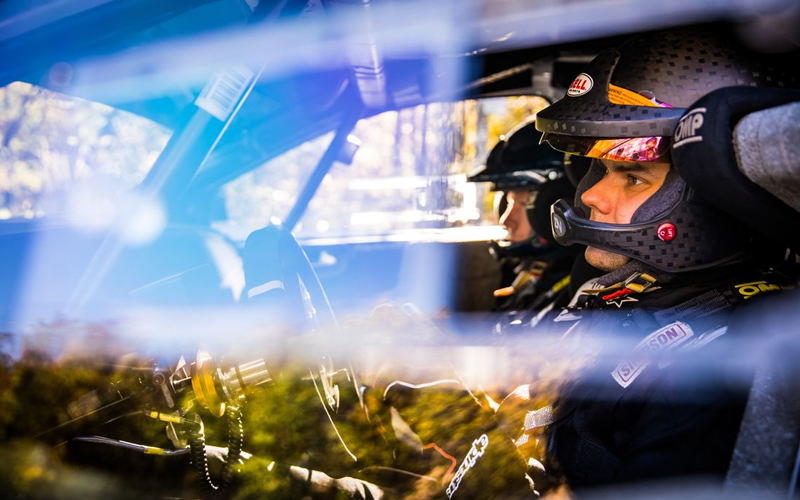 "I just try to keep my pace because I don't want to risk so much"

Nikolay Gryazin
The second leg of the rally and final day would consist of 79km spread over a further 7 stages, with the final stage of the event ending in the darkness. Gryazin's day began with a 15-minute clutch change in service to his VW Polo GTI R5 before the restart. He then went on to post the fastest time on the opening Erdőbénye test and by the midday service, he had extended his lead to 49.5 seconds.
On SS8 Mikkelsen was caught out and slid wide into a bank, which resulted in damaged suspension. He was able to nurse his car through the next two stages to make it back to service.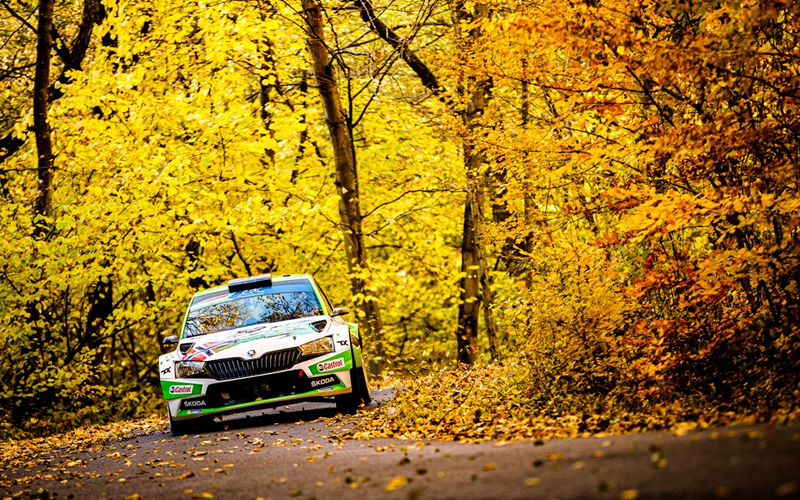 On the same corners as Mikkelsen, Ostberg got a little out of sorts also but for Norbert, he came off a little worse. A sizable accident caused considerable pain to his co-driver who suffered a number of broken ribs, the pair were now out of the rally. Fellow Hungarian countryman Andras Hedik had been locked in battle all morning with Ostberg, who had moved up into 2nd overall after winning SS10.
The man to beat all weekend, Gryazin continued to cruise through the final four stages of the rally and did cross the line with a sizable 37-second advantage over Ostberg. However, the Russian was hit with a penalty after the rally had concluded for failing to stop at Norbert's accident on SS8. This promoted Mads Ostberg to the overall rally winning, securing his maiden ERC win and third place in Hungarian National Rally Championship for 2021.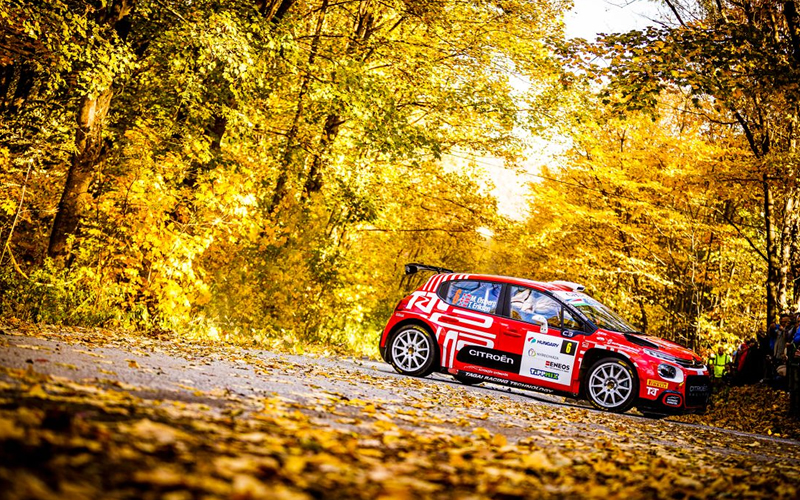 "Every rally was the same, we were fast and winning stages but always had some problems. This time it was my mistake and it was hard to get back. We won this rally in the Hungarian championship but Hadik had a great season."

Mads Ostberg
Andreas Mikkelsen was able to bring his Skoda Fabia Rally2 EVO home in 7th overall to add the 2021 European Rally Championship title to his recently crowned WRC2 title with Tok Sport, who also was awarded the ERC's team award.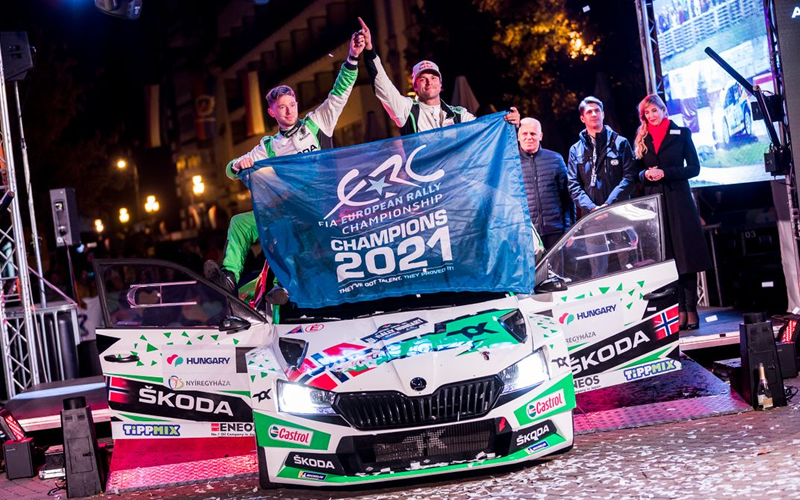 "It's a good moment, thanks to the TOK Sport and Škoda, it's been amazing. Not easy job, but two Championships in a week, it's great."

Andreas Mikkelsen
Mikkelsen ended Rally Hungry on 189 points, and now the fight for second between Mikolaj Marczyk (132 pts) and Efren Llarena (119 pts) now heads to the final round of the Championships at the Rally Islas Canarias 18th-20th November.
Words By Andy Cook | Photos ERC Media