WRC | RD3 | RALLY MEXICO 2019
10/03/2019
The FIA World Rally Championships travelled away from Europe for its first long haul trip to round three in Mexico. From the snow and sub-zero conditions of Sweden, the crews found themselves in temperatures nearing 30°C tackling the loose and dusty stages high up in the mountains close to Leon, for the first gravel rally of the season.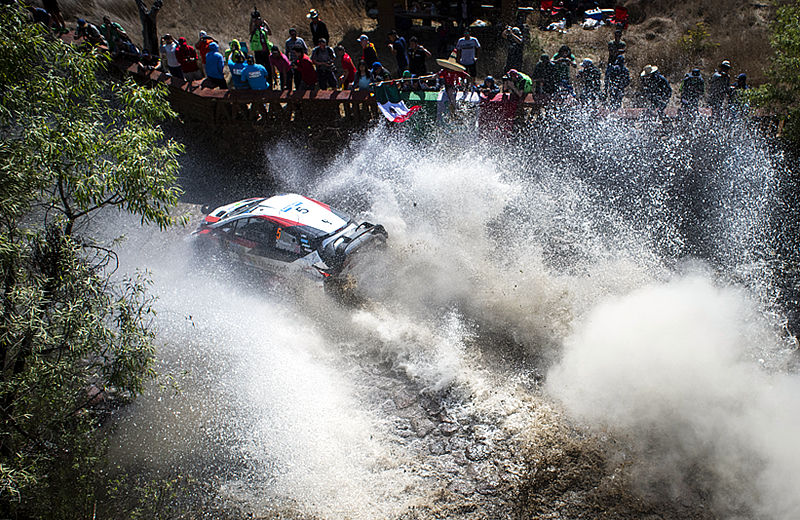 Toyota's Ott Tanak arrived in Mexico leading the drivers' standings and his team also led Hyundai by just a single point in the manufactures. However, on the Thursday morning, pre-event shakedown at Llano Grande; Tanak ran into technical difficulties after just a single practice run, a faulty sensor found to be the cause. His teammate Kris Meeke set the fastest time just 0.1 seconds ahead of Hyundai's Andreas Mikkelsen.
Thursday evening in front of a mass of Mexican rally fans the event opened up with a short Super Special Stage on the cobbled streets of Guanajuato.
Here was where the action got a little bit too lively for Citroens Esapekka Lappi, hitting the artificial jump a little too hard on his way to winning the stage, resulting in irreparable damage to it.
This then put an end to proceedings with the three championship front runners still yet to tackle the stage. Ogier, Neuville and Tanak were all awarded notional times based on the third-fastest time of Meeke.
Ott Tanak was to be first on the road Friday morning and took up the role of road sweeper, so he wasn't expected to feature too much at the top end of the stage times.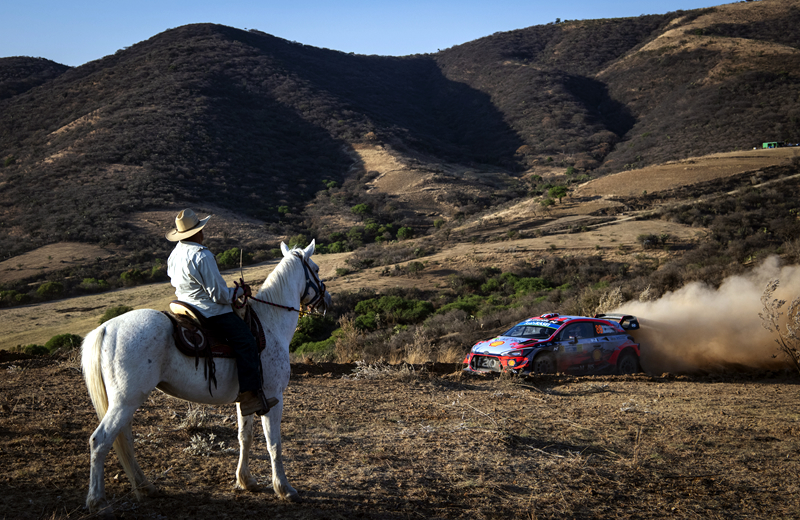 The first proper gravel stage of the season got underway with the 31km stage, El Chocolate and Andreas Mikkelsen was out to prove a point, by taking the stage win in his Hyundai i20. Meanwhile, his teammate Neuville had a bad start with a delaminated tyre, losing some 20 seconds dropping him back and out of the fight already.
Last year's Mexico winner Sebastian Ogier was looking to bring the fight early on and did just that in his Citroen C3 on the very next stage, SS3 Ortega. Mikkelsen also won SS4 the Leon street stage (just before service) to lead Ogier by just 2.7sec in the mornings' loop.
Returning Spaniard Danni Sordo was making a good start to his season, he was lying 3rd in his Hyundai i20 after getting the first couple of proper stages under his belt.
Mikkelsen "It's the positive start we wanted, I put a lot of effort into the opening El Chocolate stage to try to get it really perfect. You can always do better but I had a clean run. I was a little slow in Ortega but only lost a couple of seconds. It's not a comfortable lead, small but nice."
Heading back out into the afternoon's loop of stages Mikkelsen's lead was short-lived, in SS5 the second running of El Chocolate he hit a big rock around 6km from the stage end which damaged his suspension, this ended his participation for the day.
Ogier was back on top and leading Sordo, however, Sordo's day wasn't to end well either, on the road section to stage 7 he ran into electrical issues. Joining his teammate Mikkelsen he had to retire also, this was not a great opening day all around for the Hyundai team, we were expecting them to be strong here in Mexico!
Ogier won stages 5, 6 & 8, despite a slow puncture in SS7 Las Minas he still finished off the day leading former M-Sports teammate Elfyn Evans in the Fiesta by +14.8sec, who appeared to be putting in a great performance despite his poor result here last year when he retired on the first day.
Ogier "It's been an almost perfect day but it wasn't easy. Starting third on the road wasn't ideal and the grip was very low in the first pass."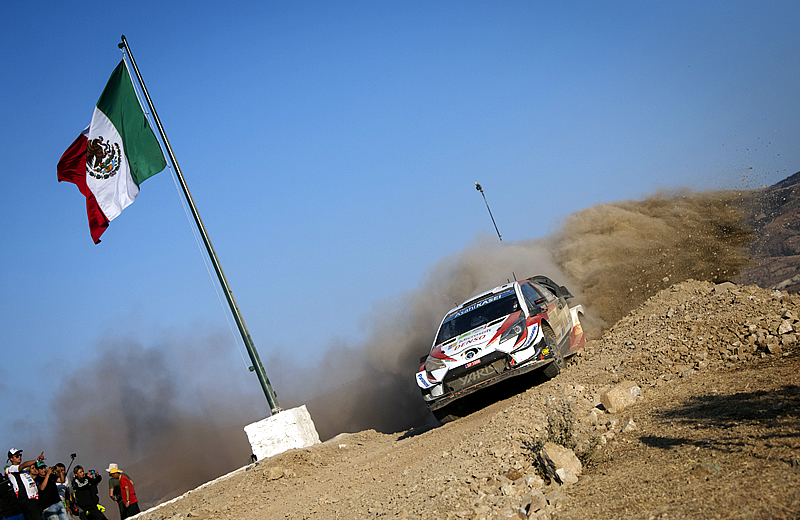 Saturday was a new day but that also brought new dramas for the crews out on the stages. First up was 25km of SS10 Guanajuatito; Ogier had a decent lead going into this stage but teammate Lappi had an off ahead of him, beaching his C3 at the side of the track on a bend just 800m from the stage end retiring him from the day.
Kris Meeke managed to squeeze past and put in the fastest time before the stage was cancelled because of Lappi's off, this "could have been" a bit of a Godsend for Ogier as he picked up a puncture; but the organisers took this into consideration and issued him with a notional time which was 22secs down on Meeke.
Meeke now led the event but in the very next stage, SS11 Otates, Meeke returned the favour, clipping a rock and getting a slow puncture, thus handing the lead back to Ogier. Meeke's loss was also teammates Tanak's gain, moving him up into third. Meanwhile, Jari-Matti Latvala was being a bit cheeky, by checking into SS11 late he got a slightly better road position which enabled him to get a stage win here; which he then followed up with another win on SS12 El Brinco.
Meeks previous stage puncture had also affected his suspension and he crawled through the stage, but he was still hanging onto 5th place. However, by now he was well out of contention being more than 2mins behind Neuville.
While Ogier was extending his lead, Saturday afternoon was all eyes on the battle for second between Evans and Tanak. In stage 13 the second running of Guanajuatito, Evans got the better of Tanak by just 0.6 seconds but Tanak reacted with two consecutive stage wins in Otates 2 and El Brinco 2 reducing the gap; but Evans was still holding onto that second place at the end of the leg, settings things up nicely for a great final day battle on Sunday.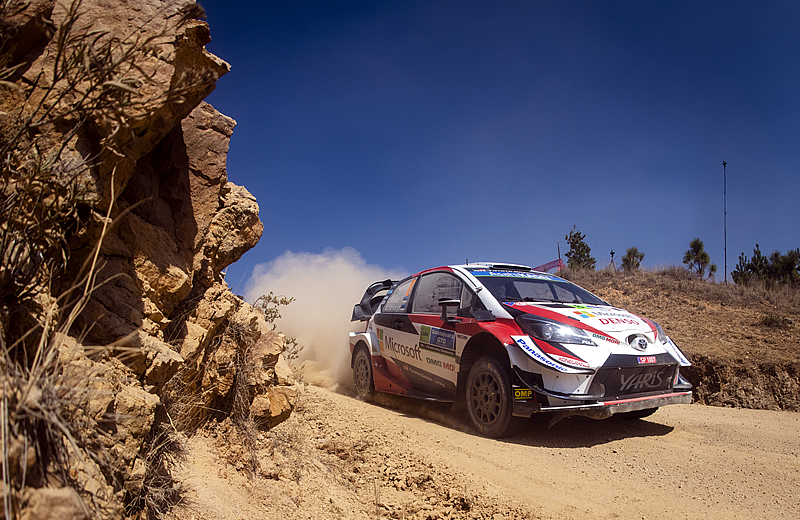 The final day of Rally Mexico kicked off with SS19 Alfaro, here was where Tanak took second place from Evans by winning the stage, Evans could only manage a 4th fastest time but he was only 2 seconds behind and there were still two stages remaining where he could potentially get it back.
However, it simply wasn't to be for the young Welshman as Tanak also won stage 20 Mesa Cuata; showing that despite starting the event first on the road, in the world of rallying anything can happen and podiums are still possible, so long as you don't give up fighting. All that was left was for Ogier to seal the deal with a final Power Stage blast.
Evans made an error and checked in to the stage control late, this handed him a 10-second penalty but nevertheless finishing 3rd and gaining his first podium of the year is a good result.
Britain's Kris Meeke "Threw the Kitchen sink at it" and initially posted the fastest time on the Power Stage, but had to stand back and watch rally winner Sebastian Ogier steal it away from him, just 200th of a second was enough for Ogier to walk away from Mexico with the maximum points haul, winning not only the event (his 5th win here) but the Power Stage also.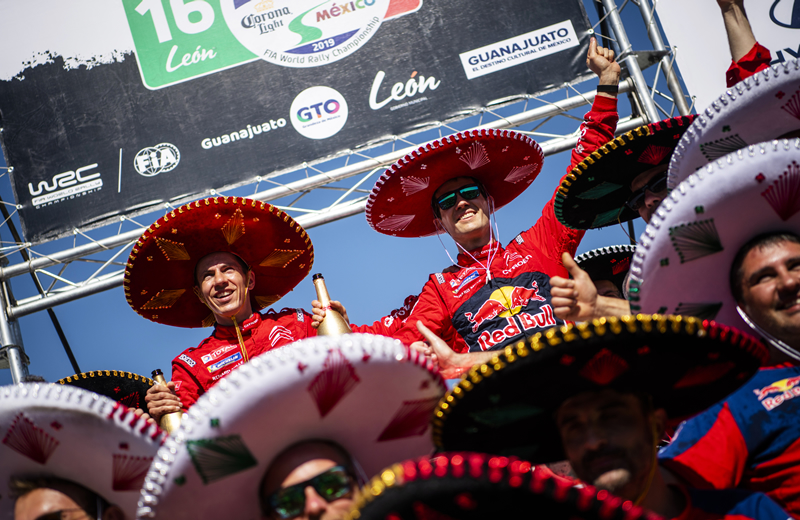 Ogier who started his WRC career in Mexico back in 2008 said:

"It has always been a special place since the start of my career and I'm glad it remains that way. It's been a tough weekend in difficult conditions. It wasn't a trouble-free rally for us, but we managed to make the best of it and came out with maximum points".
Runner up Ott Tanak exceeded both his and our expectations in Mexico, heading into the event being first on the road is always a disadvantage on gravel rallies. This fantastic result means he remains at the top of the drivers' standings as the Championship heads back to Europe to the French Island of Corsica for the "rally of ten thousand corners" – Tour De Corse.
Words By Andy Cook – Xlerate
Photos By Jaanus Ree © Red Bull Content Pool