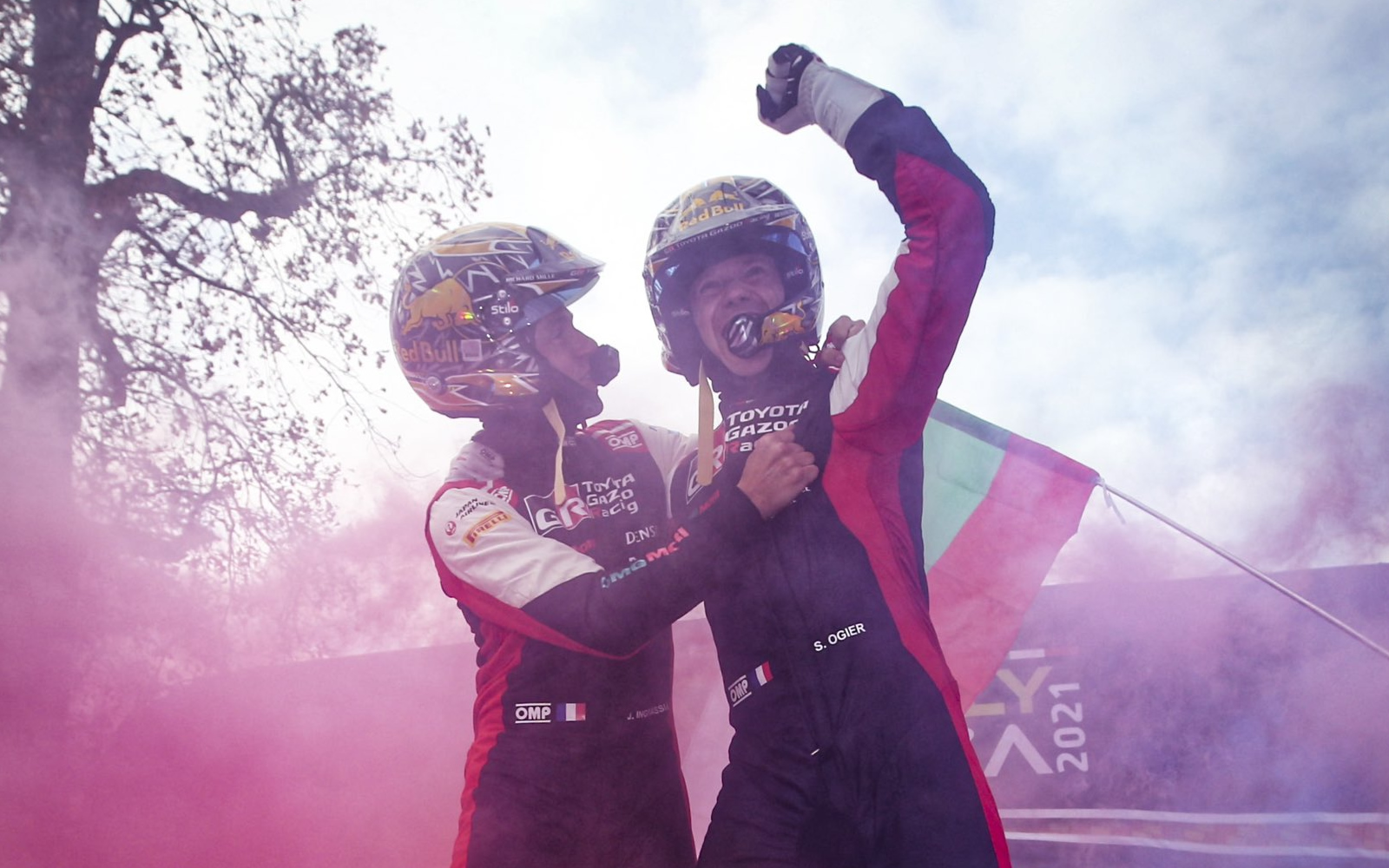 WRC | RD12 – ACI RALLY MONZA 2021
22/11/2021
Making its return to the FIA World Rally Championship and closing the season for the second year running (after a forfeiting Rally Japan); the ACI Rally Monza signified the final outing for the outgoing generation of World Rally Cars before the switch is made to Hybrid next year.
The final event in which last year saw Frenchman Sébastien Ogier clinch his 7th World title after snatching the Championship away from his Welsh teammate Elfyn Evans; would once again also deliver one last battle for the 2021 title between the pair of Toyota Gazoo Racing drivers.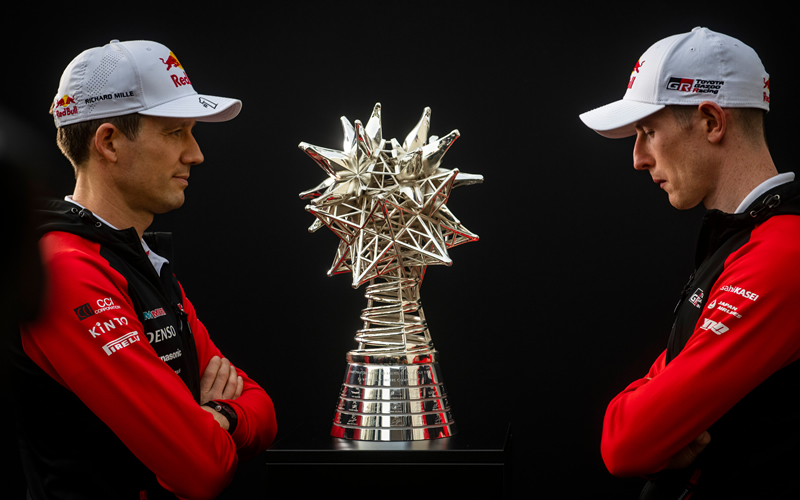 Photo: Red Bull Content Pool
Also up for grabs was the manufacturer's title between Toyota and Hyundai but Hyundai were to face this challenge without one of their regular drivers Ott Tänak, who was to sit this final rally out due to family commitments. In step Finlands Teemu Suninnen for his first outing in the Hyundai i20 WRC car, what an opportunity to impress this would be.
Despite not picking up any podium finishes on the past two rallys, Ogier arrived in Monza with a relatively comfortable 17 point lead over Evans and baring any mishaps was bookies favourite to take his 8th title in Italy on this, his last full-time season.
But this is the World of Rallying and as we saw last year on this very event, anything could happen. Evans was still in with an outside chance and was well and truly up for the challenge that awaited him, despite knowing deep down that it was a big ask.
Photos: Toyota Gazoo Racing WRT
With 253km spread over 16 stages, the rally itself expanded its route outside of the Monza circuit complex for this year to include more of those "Monte Carlo" like mountainous stages, which was a welcomed move by all. The weather was predictably unpredictable in the region for this time of year which would add to the challenge but we would not see any snow like what appeared at this rally last year.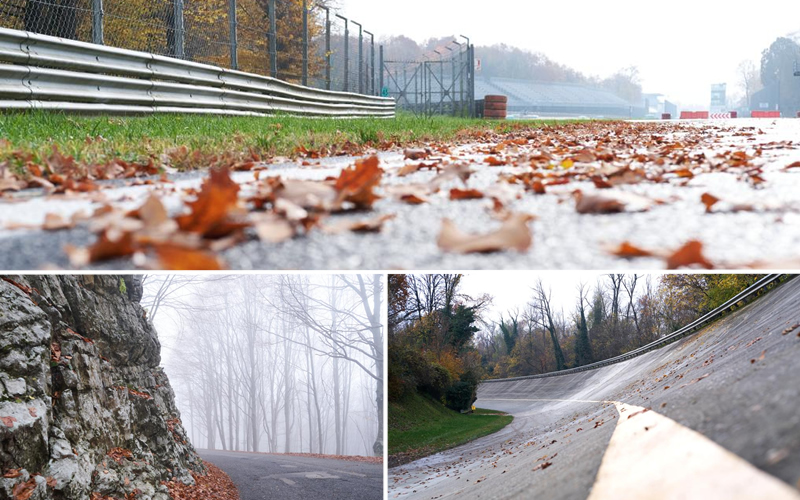 Photos: Hyundai Motorsport WRT

With fog rolling in over the circuit at the pre-rally shakedown in the darkness of Thursday evening, for which Toyota Gazoo Racings Kalle Rovanperä set the fastest time on. The rally would then get underway in similar conditions the next day, with Championship leader Ogier leading the crews into the opening 11km Gerosa test, some 60km to the north of Monza.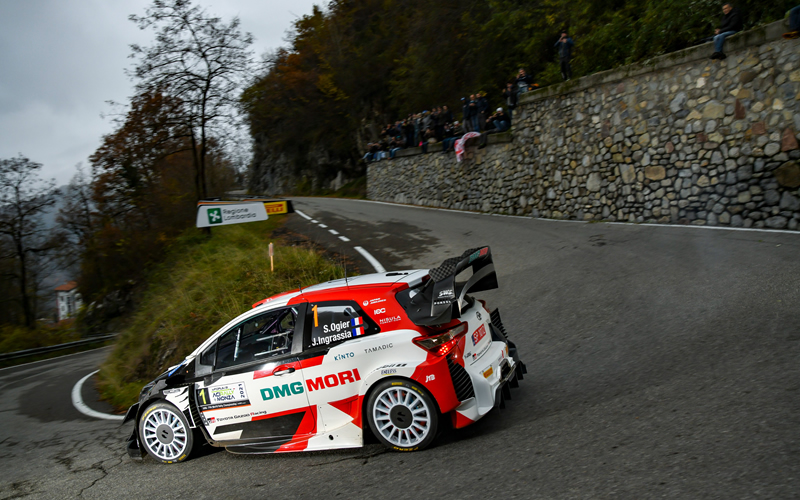 Photo: Toyota Gazoo Racing WRT
Ogier was quickest off the mark in that first damp foggy stage of the rally, sending the early warning shot to Evans who was 3.6 slower. Evans was able to match Ogier's pace in the second stage, the longer 22km Costa Valle Imagna test, but was only able to pip the Frenchman by a slender 0.1 seconds.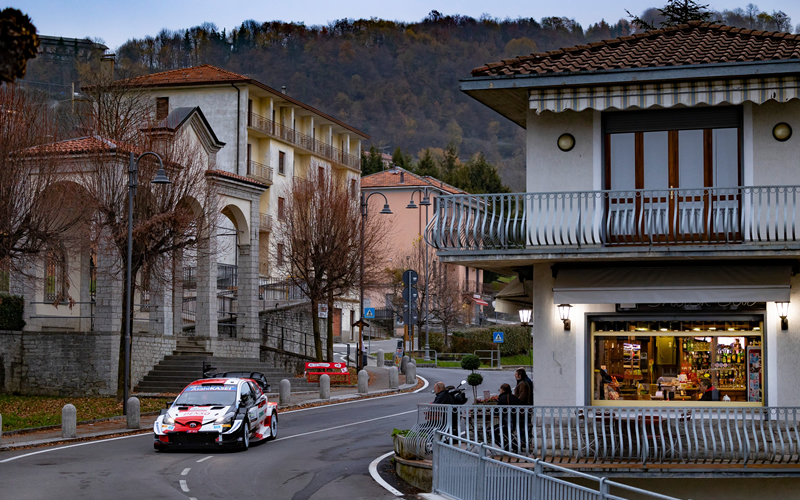 Photo: Toyota Gazoo Racing WRT
Ogier was able to maintain his lead over Evans throughout the course of the morning's stages before the rally moved to Monza circuit-based stages in the afternoon. Here is where Evans managed to overhaul Ogier to end the first day with a 1.4-second lead, for now, he could do no more.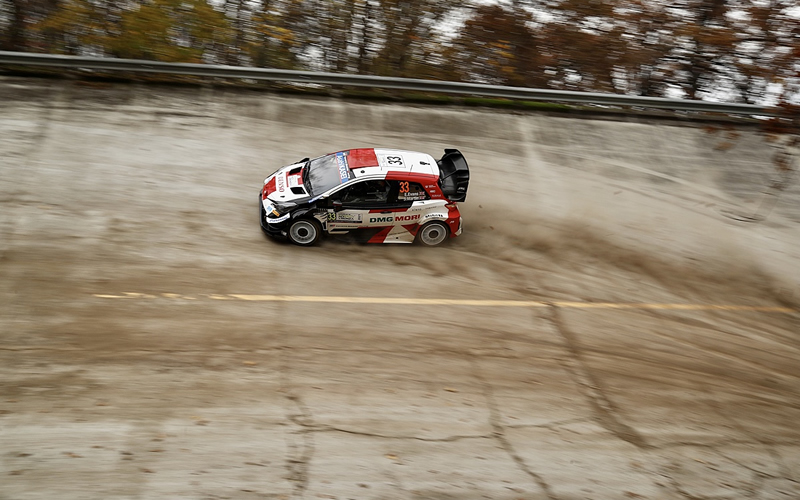 Photo: Toyota Gazoo Racing WRT
"It's been a good day around the track, but of course we have some work to do for the mountain stages tomorrow."

Elfyn Evans
Recently crowned WRC2 Champ Andreas Mikkelsen began his Monza assault with a string of fastest stage times on the opening morning of the rally in his Tok Sport run Skoda Fabia EVO Rally 2 car.
Building up a sizable lead of some 26 seconds by the end of SS5, the Norwegian was dominating the morning. However, in stage 6 around the Monza circuit complex, he picked up a puncture which lost him a chunk of time and with it, the lead of the WRC2 class.
Photo: TOK Sport WRT
"It's been a little bit up and down. It's been a good day – just a shame about the puncture, but that's how it is."

Andreas Mikkelsen
Mikkelsen's misfortune handed the lead over to his Tok Sport teammate Marco Bulacia, who ended the opening leg of the rally 5.3 seconds up on Jari Huttanun. Huttanun had made the switch from his usual Hyundai seat to an M-Sport run Ford Fiesta Rally2 for the first time and Monza could be the rally to secure something for next season.
Photo: TOK Sport WRT
"It's been a nice day for me. We had a very consistent first day, but there is still a long rally."

Marco Bulacia

The second day of the rally was the longest leg of the event at 108km over a further 6 stages and it began with Hyundai's Thierry Neuville winning the first 14km San Fermo test of the day.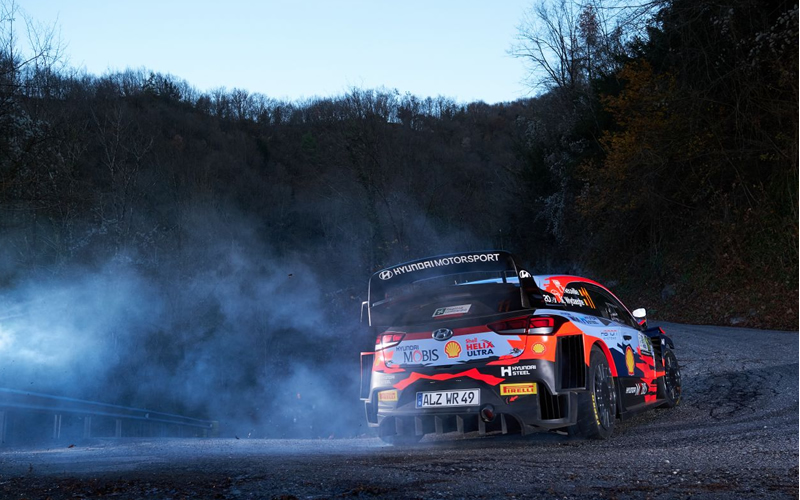 Photo: Hyundai Motorsport WRT
But whilst Neuville was bouncing his i20 off of a barrier just some 500m into SS9, the first run over the Selvino test, which subsequently cost him his podium place. The battle for the rally win and the Championship honours continued to rage on between Ogier and Evans upfront.
Evans picked up his third stage win in SS9, but Ogier reacted in the very next stage (the repeated run of San Fermo) to snatch the lead straight back. Ogier then went on to extend his lead over Evans to 5.2 seconds in the final stage of the morning (SS11 Selvino 2) heading into the midday service back at the Monza circuit.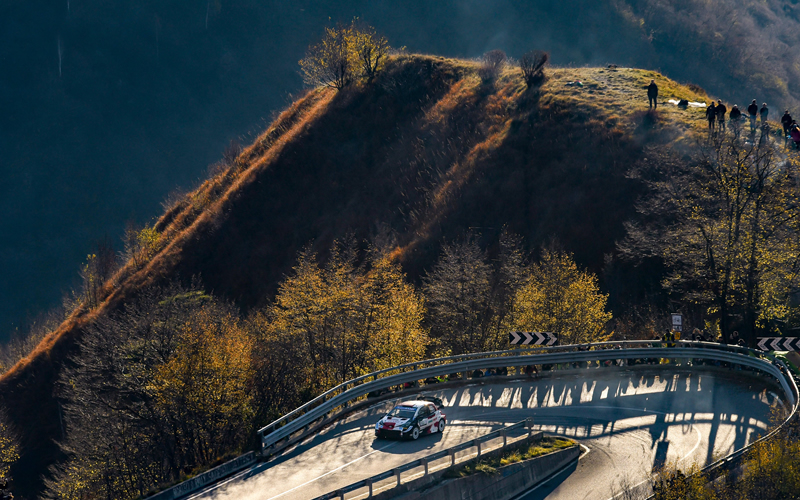 Photo: Toyota Gazoo Racing WRT
With two stages in the afternoon, Evans looked to repeat his opening day performance around the Monza Circuit complex and he began by posting the fastest time on SS12, but he wasn't able to follow that up in the final stage of the day.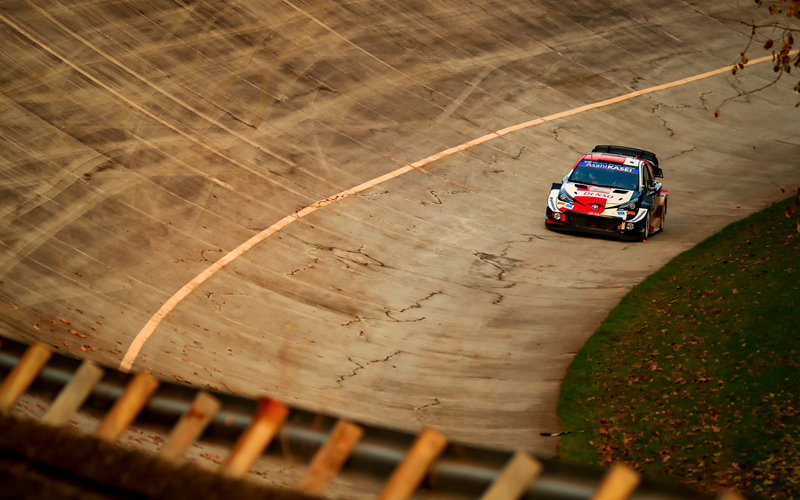 Photo: Toyota Gazoo Racing WRT
Instead, it was Spaniard Dani Sordo who was lying in third overall who was to grab that final stage win of the day. As the ding dong battle upfront was in full swing, Sordo was more than 27 seconds away from the two leading Toyotas and it was clearly now a two-horse race for the rally win heading into the final overnight halt.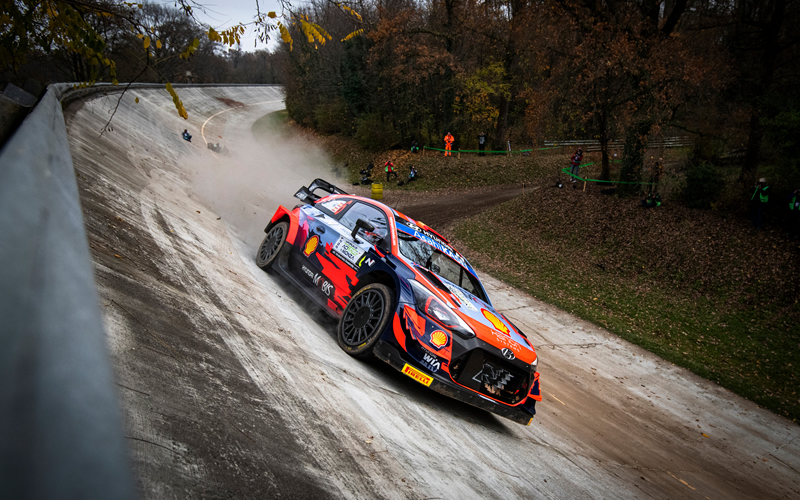 Photo: Red Bull Content Pool
The second day of the rally did not begin well for overnight WRC2 class leader Marco Bulacia. Losing a wheel at a missed junction on the opening San Fermo test of the day lost him the lead of the rally and dropped him out of contention. This left M-Sports Jari Huttunen to take up the position leading the rally from then on.
Photo: Red Bull Content Pool
"It's a good feeling. We didn't make any huge mistakes and I think our pace has got better and better with every stage."

Jari Huttenen
Andreas Mikkelsen was on a bit of a mission to make up the lost time from day 1 and won 5 out of the 6 stages to close the gap down to Huttunen to just over a minute heading into the final day. But was this all just a bit of a tall order for the WRC2 & ERC Champ to ask for the rally victory?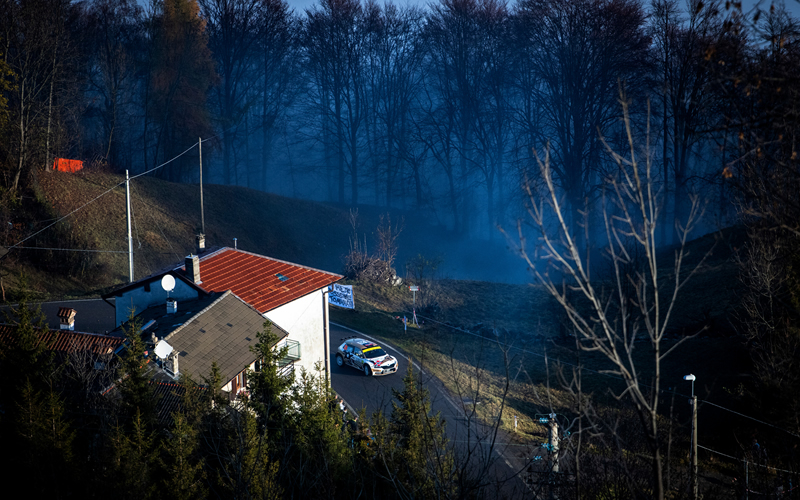 Photo: Red Bull Content Pool
Ogier headed into the final leg of the final rally of 2021 with just half a seconds advantage over his Toyota teammate Evans. The Champion elect was looking like he was going to end his season on a high with one final victory but he actually had his sights firmly on his 8th title.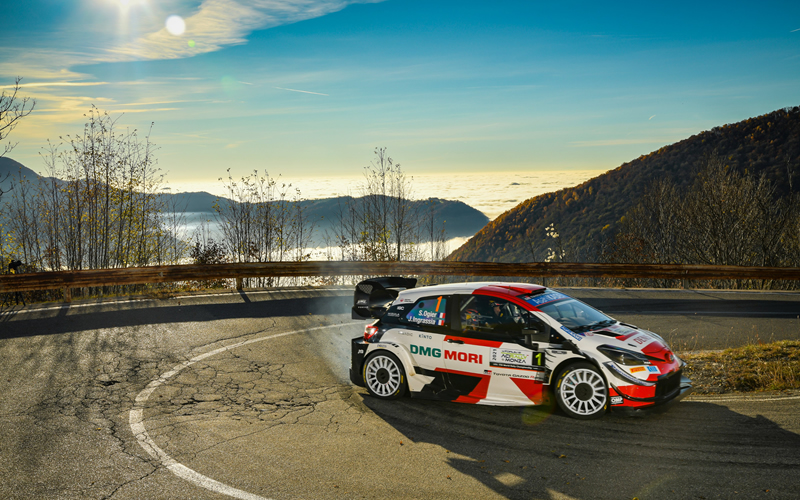 Photo: Toyota Gazoo Racing WRT
"Winning the rally is not the plan"

Sébastien Ogier

With just three stages covering little under 40km within the Monza Circuit on the final day to end the 2021 season; one felt a little disappointed that a thrilling season would end on such un-inspiring stages. Because of both the remaining milage and nature of these stages, Ogier was heading for his 8th World Title and there was absolutely nothing that Evans could do about it.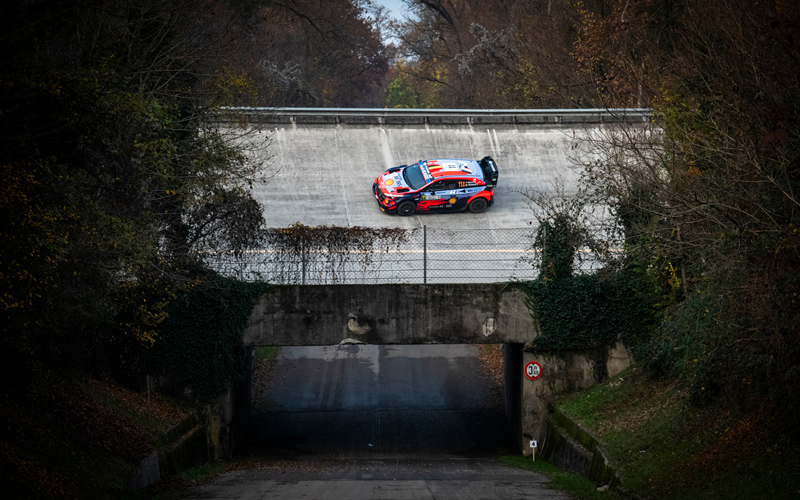 Photo: Red Bull Content Pool
The day began with 10km Grand Prix circuit for which Neuville won but there was a scare for Ogier who clipped a concrete barrier. Crucially he had gotten away with it, sometimes the ingredients of skill and experience are not enough, one also needs lady luck. Despite this minor damage to his wheel, he and Evans posted the exact same stage times which had no impact on the inevitable direction of where the rally was heading.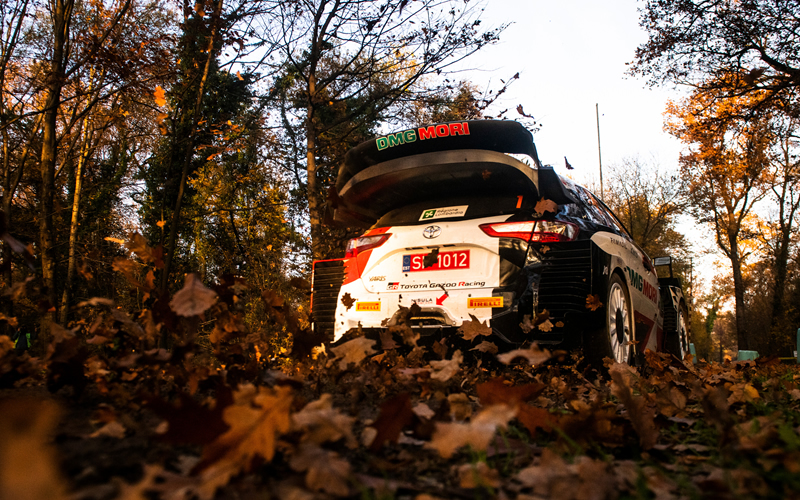 Photo: Red Bull Content Pool
Evans was giving it his all in order to keep the pressure on Monsieur Ogier until the bitter end, but whilst Ogier was keeping it cool, Evans pushed just a little too much and made a mistake on the penultimate test of the rally.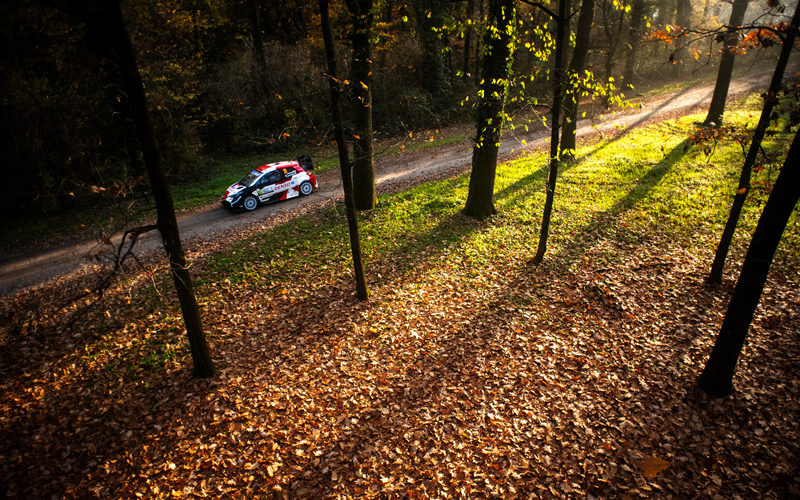 Photo: Red Bull Content Pool
An altercation with a hay bail was enough to ease that pressure off of Ogier who was then able to cruise home through the final Power Stage to take the Rally Monza victory by 7.3 seconds and with it, he and Co-Driver Julien Ingrassia's 8th World Title.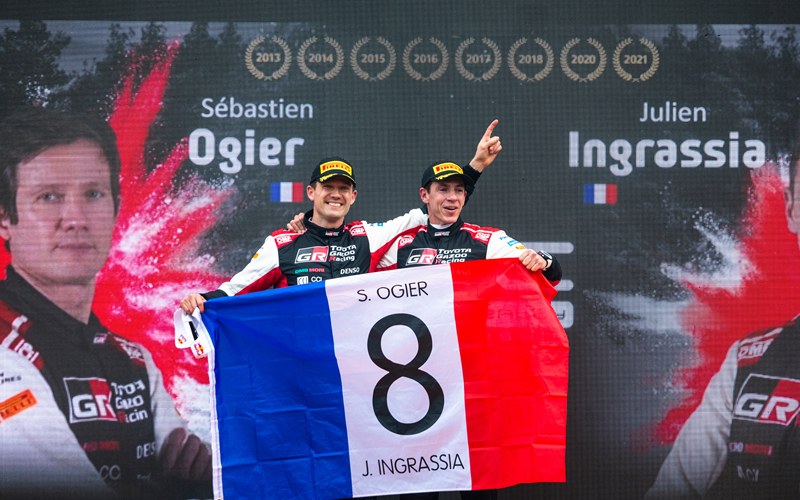 Photo: Red Bull Content Pool
In the WRC2 Class M-Sports Rally2 debutee Jari Huttunen alongside Co-Driver Mikko Likka was able to secure the top spot on the WRC2 podium in a measured drive to bring home their Ford Fiesta Rally2 car for M-Sport some 47 seconds ahead of Andreas Mikkelsen.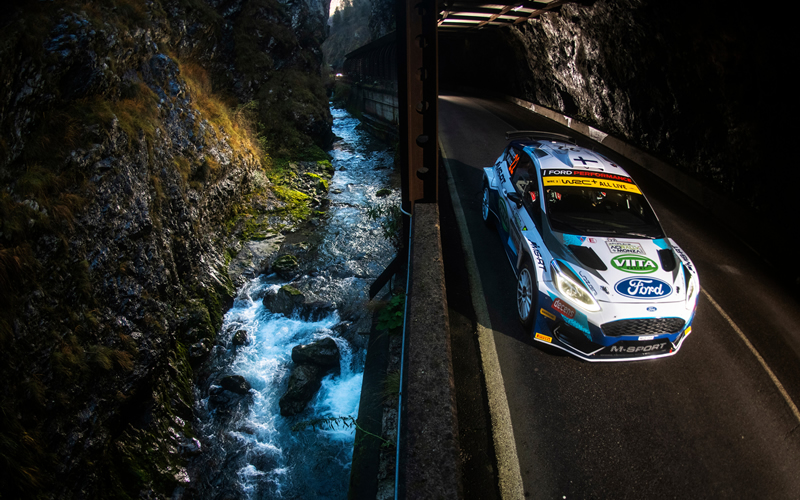 Photo: Red Bull Conent Pool
M-Sport has recently said that they were looking for a candidate to take up their WRC2 challenge next year; could the young Finn Huttunen who has been a firm Hyundai driver over recent years be that bum to fill the seat in the Fiesta next season?
"The feeling is good. Of course, if you look at the stage times we are not where we want to be. We still have a lot of work to do. I don't know what I will be doing next year, but hopefully, I will be driving something."

Jari Huttunen
Hyundais efforts in Monza when looking at the overall classifications were actually OK, but it was not enough to secure the manufacturers' title this year. With new recruit Temmu Suninen finishing in 6th on his first-ever outing in the top-spec i20 car whilst sitting in for Ott Tänak; Oliver Solberg was the best of the rest bringing his Hyundai home in 5th overall.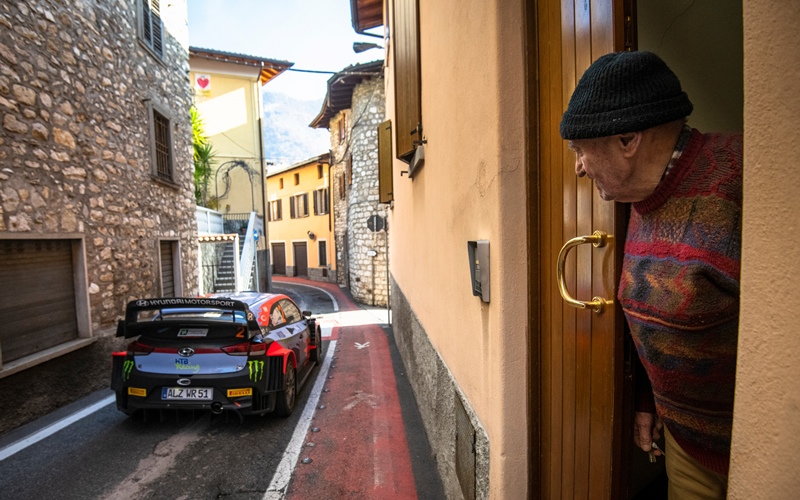 Photo: Red Bull Content Pool
Thierry Neuville was unable to recover from his mistake on the second leg of the rally but ended the final horah in this generation of cars by winning all three stages on the final leg within the Monza Circuit. His 4th place finish just outside the podium along with his extra bonus points for the power stage win had no impact on the final championship standings. The Belgian finished 3rd in the driver's championship after a real mixed season having only two victories in Ypres and Spain to his name.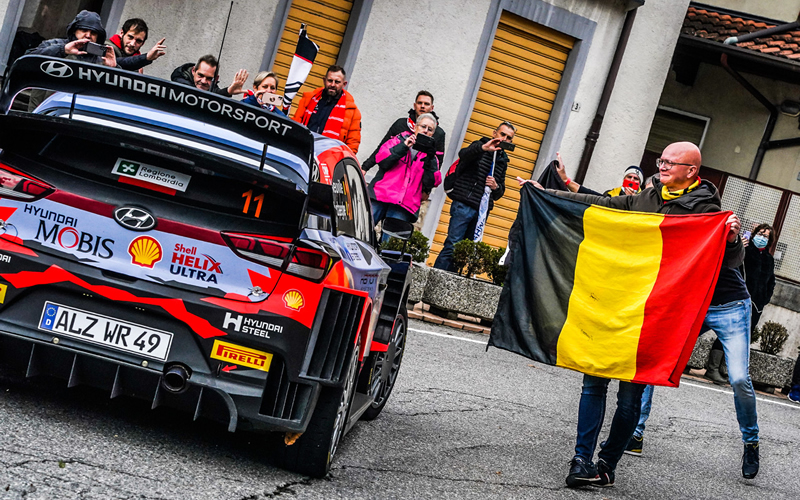 Photo: Hyundai Motorsport WRT
"I've had some incredible years with this car and Hyundai and I am looking forward to the new adventure with the new cars. We will definitely keep good memories of this last generation."

Thierry Neuville
Hyundais part-timer Dani Sordo rounded of the Monza podium in 3rd, although two stage wins were obtained, he ended the rally some 20+ seconds off of the pace of the two leading Toyotas.
Photo: Hyundai Motorsport WRT
"I am really happy to have the podium. It's amazing to finish with these cars on the podium. I hope next year will be even more fun."

Dani Sordo
This year Hyundai fell short by some 58 points to their main rivals Toyota. A season that was plagued with mechanical failures from impacts which arguably their car should have withstood, along with some un-inspiring performances from their drivers at times, gave team principal Andrea Adamo some really difficult moments. But they stuck with it and adopted Thierry Neuville's never give up attitude for which eventually extended the fight for the manufacturer's title until the final round in Monza.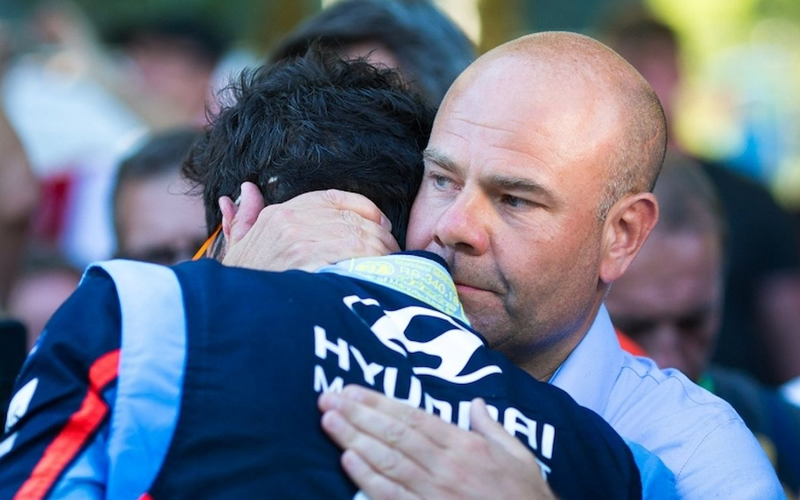 Photo: WRC.com
2021 runners up Elfyn Evans alongside Co-Driver Scott Martin end the season knowing that they can hold their heads up high. Their second season in the Yaris with Toyota Gazoo racing barring THAT mistake on the Safari Rally in Kanya has once again produced an amazing performance and a result that could only be beaten by an eight-time World Champion.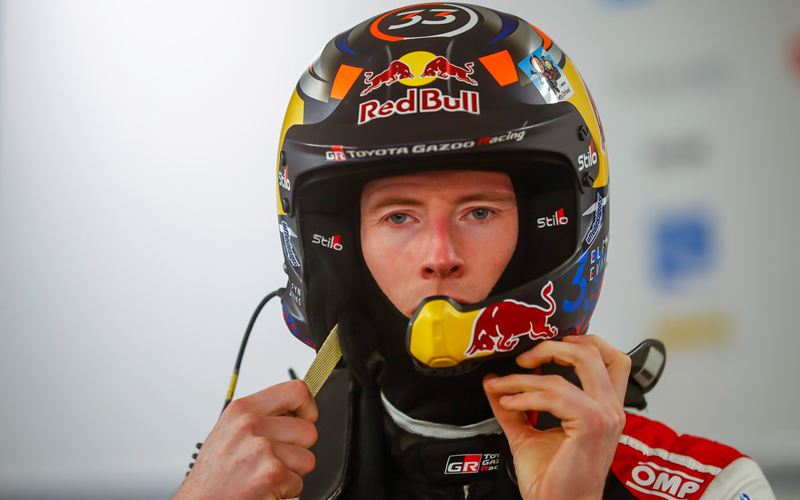 Photo: Toyota Gazoo Racing WRT
"It's been a pretty okay year, I can't help but feel a bit disappointed right now. You always look to the places you could have done better, but I have to say a really special thank you to this team. A special mention also to Kalle. He sacrificed his weekend so that me and Seb could go at it this weekend."

Elfyn Evans
The young Welshman leaves Monza with the knowledge that next season brings with it, fresh new challenges in a new breed of Hybrid cars. Only this time it will be without that pesky Frenchman full time, who has prevented him from securing his first-ever World Rally Drivers Championship title two years running. Ogier will say Au revoir to long term Co-Driver, Ingrassia and will be taking up a part-time seat for the team next year.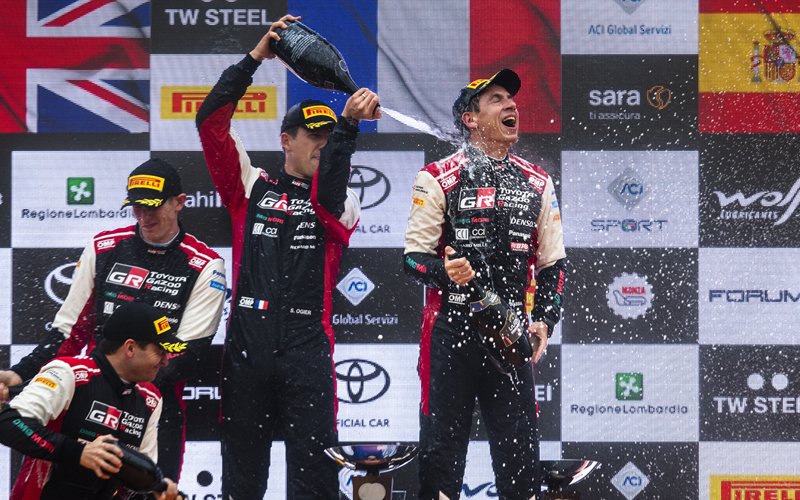 Photo: Red Bull Content Pool
But for now, the entry into the history books for the 2021 FIA World Rally Championships will once again read, Sébastien Ogier & Julien Ingrassia World Champions for the team Champions, Toyotas Gazoo Racing WRT. This makes for pretty good reading for not just Toyota back in Japan but for their team principal Jari-Matti Latvala who took up the role for the first time this season….. what a result and what a season 2021 has been.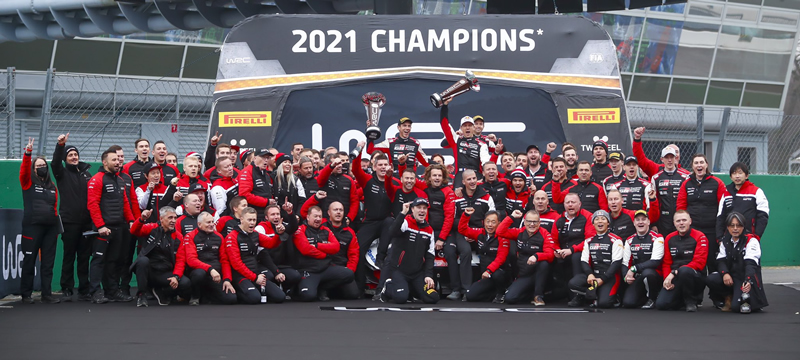 Photo: Toyota Gazoo Racing WRT
"Another unforgettable moment shared together, So happy to end this amazing journey with Julien in the best possible way. A big thankyou to everyone at Toyota Gazoo Racing and congratulations, you deserve it."

Sébastien Ogier
Worlds By Andy Cook | Feature Photo: Toyota Gazoo Racing WRT