BHRC / RD5 / WOODPECKER STAGES
20/09/2023
The FUCHS Lubricants British Historic Rally Championship returned to the gravel for the fifth round of its 2023 season at the Phil Price Memorial Woodpecker Stages Rally.
This 40th running of the Sixty & Worcestershire Motor Club organised event would feature a shake-up in its route this year, as the popular Radnor Forest complex which has been utilised often in recent years was unavailable this time around. The rally HQ would remain at the Ludlow Race Course and the event would still feature a mix of stages both in England and Wales, two loops of four stages covering approx 44 competitive stage miles would await the crews.
Photos By Xlerate.Media
Last time out on the Asphalt at the Tour of Epynt Rally, Jason Pritchard secured his first BHRC win of the season but Nick Elliott remained at the top of the standings arriving in Ludlow. Despite the likes of Pritchard and Richard Tutill electing not to compete this time around, there was however a good field of competition since it was back to the good ole faithful gravel.
The weather was shaping up to be a hot one, dust was an inevitable problem and the opening two stages were new to the event.
The Coed-Sarnau complex near Abbey-Cwm-Hir approximately an hour away from Ludlow would kick start the action with a 5 miles stage. Here is where Championship leaders Nick Elliott & Dave Price, who were back in the Fiat Abarth 131 for the event would set the benchmark time. The pair were just two seconds quicker than the MK2 Ford Escort of Richard Jordan & James Gratton-Smith, with BHRC newcomers, young George Lepley & Dale Bowen in the stunning Mitsubishi Galent VR4 a further second behind in third.
"I'm very excited, it's been a long time coming, new car, new Co-Driver, the stages are looking great, it will be good fun"

George Lepley
Photo: George Lepley & Dale Bowen | By Andy Cook – Xlerate.Media
It is probably worth noting at this point in the proceedings that although the Mitsubishi Galant was registered for the BHRC Championship and classed in Category 4b, this more "modern" historic piece of kit is not eligible for overall Championship points, nevertheless, it was fantastic to see it out on the stages and in the hands of such a young talent.
---
The second stage on the agenda was, although new to the Woody, it should perhaps be referred to as a bit of a golden oldie. The Ceri Forest complex just a stone's throw from Newtown hasn't been used in stage rallying for years, it has, however, been used for some offroad/cross-country stuff in recent years. Those who have been following stage rallying for years will likely be familiar with it from the RAC rally days of the 70s & 80s.
This stage would make use of the closed public road legislation to link the parts of the forest complex together to make up a 6-mile test and it would be somewhat of a leveller for all of the crews, given that it hadn't seen competition for years. Lepley and Bowen in the Galant would pick up their first BHRC stage win here, but it was the MK2 Ford Escort of Tom Walster & Glyn Thomas who led the Cat3 field; stopping the clocks just 3 seconds quickly than Jordan & Gratton-Smith.
Photo: Tom Walster & Glyn Thomas | By Andrew Scott
"I was very very disheartened after Epynt, the car was all over the place but we've been testing, we've done a lot of work, the car feels really good and I'm feeling confident"

Tom Walster
Jordon was able to up his game in the next one just over the Anglo-Welsh border in Hopton to add yet another new stage winner to the scoreboard. Before the start of the event, Jordan commented "It's a local event for local people this one" but we're having a go". Having pipped Roger Chilman & Patrick Walsh by a single second here, by the end of that third stage, both he and his times confirmed that he was indeed pushing hard "We're trying hard today" "It's all good" he remarked.
Photo: Richard Jordan & James Gratton-Smith | By Andrew Scott
Elsewhere Andrian Heatherington appeared to be having a bit of a shocker, "We overshot an acute left on the second stage, we lost at least 30 and had to stop and wait for the dust to settle, our days over now no?"
And for Championship leader, Nick Elliott, he didn't think that his morning was going particular great either. "The first one was alright but those two, I didn't get the flow of it really" "I thought we were good in two but the time wasn't very good".
---
The longest test of the rally in Haye Park at approx 6.38 miles was the last one of the loop, being a mainstay on the event it was more familiar ground for the crews. Although Jordon made a few mistakes, he believed that he was consistent and was happy. "It's consistency, it's been consistent all year, we're just finding a bit more and a bit more and its confidence". Jordon wasn't, however, able to follow up his stage win in Hopton here. Instead, Lepley picked up his second stage win in the Gallant and was 4 seconds ahead of the Cat3 Mk2 Ford Escort of Roger Chilman.
Photo: Roger Chilman & Patrick Walsh | By Andrew Scott
Chilman felt a bit more comfortable on the last two stages of the morning loop and was able to have a bit more of a push in Haye Park. "I know my way around there a bit better and just realised that after the first two, we just couldn't have a Saturday drive, we had to put a bit of effort in, so we picked it up a bit". Chilman was clearly getting settled into that hot sweaty MK2 Escort cockpit and was perhaps concluding that he was gonna make strides and go for it over the repeated afternoon loop. "We'll try and find a bit more pace this afternoon but points mean a bit as well".
Photo: Adrian Hetherington & Ronan O'Neill | By Andy Cook – Xlerate.Media
Heatherington's morning didn't seem to get better, "Don't know what's going on, it's me I just can't get it going at all" "It's not the stages, we're just not clicking" but the man has ample expirence and just needed to stick with it and keep it on the road and then perhaps see where he ends up at the end of the day.
At half time, Elliott acknowledged that like his School reports, he "must try harder!", he wasn't even on for a podium place as the crews returned back to Ludlow for the service halt. "There's lots of good drivers coming through and Rich has been getting better for a while so it's not a surprise to see him on it" "So yeah just gotta try harder".
Photo: Nick Elliott & Dave Price | By Andrew Scott
Meanwhile, in the Cat2 field, Josh Carr had returned to the Championship in his MK1 Ford Escort after a timeout. Having recently gotten hitched he was effectively on his honeymoon and had somehow roped in his Mrs into re-fuel duties…. now that's real love.
Photo: Josh Carr & Osian Owen | By Andy Cook – Xlerate.Media
Carr's morning although appeared to be going well from reading the timing sheets, it actually featured some drama. "It was nearly the shortest Woodpecker ever, third bend and it was nearly off….. It was the tyres, just understeering a lot" he reported.
Carr also went on to report that he caught the car in front halfway through that last stage (Haye Park) and couldn't get past. Yes, the times for Haye Park did reflect this, BUT Carr's stage-topping times over the previous three stages had earned him the lead of the Cat2 field. He and Co-Driver Osian Owen arrived back in the mid-day service with a lead of 12 seconds over Andrew Stokes and Jonny Tad Evans, also in MK1 Escort (C5), with Philip Harris & Derek Davis in the C3 MK1 Escort rounding out the Cat2 top three.
---
As the day progressed into the afternoon loop, the heat continued to beat down, the repeated run through Cwmysgawen was unfortunately stopped. Richard Jordan and James Gratton-Smith who were putting in a stellar performance in the MK2 Ford Escort and were leading the Cat3 field unfortunately went off, rolling out of the rally.
This handed the lead over to Tom Walster and Glyn Thomas but in the very next stage, the second pass of Ceri, Walster and Thomas would unfortunately retire with a broken stub axel. Laying in wait ready was Roger Chilman to assume the position of Cat3 leader heading into the final two stages of the rally.
Photo: Roger Chilman & Patrick Walsh | By Andy Cook – Xlerate.Media
George Lepley added SS6 Ceri 2 and SS7 Hopton 2 to his tally of BHRC stage wins in the Mitsubishi Gallant and Chillman & Patrick Walsh would enter the final stage of the rally through Haye Park with a gap of 13 seconds to Nick Elliott & Dave Price in the Fiat Abarth 131 to defend.
Waiting patiently at the stop line of that final test, Chilman despite the heat was cool and appeared quietly confident.
"We were too steady to start with but we then had some good stages and we started to get back to the pace where we needed to be. I think we were on the pace of those guys that were a bit quicker than us this morning" "It's been good, we are pretty pleased"

Roger Chilman
Eventually, Elliott and Price emerged from the stage and it was confirmed that Chilman had taken his third BHRC win of the season; with the help of Patrick Walsh besides him calling the notes they had crossed the finish line back in Ludlow with 15 seconds in their back pockets.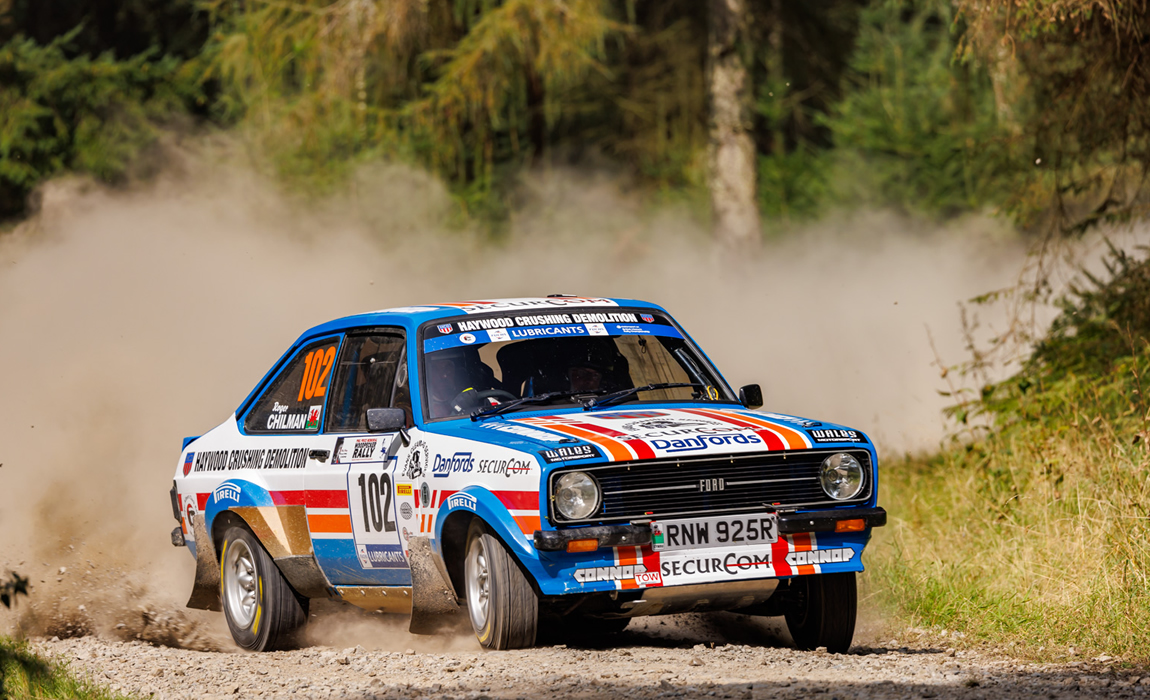 Photo: Roger Chilman & Patrick Walsh | By Andrew Scott
For second-place man Nick Elliott (1st FIA/G2 Class), it was a good result considering that he wasn't even a candidate for a potential podium spot at the halfway point in the rally. Admittedly this result was kind of aided a bit by a number of retirements over those afternoon stages but the same could also be said for Chilman?
Photo: Nick Elliott & Dave Price | By Andy Cook – Xlerate.Media
"We tried to have a go a bit this afternoon, slightly better but we still didn't have the pace that we needed really. Just happy to finish with a good points score" "I needed to be in front of Roger really, probably as good as we could have hoped for at the start. We've probably been lucky with some retirements but we've kept pushing this afternoon, just lost a bit this morning and couldn't recover it"

Nick Elliott
---
Putting that battle for the Cat3 honours aside, it was nice to see George Lepley at the wheel of the Mitsubishi Gallant at the top of the timings sheets for a round of the BHRC.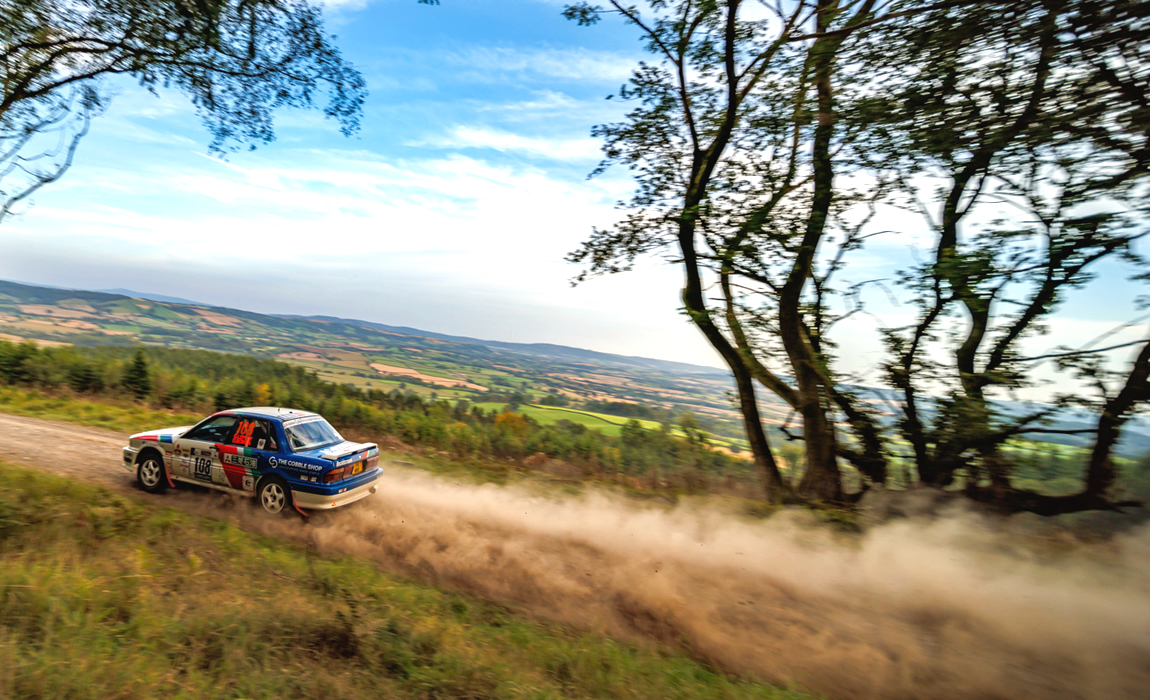 Photo: George Lepley & Dale Bowen | By Andrew Scott
Young Lepley described how he had come to the conclusion that the BHRC is the place for him to compete in; given the level of competition that it offers he couldn't resist coming out to play and we look forward to more outings of this combination of driver and machine.
"There's plenty more to come out of 1) the driver and 2) the car…. I think we had a few teething issues this afternoon which inhibited us from pushing" "Really pleased, Dale's done a good job, first time we sat together, first time in the car for a long time, looking forward to the TrackRod"

George Lepley
Josh Carr remained on course over the afternoon's loop of stages to secure his third Category 2 win of the year (+ C3 Class honours). With Osian Owen in the silly seat, the pair posted the top Cat2 stage times of the BHRC registered crews on all but Stage 4.
Photo: Josh Carr & Osian Owen | By Andy Cook – Xlerate.Media
The pair crossed the finish line with over 40 seconds advantage over Andrew Stokes and Jonny Tad Evans (Class C5 winners). Phillip Harris & Derek Davies (C3 Class MK1 Escort) rounded out the Cat2 podium having been pipped by 2 seconds by Stokes & Evans.
Terry Cree & Richard Shores secured the B2 honours, Mark & Debora Tugwell – C2 & BHRC2, Steve Magson & Steve Bielby – Rally2 and David Dobson & Brian Hodgson – D3.
Nick Elliot continues to lead the overall standings with a 5-point advantage over Roger Chillman who leads Tom Walster in the Cat3 standings. Josh Carr has a 21-point advantage over Andrew Stokes in Cat2 whilst Jeremy Easson remains in third given that he has not competed in the last two rounds.
---
NEXT TIME …
The FUCHS Lubricants British Historic Rally Championship heads north to Yorkshire for the penultimate round of the season (September 22/23). Where a firm favourite, the TrackRod Rally Yorkshire will once again feature those classic North Yorkshire Gravel tests, kicking off with the legendary Dalby Forrest in the dark on the Friday night before taking in a further 5 stages the following day.
---
WORDS BY ANDY COOK – XLERATE.MEDIA | FEATURE PHOTO BY ANDREW SCOTT