BRC / RD5 / RALI CEREDIGION
15/09/2023
The Motorsport UK British Rally Championship arrived in Aberystwyth, Wales for the fifth round of the 2023 season, at what is becoming the hot favourite Asphalt stage rallying event on our shores, The Rali Ceredigion.
For an event that arrived on the scene with a bit of a bang in 2019 as the first closed road stage rally in Wales, it has grown from strength to strength during its infancy. Last year, forma WRC star and Hyundai brand ambassador Haydon Paddon won the event which was a round of the FIA European Rally Trophy. This year the event returned again with that FIA status and to the British Rally Championships calendar also with an even more attractive route which featured some quality new stages to further add to the challenge.
Photos By Andy Cook | Xlerate.Media
The 2023 JDS Machinery-sponsored Rali Ceredigion would span two full days of world-class, closed-road rallying amongst some truly breathtaking scenery. Each day consisted of two loops of three stages; with the bonus of two runs over a spectator-friendly super special street stage along the Aberystwyth seafront on Saturday evening in front of the locals and fans alike.
In fact, the 2023 edition was so attractive that last years British Rally Champ Osian Pryce signed up for the event, returning for a one-off drive in the Melvyn Evans Motorsport VW Polo GTi R5 car seeded as the number 1.
Photos By Black Mountains Media
Last time out on the Ulster Rally, Championship leader Adrien Fourmaux took it to the local Irish crews in their own back garden, securing his fourth consecutive British Rally Championship win in a row.
That, however, was without Irishman Keith Cronin to challenge him, Cronin has perhaps now decided that the Championship title was no longer worth pursuing, given that the likely outcome would be that the M-Sport factory back driver, Fourmaux was probably going to be crowned the champ this year.
This time around in Wales, neither Cronin nor Fourmaux would enter the event, Fourmaux simply wouldn't have made a flight out of the country in time for the WRC Acropolis Rally in Greece the following week.
These noticeable absences left the numbers short and the likes of James Williams and Gary Pearson to fight it out for the BRC1 Class honors, with Callum Black heading up the National section.
On the Juniors front, there was also a disappointing number of registered crews out competing, just Kyle White and Kyle McBride would be registered for JBRC point as Casy Jay Coleman was a non-starter and although Ioan Lloyd would be making an appearance, he opted not to score JBRC points.
---
LEG 1
The action got underway Saturday morning on the west coast with a 5-mile stage called Borth but that opening test was "Super Tricky" according to James Williams, who posted the fastest time of the BRC crews. Despite almost losing it on a really fast section on some mud "We're still smiling" he commented at the stop line. Welshmen Williams and Co-Driver Dai Roberts who were in a brand spanking new Hyundai i20 Rally2 car were just over 7 seconds quicker than Callum Black in the Ford Fiesta Rally2 car.
Photo: James Williams & Dai Roberts | By Andrew Scott
Although Black and Co-Driver Jack Morton were in line for BRC National points at the event, they had other things at play at the rally. Namely the double-header round in the Protyres National Asphalt Rally Championship, where the title was up for grabs in Wales.
Rounding out the top three of the BRC crews on that opening stage was Scotsman, Gary Pearson in a VW Polo GTi R5. Pearson who in his own words was "Probably a bit steadier" on the first stage of the event, had once again employed the services of the very experienced ex-WRC Co-Driver Dan Barritt.
Photo: Gary Pearson & Dan Barritt | By Andy Cook – Xlerate.Media
Barritt who has Co-Driven at the sports top level for drivers such as Elfyn Evans and Takamoto Katsuta was guiding Pearson through the process of making his own pacenotes. The experience of Barritt was obviously also ensuring that Pearson kept a level head in the car, which is vital at this level in competition and even more so on these challenging roads that have been selected for this event.
Now warmed up a bit, the crews headed to the second test of the rally but for Williams, he was caught out on one particularly tricky section of hairpin bends towards the end of the stage. "I lost the rear, I tried to gather it, but we ended up in a field."
The time loss incurred for Williams enabled Black to top the BRC timings; Black had already identified this particular stage and section as a potential hazard before lining up at the start line for it. "I said from the start of the rally that this stage is quite a bit nasty, lots to catch people out, so I just wanted a clean run".
Photo: Callum Black & Jack Morton | By Black Mountains Media
Being able to read possible road conditions and knowing when to push or back off is vital in rallying and Black was demonstrating his ability to understand this early on, in this long two-day rally.
The third stage offered up a challenge and a half for the crews, SS3 Cwmystwyth began near Devils Bridge and headed across the top of the picturesque Elan Valley ending in Rhaydaer. The second half of the stage was over some blistering fast sections of tarmac and the crews were reporting that they were maxing out and on the limiter for much of it. Here is where Black again topped the timings for the BRC registered crews, beating Williams by some 10 seconds.
Photo: Callum Black & Jack Morton | By Andy Cook – Xlerate.Media
---
"That was a wake-up call, bloody hell that was fast, the fastest stage ever" Williams exclaimed at the stop line. But not far from the end maybe 2 or 3 km, Williams went over a big jump and something broke underneath the Hyundai i20. "A massive chunk of metal flew out, so I was just guessing if the car was going to be underneath me for the end, really tricky". Pearson also commented on just how fast the stage was and even thought that it was maybe a little bit too fast "We didn't take any risks like some of the boys would have taken but we enjoyed it all the same"
Callum Black and Jack Morton headed into the first service halt of the rally with a tad over 30 seconds advantage over James Williams and Dai Roberts, with Gary Pearson and Dan Barritt rounding out the top three BRC crews a further 9 seconds down.
Photo: Callum Black & Jack Morton | By Andy Cook – Xlerate.Media
"We've had a good steady run, I really enjoyed that last stage, the end was crazy high speeds but we enjoyed it", "We'll see how we go and play it stage by stage"

Callum Black
Meanwhile in the Junior's, Kyle White and Sean Topping in their Peugeot 208 Rally4 were keeping the Motorsport Ireland backed Ford Fiesta Rally4 of Kyle McBridge & Liam McIntyre at bay.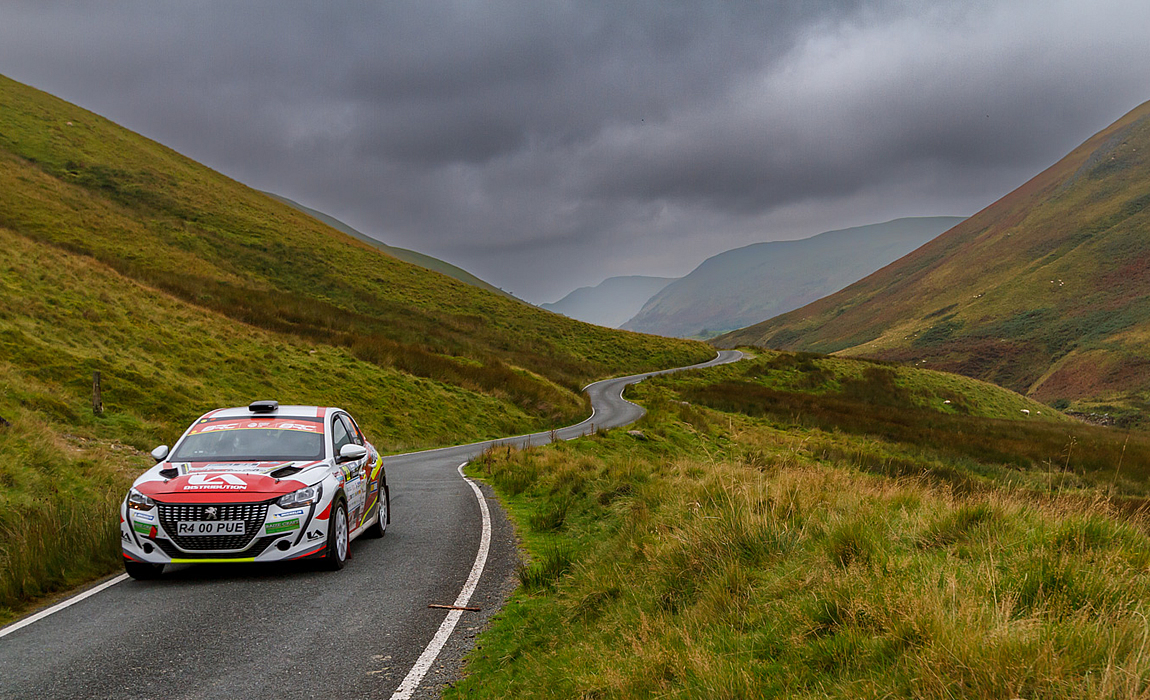 Photo: Kyle White & Sean Topping | By Andrew Scott
White and Topping although were finding it tricky to judge the grip levels, had picked up the top JBRC timings on all three of the morning stages and were leading McBride and McIntyre by some 28 seconds, despite having one small mistake on the opening stage of the event.
Back out after service, Williams had made some changes to that new Hyundai i20 Rally2 machine which felt better; he was still not 100% confident in it and admitted that there was a bit of work to do but it felt better which was an improvement in his eyes.
Photo: James Williams & Dair Roberts | By Black Mountains Media
"We are going in the right direction, what can you expect? the car only came on Wednesday!" and it showed as he picked up his second BRC stage win on the repeated run of the Borth stage, stopping the clocks 6.8 seconds quicker than Black.
Black was also happy, "We went for a harder tyre, something I haven't driven much on, just trying to get a bit more experience so learning as we go".
Pearson had a rather odd issue with his VW Polo off of the start line of SS4 "The handbrake wasn't going off, so it was disengaging the drive for the first few hundred meters but it was alright after that." Apart from that, he felt that it wasn't a bad run really.
Photo: Gary Pearson & Dan Barritt | By Andy Cook – Xlerate.Media
For the second time around, the crews took to the Cwmerfyn stage with a little more caution; there was no further lawn mowing from Williams on the particularly tricky section of hairpins. Pearson did have one small lock-up but otherwise, it was a fairly clean run from him also and it showed in the times as he had pipped Black in this one.
---
That mega fast stage (Cwmystwyth) was up next, Callum Black thought that it felt quicker the second time around and James "I gave it a good go in there" Williams needed a moment at the stop line to catch his breath. "The cars moving around too much but what a stage, unbelievable. That's the craziest stage I've ever done…. I think…. super cool!. William's efforts over the afternoon loop had resulted in a further three top BRC times to add to his one from the morning.
Photo: James Williams & Dai Roberts | By Andy Cook – Xlerate.Media
The crews headed back to Aberystwyth for two runs of the super special stage along the seafront in front of big crowds of onlookers, where Black and Morton signed off their day as the leading BRC crew.
Photo: Callum Black & Jack Morton | By Andy Cook – Xlerate.Media
After the first day of action, whilst last year's BRC Champ, Osian Pryce was on top of the overall leaderboard of the rally, he was not registered for the BRC Championship. Just 1.3 seconds separated Black/Mortan to second place Williams/Roberts and Pearson/Barrett was more than 1 minute 16 further back in third.
In the Junior British Rally Championship, Kyle White and Sean Topping ended their day with a comfortable lead of over 1 minute and 5 seconds to Kyle McBride and Liam McIntyre. White insisted that Co-Driver Topping was "absolutely hollering at me", at times during the day, wanting him to slow down. "He hit me there with the pacenote book and I started crying".
Photo: Kyle White & Sean Topping | By Andy Cook – Xlerate.Media
But White had opted for a safe tyre choice because the Championship was the main focus here; he also didn't want to get sucked into a fight with the likes of Ioan Lloyd who wasn't registered for scoring Championship points but was also putting in a strong performance.
LEG 2
The second day of the rally began with another new stage, Llanafan, James Williams was on a bit of a mission, Gary Pearson was trying on a set of soft compounds for size, while the likes of Callum Black was there to ensure a result for his National Asphalt Championship title hopes.
Photo: Callum Black & Jack Morton | By Black Mountains Media
"James can crack on really, we've got a championship to concentrate on" Black commented at the stop line of SS10 Clywedog 1. This stage was yet another new one added to the route for this year, and for those familiar with the area, it runs right along the road through the Hafren Forest, which is a cracking Forest Gravel rallying venue.
"It's quite tricky because that's a fantastic stage, We're just hesitant in a couple of places as we are conscious of the Championship but if you can attack that full whack, it would be some stage" Black goes on to say.
Pearson like Black, was also already thinking about just getting to the finish and getting the all-important result now. "We're just sticking to the plan and getting the millage in, It's tricky enough to get caught out in places, so we just gotta get to the finish".
The last stage of the morning loop was, however, a more familiar stage to many. The Nant y Moch stage has been on the route since the first running of the Rali Ceredigion back in 2019 and is fast becoming the signature stage of the event now.
Photo: Gary Pearson & Dan Barritt | By Andrew Scott
An old favourite in road rallying circules which has been a venue for motorsport over the decades has a bit of everything. It starts with some fast bumpy sections with some jumps before heading up to the dam and then runs alongside the Nant y Moch reservoir over some twisty and demanding sections. It then passes through a forestry section before opening back out into some moorlands with some big drops to steer clear of.
---
On this stage, our leading BRC crew James Williams and Dai Roberts, despite picking up a puncture, really delivered. After posting a stage time that was just over 5 seconds quicker than any other competitor, it was clear that on this second leg of the rally, they were starting to settle into that new Hyundai i20.
Photo: James William & Dai Roberts | By Black Mountains Media
"That was a really good run for us, I think we were 5 seconds quicker than anybody else, so yeah we had a good push in there.", "We had a puncture for the last mile and I was just trying to keep going and it was tricky, I think we probably would have had about 10 in there"

James Williams
Pearson reported that his softs started to go off for the last three or four miles, so his time was significantly off the pace in this one.
Meanwhile the morning loop in the Juniors, Kyle White woke up happy but with over a minute over McBride, it would have been silly for him and Co-Driver Sean Topping to push on the final day. McBride had a nice, clean, positive first stage of the day but it was all eyes on the young Welshman Ioan Llyod and what he was going to do.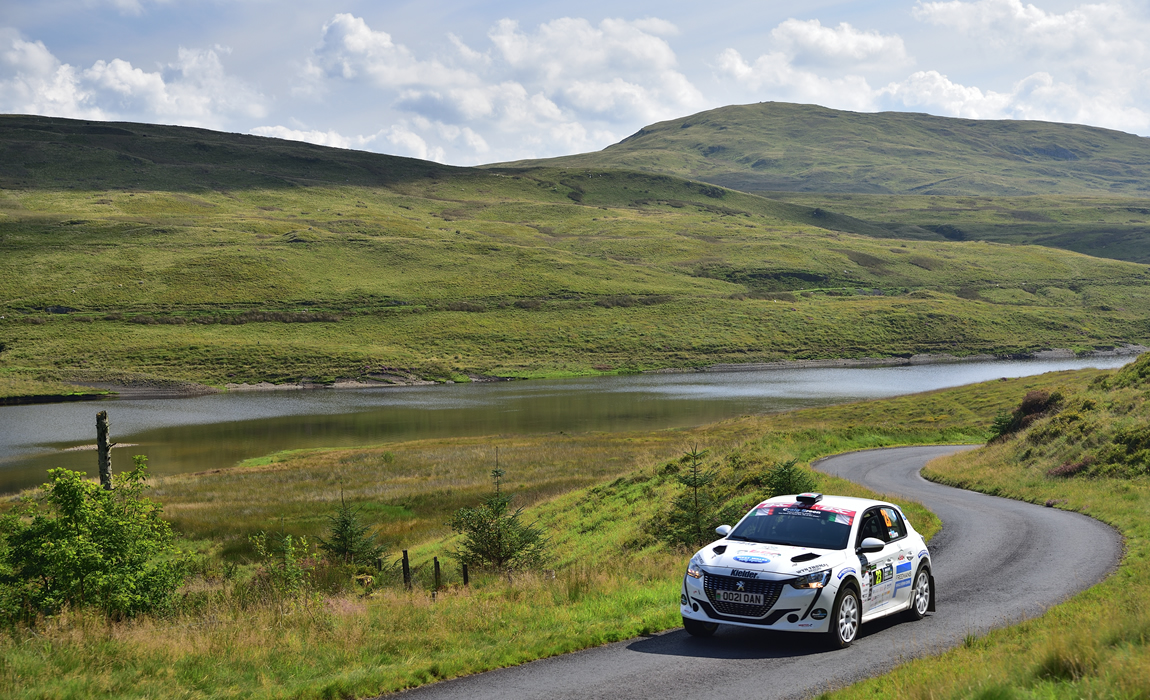 Photo: Iaon Lloyd & Sion Williams | By Andy Cook – Xlerate.Media
"We'll just try our best and see where he's (Kyle White) at today."

Ioan Lloyd
Over the course of the morning's three stages, Lloyd and Co-Driver Sion Williams "Had a good loop", they caught and overtook White and Topping for the lead of the JBRC.
"It's a strange one, not being able to push but so much at stake" White remarked, the young Irishman was not troubled by Lloyd going for the rally win, given that he would not be taking Championship points away from him.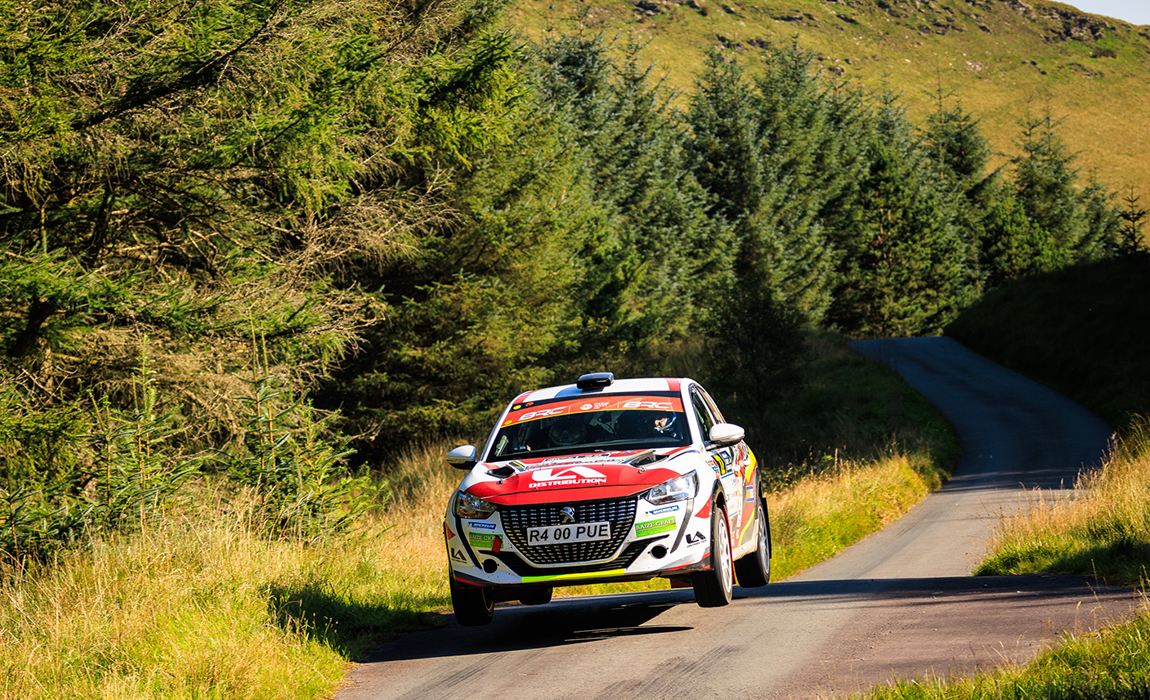 Photo: Kyle White & Sean Topping | By Black Mountains Media
"It's difficult to go slow, but we're happy, no point in fighting with Ioan as much as I'd like to" "This heat at the minute is killing me, I can't wait to get to McDonald's to get a chocolate ice creme"

Kyle White
Back in Aberystwyth for the final service halt, it was all about making those final set-up tweaks and making that crucial tyre selection count for the final loop of three.
BRC Leader, James Williams was now looking prime for his maiden BRC win."We made some more changes with the car, so it's coming closer to me all the time" "Let's see what we can do, see if we can edge a bit closer"
The general feedback from the competitors was that the selection of stages for this second day, like the previous day, was top quality. Callum Black said "The stages are fantastic especially the middle one, I really enjoyed that" This comment was firmed up by Ex-WRC Co-Driver Dan Barritt, and he has seen a few world-class rally stages in his time! Barritt was continuing to nurture Gary Pearson who, on the whole, was having another positive rally in that VW Polo GTi R5 car, just like he had done in Ypres.
Photo: Gary Pearson & Dan Barritt | By Andy Cook – Xlerate.Media
"It's been a good morning", "I think the tyre choice this morning has been pretty OK, the last one not so much. We went with the softer one, which worked well for the first two"

Dan Barritt (Co-Driver)
Ioan Lloyd and Sion Williams had a really good morning loop "I just had to push-on to catch Kyle" he said, but acknowledged that White had backed off now for the Championship. Whites Co-Driver Sean Topping although was the one in the car wearing the sensible cap and constantly re-alliterating to Kyle that the Championship was more important than chasing down Lloyd for the win, still admitted that they were having fun "We're out for fun and good results and we get both…… sometimes!".
The afternoon repeated loop offered up another go at the three stages, Pearson had changed to the medium tyre option which didn't seem to come on until maybe halfway through the second pass of the Llanafan test, but he still believed that it gave a little bit better performance.
Williams was starting to get "that feeling" back behind the wheel of the new Hyundai i20 Rally2 car. He was going to give it one last push to see if he could improve on his 3rd place overall behind Meirion Evans in second.
Photo: Callum Black & Jack Morton | By Andrew Scott
Black by now had already got one hand on his National Asphalt Championship trophy and it was now just a case of bringing home through the last two, admittedly driving at perhaps only 50%, which in itself can be tricky for a rally driver to do.
---
James Williams & Dai Roberts entered the final stage, Nant y Moch 2 with ample time in hand and with no pressure from the likes of Black or Pearson behind them, the pair would indeed emerge triumphant to secure their maiden BRC win.
Photo: James Williams & Dai Roberts | By Andy Cook – Xlerate.Media
"I think it's well deserved, not the overall win but really pleased to have got that duck off my back and actually done it" "It's been a long time coming, just trying to feel comfortable in the car. There are a few battle scars! but I just have to say a massive thank you for everyone supporting me" "I know it has taken me a while to get up to speed but I think today I have shown what I can do"

"With a little bit of setup tweaks, a little work for the team and a bit of gaffer tape we really pulled it out of the bag and have shown our pace" "It's really special for me being at home and seeing all the support"

James Williams
Williams and Roberts had also scooped third on the overall podium behind Meirion Evans and the rally winner Osian Pryce. Some 35 & 1/2 seconds behind Williams was, BRC National crew, Callum Black and Jack Morton.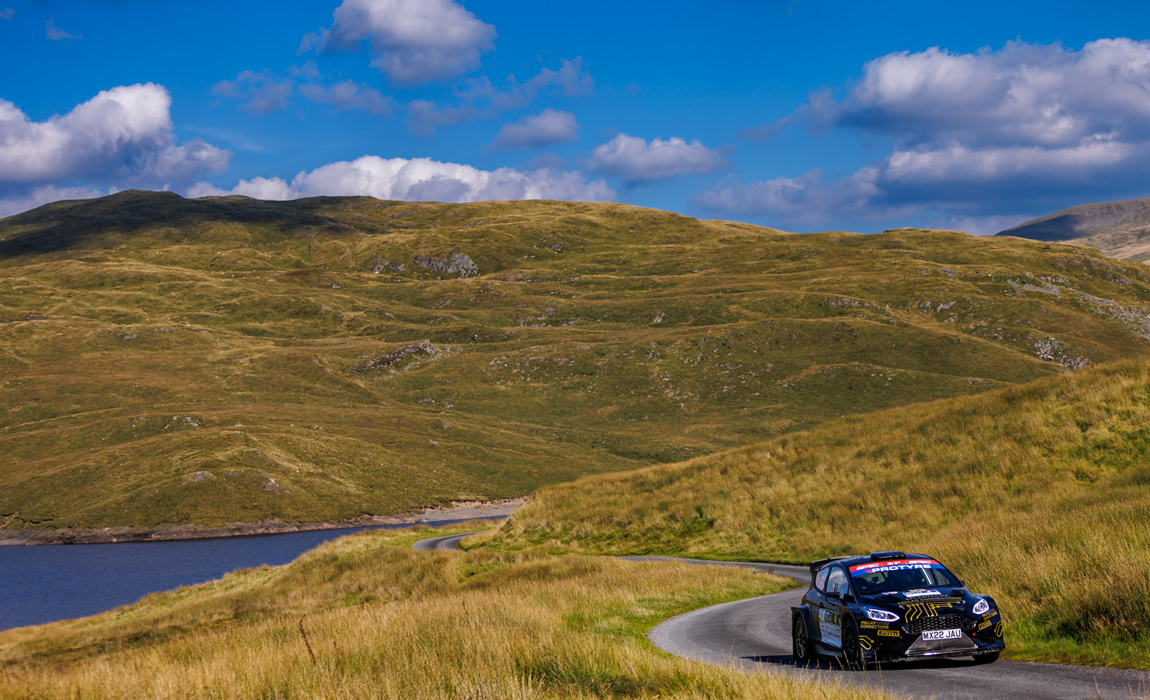 Photo: Callum Black & Jack Morton | By Andrew Scott
Finishing 4th overall and earning top BRC National points was a bonus, but for them, they had secured the National Asphalt Championship title on the event after a year-long tooth-and-nail battle with Neil Roskell.
"Brilliant weekend, went very well, we've really enjoyed the stages, on the whole, we couldn't really have asked for more"

"It's been a really good year and a really enjoyable rally, Big thanks to the team, brilliant car"

Callum Black
Young Welsh lad Ioan Lloyd was able to cruise through the final loop to secure his first Junior British Rally Championship win, although this very likeable young man didn't register to score points.
Photo: Ioan Lloyd & Sion Williams | By Black Mountains Media
"Really chuffed with that to be fair, it's a big effort from all our family and all the team. It was a great battle with Kyle yesterday, shame we couldn't battle him today, a fantastic weekend"

Ioan Lloyd
This allowed Irishman Kyle White, alongside Co-Driver Sean Topping calling the notes to play it safe, bringing their Peugeot 208 Rally4 home for maximum JBRC points which brings them one step closer to that title.
Photo: Kyle White & Sean Topping | By Andrew Scott
"It hasn't been easy at all, we proved that we had the pace yesterday but yeah just delighted to be here"

Kyle White
---
NEXT TIME …
The Motorsport UK British Rally Championship heads to Yorkshire next (September 22-23) for the TrackRod Rally, where a slightly tweaked route will feature across those classic North Yorkshire Forest Gravel Stages. Championship leader Adrien Fourmaux will return as the no 1 seed and could wrap up the Championship title.
Words & Feature Photo By Andy Cook | Xlerate.Media