WRC | RD10 – RALLY FINLAND 2021 | LEG 3
03/10/2021
Toyotas Elfyn Evans arrived at the final day of Rally Finland 2021 with a 9.1 second lead over Hyundais Ott Tänak. After a dominant performance on Saturday morning, Welshman Evans then came under pressure in the afternoon from the surging Estonian but held on to his lead heading into the final morning of the rally. All Evans had to do is keep his nerve and make it through the final 45km and 4 stages of the rally.
Photo: Hyundai Motorsport WRT
Tänak would open the day by winning the first run of the Laukaa (SS16) test beating Evans by just 0.4 seconds, but Evans was not phased and returned fire in the Ruuhimäki test. Beating Tänak with a time that was 3.5 seconds faster, he extended his lead to a more comfortable 12.2 seconds.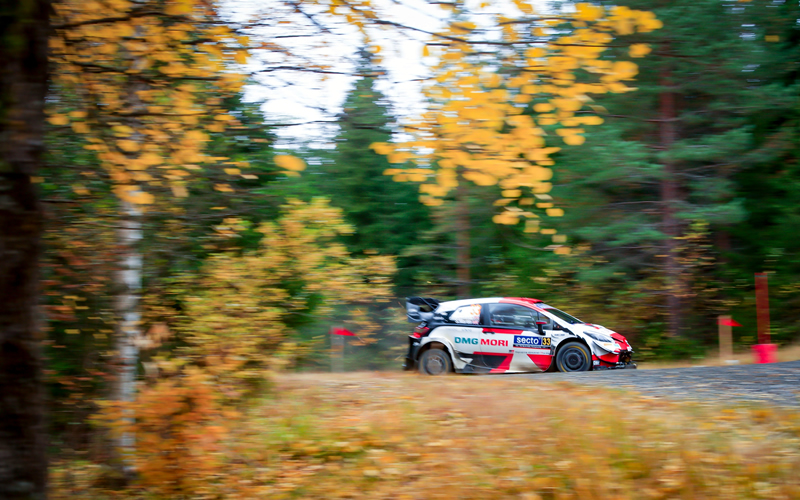 Photo: Toyota Gazoo Racing WRT
In the penultimate stage of the rally (SS18 Laukaa 2) Evans once again got the better of Tänak, only by 0.2 seconds but his morning's performance was mature and demonstrating that he was managing the pressure and on target for victory with just the final Power Stage remaining.
In the WRC2 Class, Finlands Teemu Suninen remained on course for the win. Mads Ostberg who had never tackled Finland in an R5 car before by now was unable to mount any challenge and was just trying to make it through to the end.
Photo: Teemu Suninen Racing Social Channels
Throughout the final morning, Suninen alongside Co-Driver Mikko Markkula increased their lead from 8 seconds to end the rally with a 15.7-second victory over Norweigen Ostberg. Hyundais Jari Huttunen rounded off the third spot on the podium on this his home event but only just! After damaging his radiator of the final power stage jump, there were concerns about him making the road section back to service.
"The feeling is really good, we did big changes for this rally, change of team and car …..everything is working well."

Teemu Suninen
Finishing 5th overall was Championship leader, Sébastien Ogier. With a comfortable lead in the title fight arriving in Finland, the Frenchman did not need to take any risks on this high-speed event. The seven-times World Champ once again showed his level head as he ensured that further points were scored to put towards his 8th World title.
Photo: RedBull Content Pool
Finishing in a magnificent 4th overall on his home event, Finlands Esapekka Lappi performed well in his hired Toyota Yaris. Having not set foot in a World Rally car since Monza in December last year and only having the odd outing in an R5 class car, this result is a strong one for the 2017 Rally Finland winner.
Photo: RedBull Content Pool
Rounding off the third spot on the Podium is Irishman Craig Breen, the part-time Hyundai driver delivered a strong performance in Finland and showed great pace, leading the rally on the opening day. We await an announcement of his expected and well earned permanent seat for next season, regardless of whichever team it will be.
Photo: Hyundai Motorsport WRT
"Its a proud moment, three podiums in a row, I can't honestly belive it. Its been a really good weekend, I would have loved to have gone that extra level and fight for the win. Its not there yet but it so much better than where I've been in the past. Its been an amazing weekend and I really enjoyed every second."

Craig Breen
More often than not, Ott Tänak is always the quickest out of the blocks, but in Finland, he was not so. However, the Estonian made steady progress over the course of the rally and on Saturday afternoon he got his Hyundai i20 hooked up to apply pressure on Elfyn Evans.
Photo: Hyundai Motorsport WRT
Tänak a two-times winner of Rally Finland (2018 & 2019) although at times was able to match the pace of Evans, he was ultimately unable to overhaul the Welshman.
"Its been great fun, with Hyundai we had no pace coming here, we had to try hard. We almost had it, next time coming back we will be stronger"

Ott Tänak
Photo: Toyota Gazoo Racing WRT
Evans took the lead of the rally on the morning of the second day and never looked back, finishing off in style by winning the power stage and with a 14.1 second overall lead he takes maximum points. Finland is a very fast and full-on rally and he absolutely delivered a strong performance for which he can be very proud of; he becomes only the second Brit (since Kris Meeks in 2016) ever to win this legendary World Rally.
"Its pretty good, this one feels good in the way that we managed to do it. We had some good rhythm from an early road position on Friday and then managed to take the fight to the Hyundai boys Saturday.

Big thanks to the team Im happy to give them this one on their home rally. We have to focus on doing our best in Spain and worry about the rest later."

Elfyn Evans
Perhaps the surprise of the rally was that Hyundai upped their game significantly in Finland. In the back garden of Toyota where the home team were expected to dominate, Hyundai put two of its drivers on the podium at an event where they have never done so before.
This year's Rally Finland also delivered concerns for the Finnish rallying community, not only was there not a Finn on the podium but not a single Finnish driver had won a stage in the top tier class!
Sébastien Ogier continues to lead Elfyn Evans in the drivers' championships, the pressure on Evans in second from Neuville is now off as the Belgian failed to finish the rally but Evans slashed Ogier leads from 44 points to 24 points with just two rounds to go. Toyota Gazoo Racing lead Hyundai Shell Mobis WRT by 61 points.
Words By Andy Cook | Feature Photo: Toyota Gazoo Racing WRT