WRC | RD5 RALLY ITALIA SARDINIA 2021 | LEG 1
Round 5 of the 2021 FIA World Rally Championship returned to the Mediterranean island of Sardinia, for Rally Italia Sardegna, a rally where Hyundai has been strong in recent years. Their driver Thierry Neuville posted the fastest time in his i20 Coupe WRC on the new 2.9km shakedown test, Loiri Porto San Paolo on Thursday morning, but the Belgian was unable to carry that speed into the opening leg of the rally of Friday morning.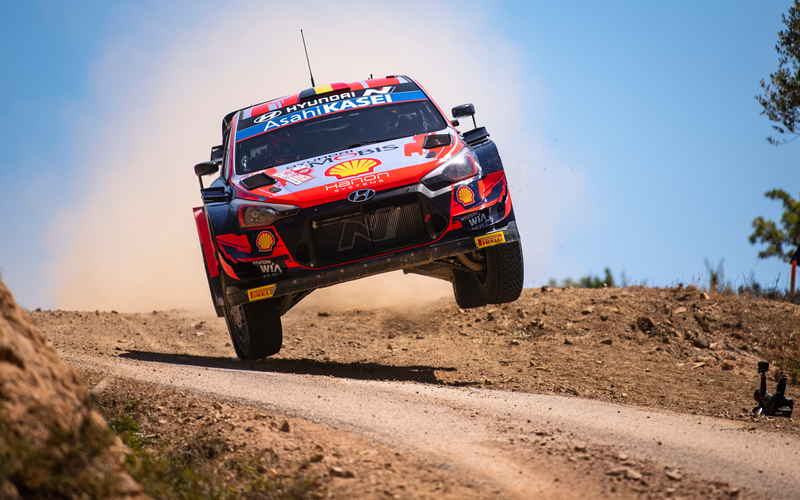 Photo: Red Bull Content Pool
127km over 8 stages awaited the crews on Friday morning in the rugged Sardinian countryside. A 22km stage (Filigosu – Sa Conchedda), the longest stage of the rally opened up the proceedings on the first day of the rally, where current championship leader Sébastien Ogier was to be first on the road in his Toyota Yaris WRC.
Photo: Red Bull Content Pool
Ogier said that he tried to enjoy it, but "As expected, I know I'm going to lose a lot of time". In reality, his opening stage time was actually pretty decent, doing enough to earn him third fastest, just behind his teammate Kalle Rovanperä; and that was without the advantage of leaving hanging dust behind him which didn't materialise in the first pass.
Hyundais Ott Tänak was up on every split and won the first stage by 9.6-seconds, starting his rally off in the same way that we often see from the Estonian. Meanwhile, it was not such a great start for M-Sports Teemu Suninen who was back in the seat of the WRC Fiesta after his WRC2 outing in Portugal. Suninen was a little too fast into a bend and the back end stepped out sending his Fiesta onto its side and off the road. Unable to get going again, the Finn was forced to retire for the day.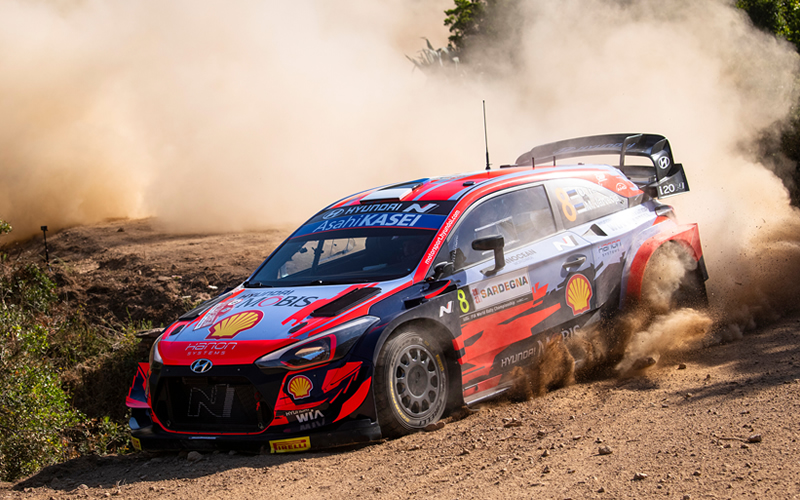 Photo: Red Bull Content Pool
Estonian Tänak followed up his opening stage win in the second stage, Terranova and reported that "it was very demanding with many surprises.", Toyotas Rovanperä held onto second despite having a stall in the last 2km of the stage, with his team-mate Ogier maintaining his third spot in the first group of early morning stages.
Elfyn Evans and Thierry Neuville were both not having the best of starts to the rally, both drivers reporting that they were lacking in confidence; Hyundais part-timer, Dani Sordo who has won the last two years editions in Sardinia, would be hovering around in 4th overall getting the better over the two regular drivers.
Photo: Red Bull Content Pool
In the hotely contested WRC2 class, early signs were indicating that a Norwegian battle between Mads Ostberg (Citroen C3 Rally 2) and Andreas Mikkelsen (Skoda Fabia Rally 2 EVO) could be on the cards. With Ostberg opening his morning with the first two stage wins, M-Sports Andrian Fourmaux who was second after the opening stage then went off the road in stage 2. But the surprise of the early morning loop was Hyundais Junior driver, Jari Huttunen who was getting the better of Mikkelsen to snatch second place behind Ostberg.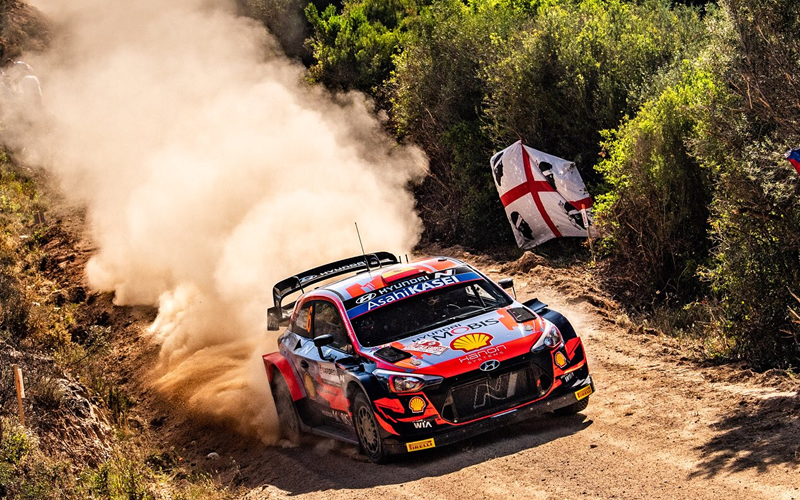 Photo: Hyundai Motorsport WRT
For the repeated loop or the two early morning stages, Tänak extended his lead up front in the second passes of both stages. Spaniard Sordo posted two second-fastest time which earned him 2nd overall taking the position from both Ogier and Rovanperä who unfortunately retired in the final stage of the morning loop due to damage to the front right of his Yaris.
"I am quite happy. I had a little bit of bad luck as I had problems with one tyre.

One of the tyres was really bad so we couldn't push so hard. We are here, and the time is not bad, so it's okay."

Dani Sordo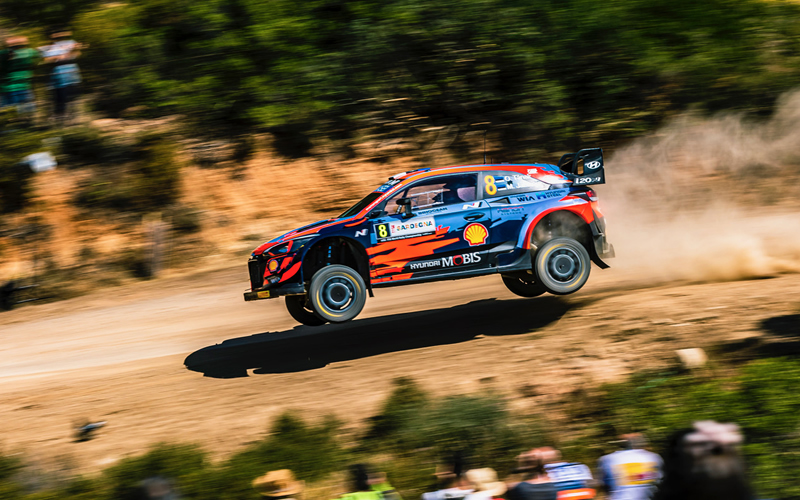 Photo: Hyundai Motorsport WRT
Estonian Ott Tänak headed back to the midday service in Olbia with 16.9 second lead over his teammate, Sordo with Ogier in third and Tänak summed up Sardinia perfectly:
"It's tough, it's rough, and it's a challenge.

Let's say, we are really happy to be here without any dramas."

Ott Tänak
I think Ott is managing the rally in a proper way, the roads here are very tough. It's very easy to get a puncture and throw away everything.

Andrea Adamo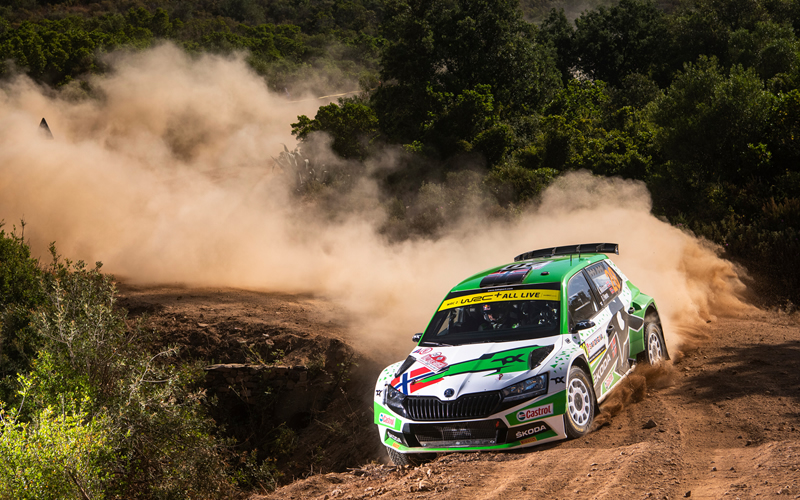 Photo: TOK Sport WRT
In the WRC2 class, Andreas Mikkelsen won the repeated pass of the Filigosy – Sa Conchedda stage to take second place from Huttunen but it all went wrong for him on the final stage of the morning's loop. Mikkelsen was on a charge early on in the stage in an attempt to bring the fight to Ostberg, but he rolled the Skoda Fabio on only the second corner and had to call upon spectators to put him back over on all four wheels.
Photo: Mads Ostberg Social Channels
WRC2 class leader Mads Ostberg was following the now second hand looking Fabia of Mikkelsen and got caught up in his dust for the last part of the stage but headed back to service with more than a minute lead to Jari Huttunen. Mikkelsen would later retire once back in service due to damaged sustained to the roll cage.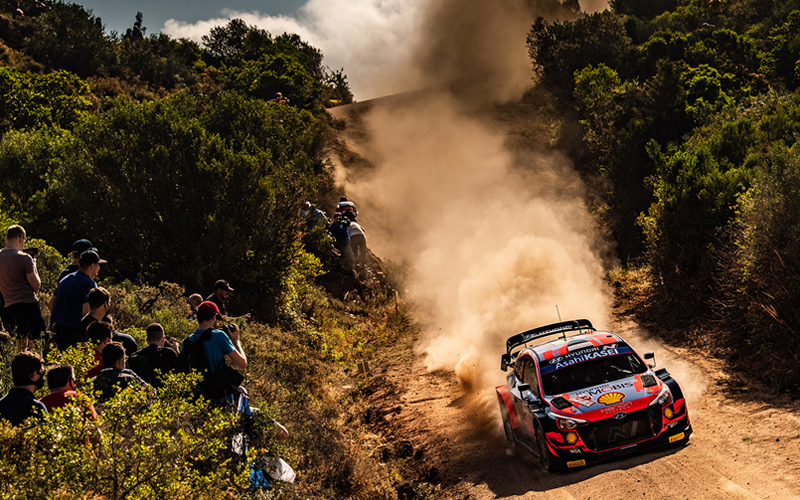 Photo: Hyundai Motorsport WRT
The Hyundais came out strong after service into the new loop of afternoon stages. Tänak won the first stage of the afternoon loop, SS5 Tempio Pausaniav 1 for which everyone was reporting as being a very slippy stage.
Photo: Hyundai Motorsport WRT
Behind Tänak the battle for second was raging, Ogier managed to get second overall in this one but Sordo won the following Eural – Tula 1 stage, SS6; which enabled him to regain that second place straight back. Sordo ended the day with a further two stage wins, the last stage win of the day was shared with his teammate Neuville who posted the exact same time.
The troubles for M-Sport would continue into the final stage of the day, where their only remaining driver, Gus Greensmiths Fiesta seemingly broke soon after launching off of the startline, Friday in Sardinia was not the day to be in the M-Sport Ford team.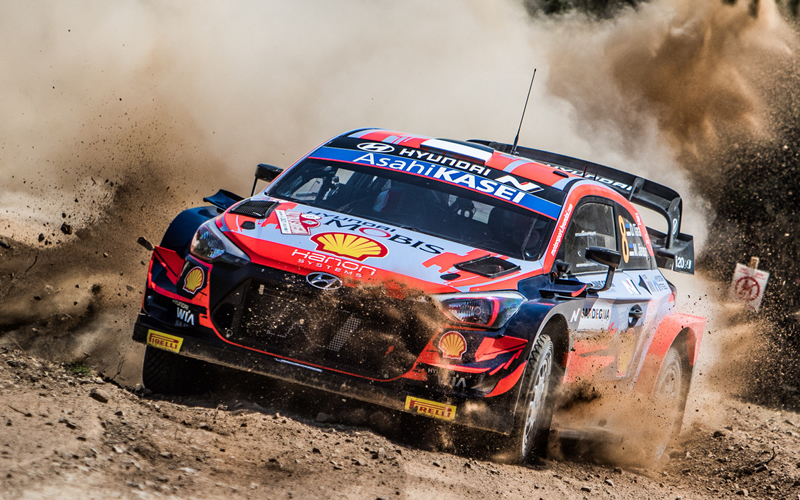 Photo: Hyundai Motorsport WRT
Estonian Ott Tänak compleated the first day of the rally with a 19.4 lead over his teammate Dani Sordo who ended the day ahead of the days' road sweeper, Sébastien Ogier.
It has been a smooth day, the car has been behaving so I've been able to keep a good rhythm and push. You always need to keep going, so tomorrow I keep pushing.

Ott Tänak
Norwegian Mads Ostberg had a much better opening day in Sardinia, compared to day one last time out in Portugal; with a further three stage wins in the afternoons loop, he ended the day with a 27 second lead over the Hyundai Junior driver, Jari Huttunen.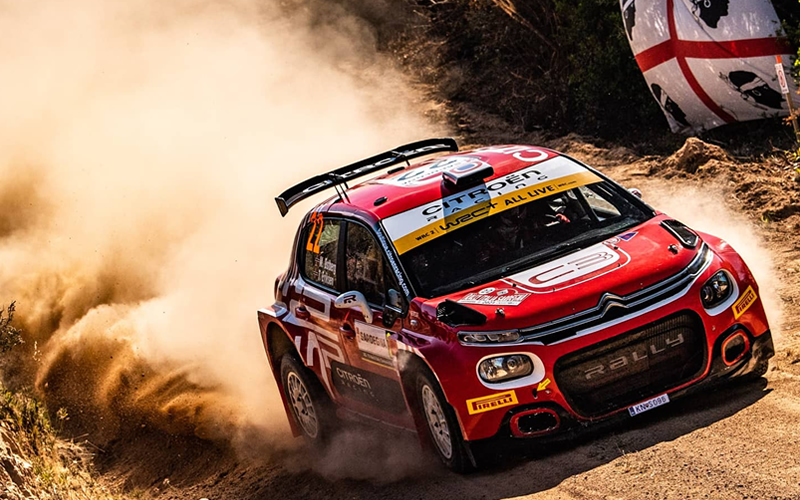 Photo: Mads Ostberg Social Channels
"It's been a good day and I am purely focusing on my own strategy. It's very rough, so I slowed down a lot because I don't want to risk it with a puncture or a broken wishbone or anything. Things happen so easily on these type of stages, so I will carry on with my strategy and just push when I am happy."

Mads Ostberg
Leg 2 of the rally is another long day, covering almost 130km over a further 8 stages; the morning starts with a run over the Coiluna – Loelle stage before tackling the infamous Monti Lerno – di Ala stage.
Words By Andy Cook | Feature Photo: Hyundai Motorsport WRT