BRC | RD7 CAMBRIAN RALLY
11/11/2022
After six rounds up and down the country across both Asphalt and Gravel stages, the British Rally Championship arrived in Llandudno, North Wales for its finale at the Visit Conway Cambrian Rally, round 7 of the 2022 season.
Last time out on the TrackRod Rally Yorkshire, Welshman Osian Pryce alongside Noel O'Sullivan secured their first British Rally title joining a plethora of rallying greats in the history books. After seeing off a final battle with Irishman Keith Cronin over those Yorkshire stages, the pair would have nothing left to fight for, and so opted to sit out the final round of the year.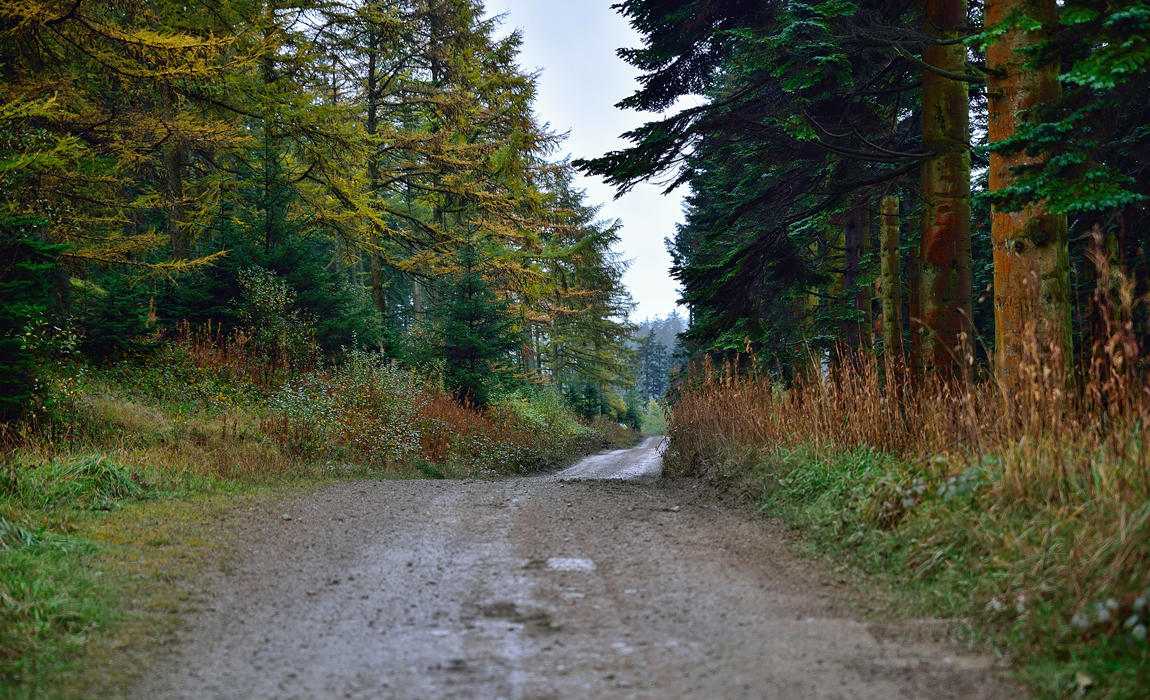 This North Wales Car Club organised event would lay on some World Class gravel stages for the crews to take on; however, the action for the BRC crews would in fact begin with two runs over a 7-mile closed road tarmac stage near Llanrwst on the Friday night.
Here in the darkness, a rather surprised Scotsman Gary Pearson set the benchmark time in his Skoda Fabia R5 car on the opening Nebo test; Posting a time that was just 0.9 seconds faster than the identical spec car that was being driven by Ruairi Bell. Both of these leading BRC crews were quicker off the mark than WRC's Oliver Solberg, who was out for a joy ride in the Osian Pryce Championship-winning VW Polo GTI R5 car.
Gary Pearson & Dale Furniss
Solberg Junior would soon take charge of the rally in the repeated run through that Nebo night stage and would end the opening evening leg with a 1.8 second lead over Pearson. Solberg, however, admitted that he had really come to Wales for the Gravel Stages. Rounding off the top three was Bell who reported that it was a very chilled but enjoyable start for him.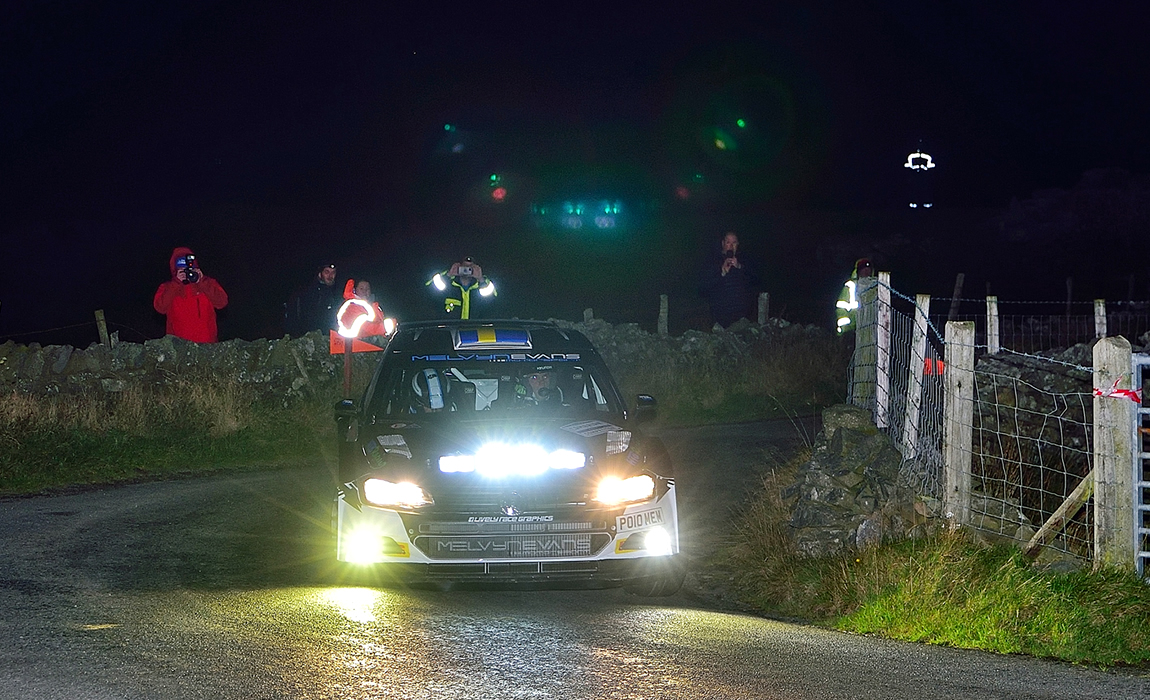 Oliver Solberg & Craig Drew
JBRC returnee, Fraser Anderson, despite a misfire to his Ford Fiesta Rally 4, would get the jump on the Rally4 spec Peugeot 208 of Ioan Lloyd on the opening two Asphalt runs, to end the opening leg with just a half a second advantage.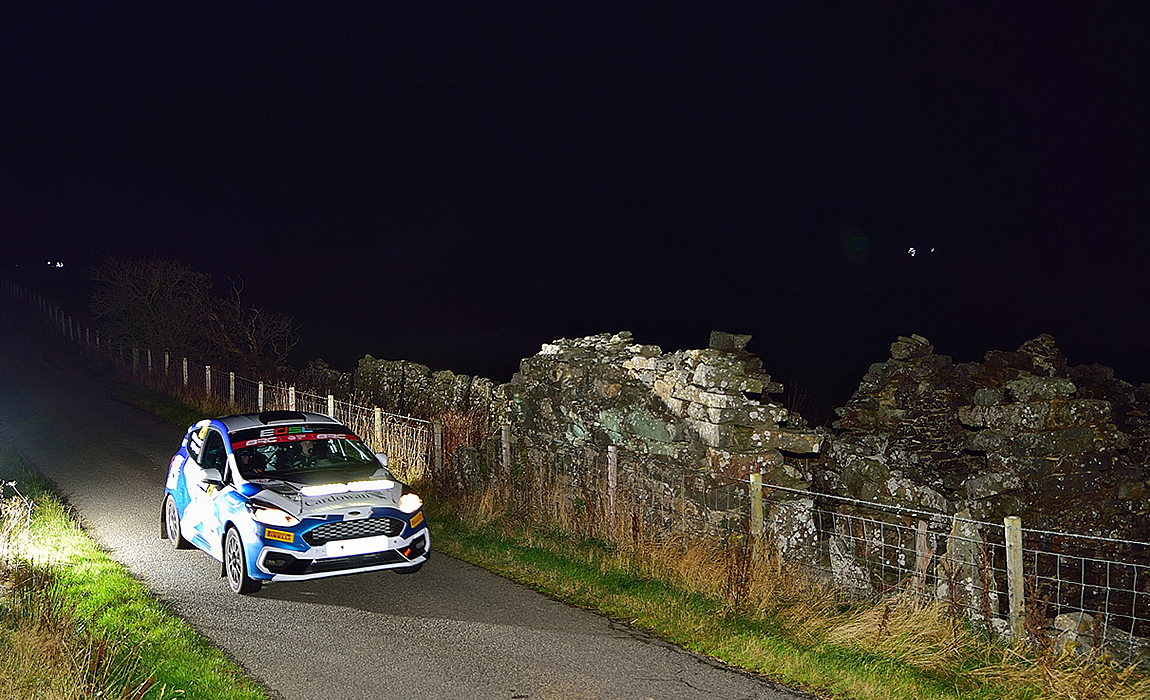 Fraser Anderson & Shane Byrne
---
The rally resumed the next morning in what can only be described as somewhat miserable conditions. Heavy rain with a bit of fog had hit the Welsh stages but in reality, these were just typical conditions for this time of year and of what we have all come to know and love for rallying in Wales. Solberg led the crews away into the first gravel test of the event through the eastern side of Clocaenog Forest where the conditions were very slippery and challenging yet, enjoyable for all.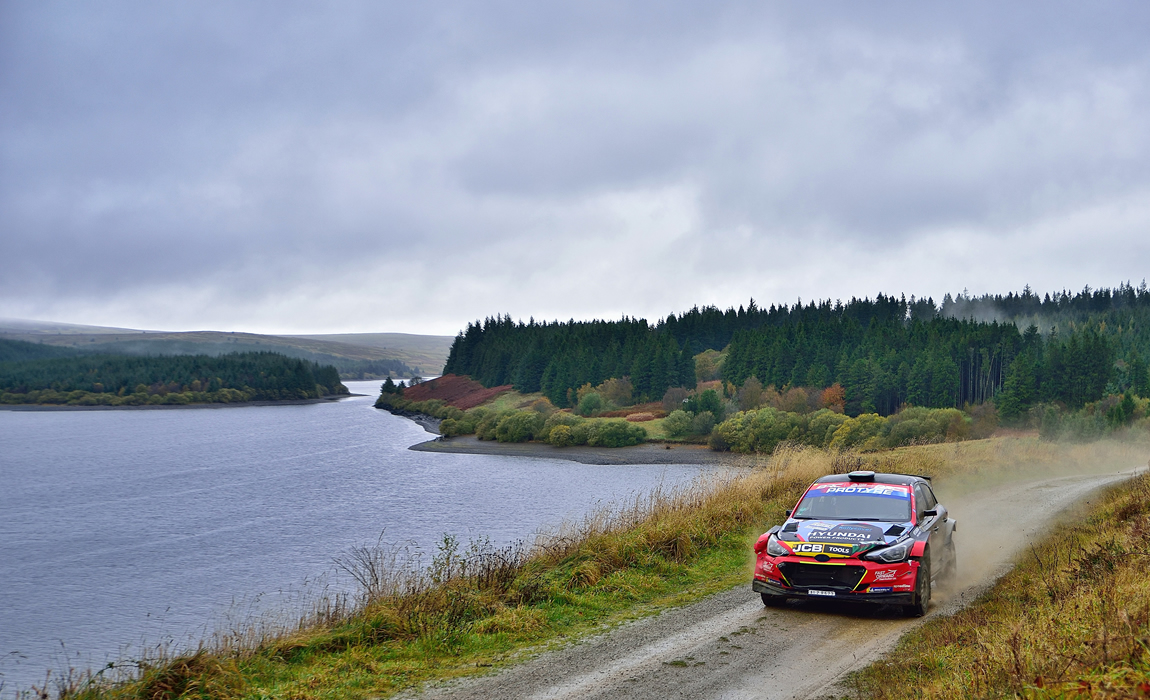 James Williams & Dai Roberts
Having suffered from a lack of boost to his Hyundai i20 R5 the previous night, James Williams was looking to make up ground on his other BRC rivals. Despite swiping a hey bail, he was the quickest of the BRC drivers but was still nearly 10 seconds slower than Solberg. Williams was, however, able to improve in the next stage beside the Brenig Reservoir, just 1.9 seconds slower than Solberg on this one.
Ruairi Bell & Max Freeman
Things were beginning to look promising for Bell fairly early on, he had moved ahead of Pearson on that first gravel test of the morning. "It was OK, it's very slippy out there, but I think it's OK" Bell reported at the stop line of Brenig, where he and Irish Forest Rally Champ Patrick O'Brien had posted identical times. O'Brien was on his first BRC outing and his efforts in his R5 Skoda Fabia had now earnt him third place overall.
Meanwhile, in the Juniors, unfortunately, Fraser Anderson did not restart, that engine miss fire that was experienced the night before was seemingly unsolvable, so this left the likes of Ioan Lloyd and Johnnie Mulholland to fight it out on the stages for the honours. Lloyd took the initiative on the opening two gravel tests in Clocaenog and Brenig to lead Mulholland by some 55 seconds as the crews headed to the Alwen reservoir tests, where a stage stoppage awarded the pair notational times.
Pencmachno offered up a final stage before the mid-day service but Gary Pearson and Co-Driver Dale Furniss would not emerge from the 5.49-mile test. Going wide in their Skoda Fabia had resulted in damaged suspension and the pair were heading for an early bath, which was not the way to end their season.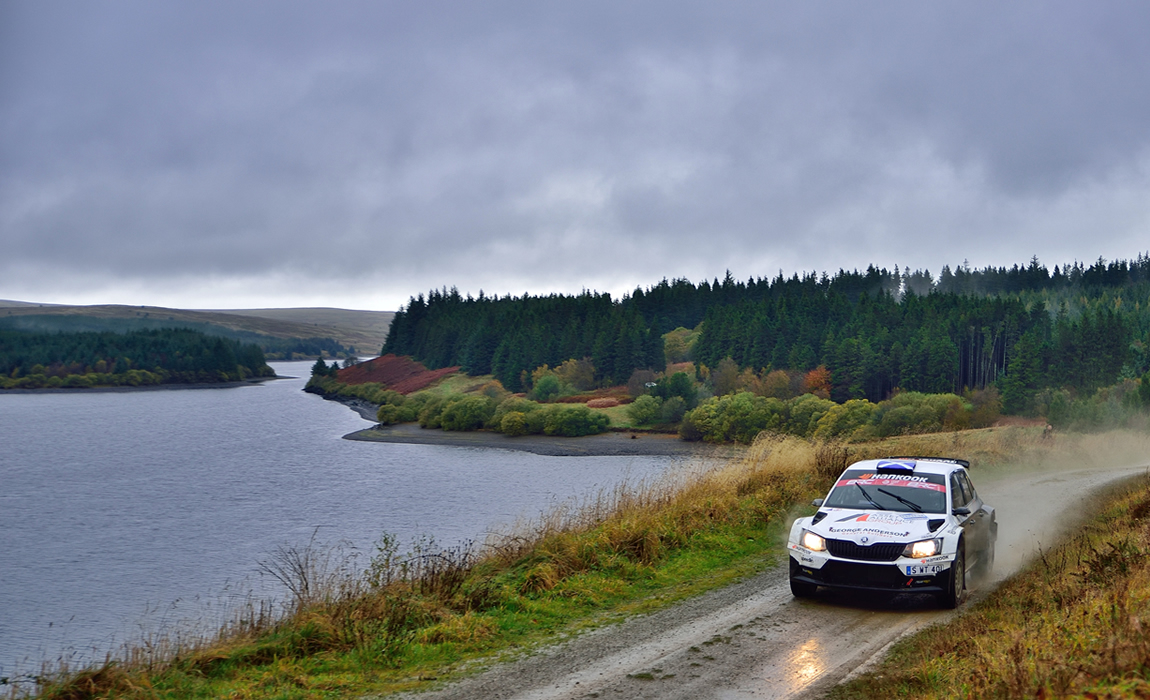 Gary Pearson
The demise of Pearson had promoted our 2022 Junior British Rally Champ, Eamonn Kelly; who was stepping up to a VW Polo GTi for his first-ever gravel outing in an R5 car at the Cambrian. The young Irish lad said that "it was unreal driving these cars on gravel" but with a cautious start to the rally, he alongside Co-Driver Conor Mohan powered on through the morning loop to head back to service in a very respectable third overall and second in the BRC behind Bell.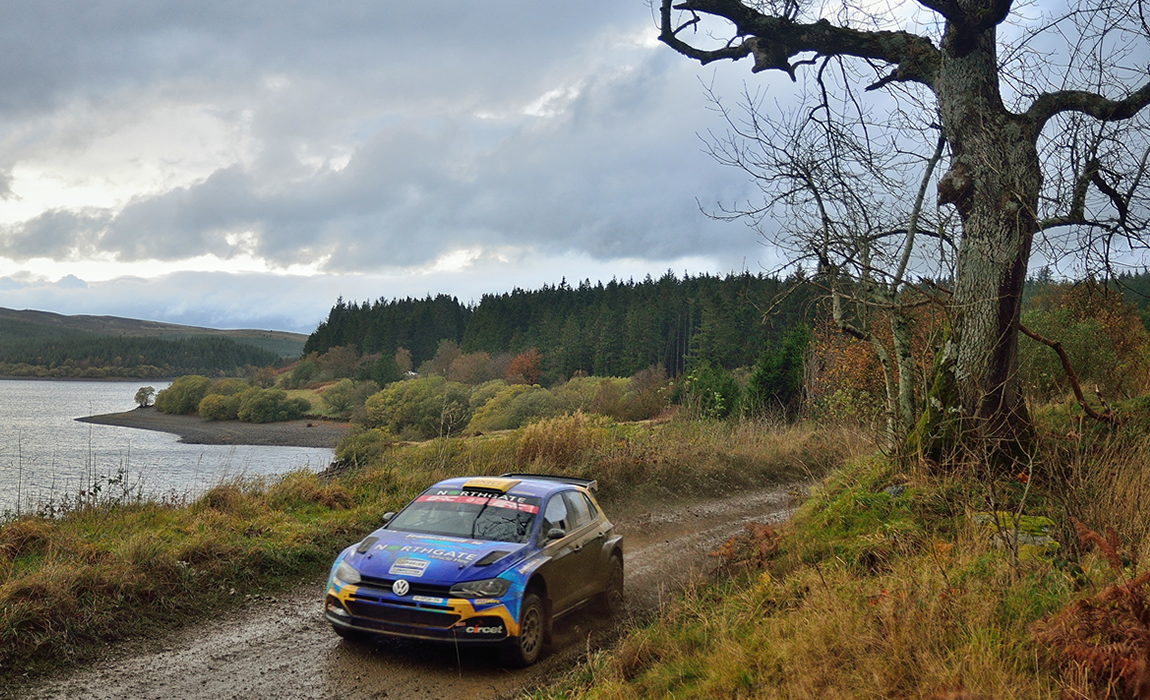 Eamonn Kelly & Conor Mohan
Although Solberg was doing his own thing out in front and just enjoying himself, Ruairi Bell was "feeling really good" also and leading the BRC for the very first time this year. At the midpoint in the rally, Solberg had well over a minute over Bell, and Bell in turn, had some 40-odd seconds in hand to Kelly.
Loan Lloyd alongside Co-Driver Sion Williams had reached the mid-point in the rally with a comfortable lead of almost a minute over Jonnie Mulholland & Eoin Treacy, they, for now, we're appearing to be on track to perhaps score their first JBRC win.
"The first stage we struggled with visibility, but the second was a bit better, no dramas but the driver needs to wake up"

Ioan Lloyd
---
Ruairi Bell & Max Freeman
---
Back out after service and Ruairi Bell had that first BRC win in his sights, Bell who had no chance in hell of catching Solberg out front would just have to forget about him and concentrate on the job in hand. He, called upon his full season in the top-flight BRC to keep the rising talent that is Eamonn Kelly at bay throughout the afternoon's loop of stages.
Ruairi Bell & Max Freeman
Bell simply said "we need to keep doing what we are doing" and with just two stages remaining, he had over a minutes buffer to young Kelly behind him, who acknowledge that he had to "get it to the end" after nearly getting caught out in the repeated run through Brenig.
There was drama through that Brenig stage for our leading Junior driver, Welshman Ioan Lloyd. Lloyd who had led Mulholland all day would fail to make it out of the stage. Mechanical issues with the Peugeot 208 would therefore, unfortunately, prevent him and Williams from getting their first-ever JBRC win.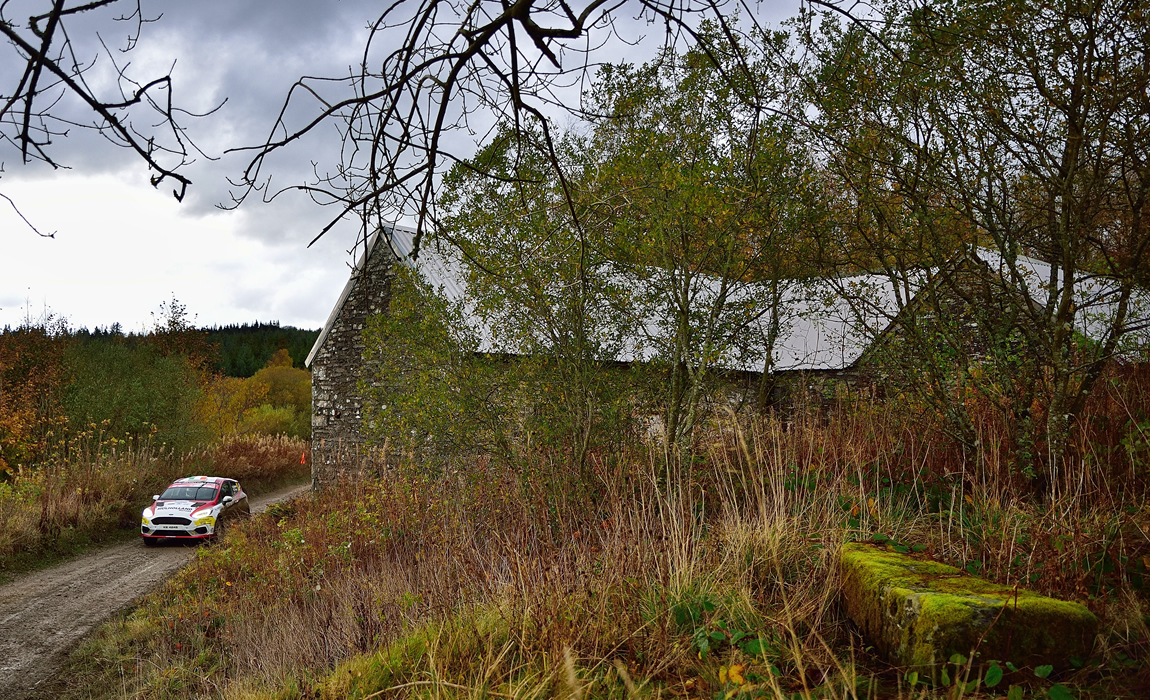 Jonnie Mulholland & Eoin Treacy
This left Jonnie Mulholland and Eoin Treacy clear to cruise the final two stages without any competition to secure their first JBRC win of the year. The pair had ended their 2022 JBRC assault on a high at the Cambrian, finishing runners-up to the already crowned Champ Eamonn Kelly whilst rival Kyle White was a no-show at the final two events.
Oliver Solberg & Craig Drew
Oliver Solberg entered the final stage of the event with a 1 minute 52 seconds lead and as everyone expected him to, secured the win in Wales, a country that holds many fond memories for the Solberg family. Having recently parted ways with the Hyundai World Rally Team, there was no better way to fight off those blues than by jumping straight into the hot seat and taking on some of those World Class Welsh Stages.
Putting Solberg aside, Ruairi Bell and Co-Driver Max Freeman had finally done it, crossing the finish line well over a minute in hand to secure the BRC honours. After pushing themselves throughout the season in an attempt to up their game to the same level as the likes of Pryce and Cronin, the pair had shown some real progress out on the tricky stages of North Wales at the Cambrian to secure their first-ever British Rally win.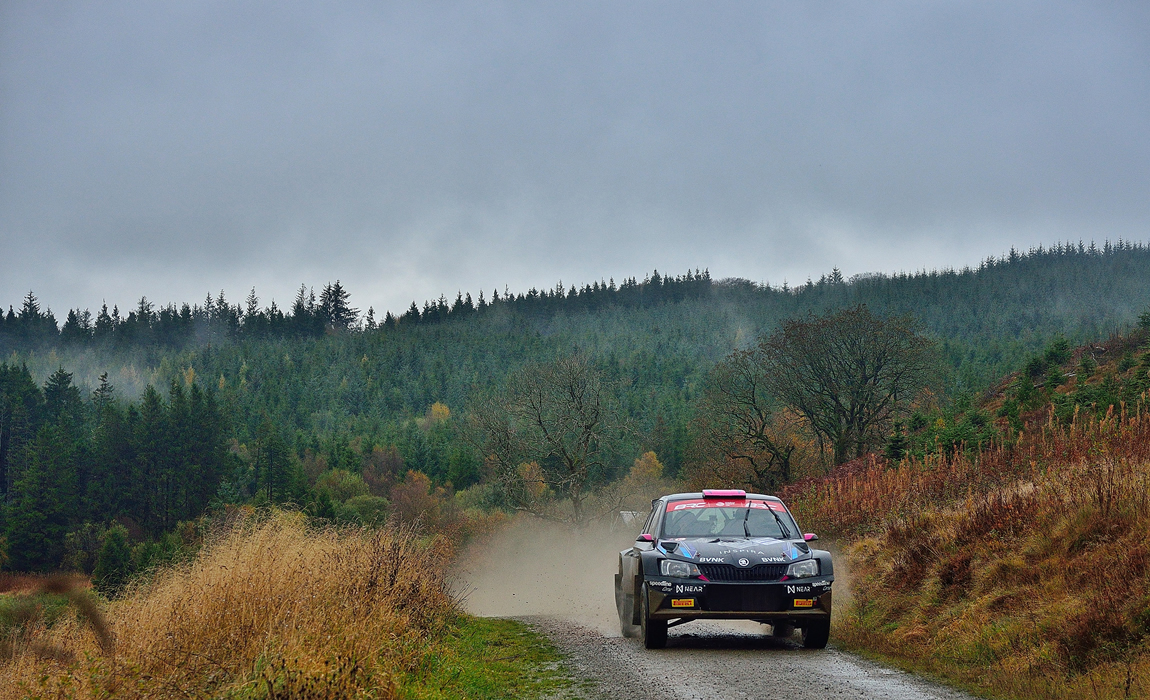 Ruairi Bell & Max Freeman
"Finally, seven rounds in and we have finally won a round of the British Rally Championship. It's been a very slow and steady rally, nothing to do other than coast to the finish line really. We made up enough of a gap on Friday night and had a little attack this morning and that was enough" "Happy to finish on a high"

Ruairi Bell
Behind Bell, Irish lad Eamonn Kelly alongside Conor Mohan had a great day in their new office. To finish on the podium on their first-ever gravel outing in an R5 car in some very challenging conditions bodes well, even more so considering the level of competition they faced.
Eamonn Kelly & Conor Mohan
Rounding off the BRC podium were James Williams and Dai Roberts, having to play catch up after the opening nights gremlins, the pair had dragged their somewhat battle-scarred Hyundai i20 around and home for a respectable fourth place overall. Playing their joker in North Wales was their trump card, as it meant that they secured third overall in the 2022 BRC title fight, just pipping the rally winner Bell by 3 points.
James Williams & Dai Roberts
---
Words & Photos By Andy Cook | Xlerate.Media
CLOSING SHOOT: Overall Winners – Oliver Solberg & Craig Drew